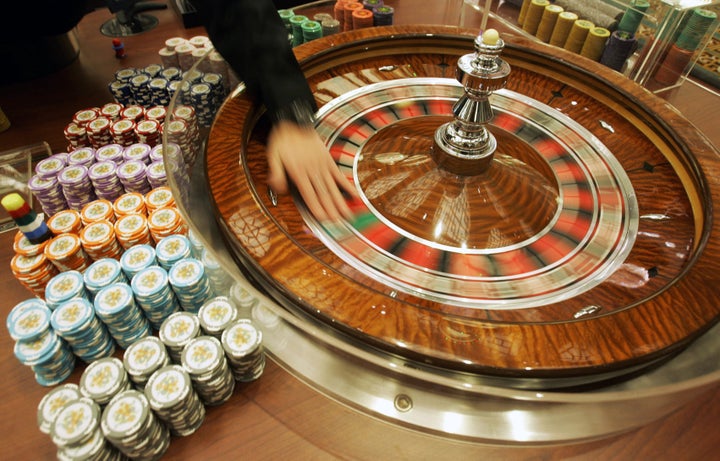 In describing the complex and little-understood world of derivatives trading as "a sophisticated form of gambling," three U.S. Senators proposed legislation that would enable state gambling regulators and attorneys general to examine the practice.
Senators Maria Cantwell (D-WA), Ron Wyden (D-Ore.) and Bernie Sanders (I-VT) sent out a press release on Tuesday, describing the need for more oversight of the market in derivatives, which are contracts that can act as insurance against a future event, or as just a simple bet.
"The derivatives market has done so much damage to our economy and is nothing more than a very high-stakes casino - except that casinos have to abide by regulations," wrote Cantwell. "Even in Las Vegas at the Blackjack tables, both the House and the player have to have capital behind their bets. But we allow Wall Street to continue to operate in the dark..."
Their bill specifically removes a nine-year-old directive that specifically preempted state law from applying to derivatives contracts. It was part of the Commodity Futures Modernization Act -- the law that essentially allowed for the tremendous growth in the unregulated derivatives market.
The now-$600 trillion market is, for the most part, largely without strong federal regulation. In the wake of last year's near-breakdown of the entire financial system -- brought about in part by derivatives contracts that didn't have sufficient collateral backing them up -- Congress has promised reform. Cantwell, though, has been among the most vocal advocates.
The proposed bill would essentially add another cop to the beat. For those derivatives contracts without federal oversight, rather than derivatives dealers being subject to federal regulations, state regulators would also be empowered to go after those contracts and trades that are unregulated.
One such example can be found in derivatives contracts dealing with foreign exchange. The four major proposals tackling derivatives -- offered by the White House, House Financial Services Committee Chairman Barney Frank (D-Mass.), House Agriculture Committee Chairman Collin Peterson (D-Minn.), and Senate Banking Committee Chairman Chris Dodd (D-Conn.), respectively -- specifically provide an exemption for these types of derivatives contracts whereby two parties exchange agreed-upon amounts of two currencies, either doing this over time or at a later date.
Gary Gensler, the head of the federal agency responsible for regulating derivatives -- the Commodity Futures Trading Commission -- specifically asked Congress to not add in this loophole to the various proposals.
"The concern is that these broad exclusions could enable swap dealers and participants to structure swap transactions to come within these foreign exchange exclusions and thereby avoid regulation," Gensler warned in an August letter to members of Congress. Those who drafted the bills didn't listen.
While the Cantwell-Wyden-Sanders bill doesn't address the lack of federal regulation, it does enable state regulators to provide oversight.
"[Cantwell's] preferred position is a strong federal regulatory environment without loopholes," said her spokesman John Diamond. "This bill establishes a regulatory minimum."