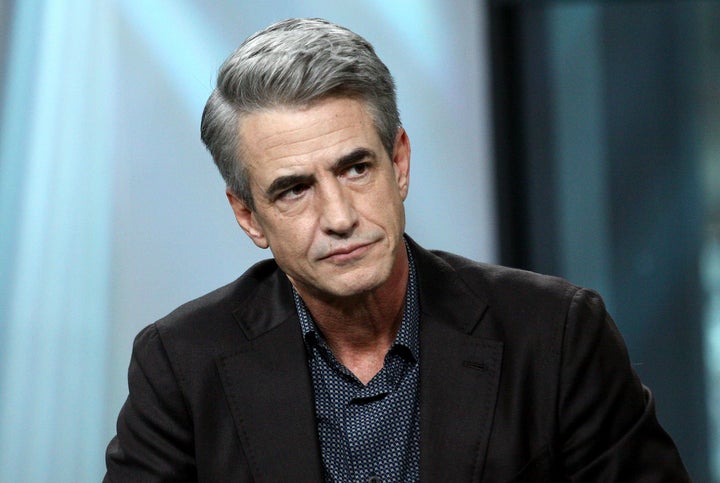 Numerous stories about men in Hollywood have emerged over the past several weeks, detailing how figures like Harvey Weinstein, Kevin Spacey, Brett Ratner and Louis C.K. have taken advantage of less powerful women and men in their industry. And these stories have only opened the floodgates for more truths in other fields to be told. 
Like many in the entertainment business, Dermot Mulroney is saddened by the sexual assault and harassment allegations, but encouraged by the fact that victims finally feel like they can come forward without fear of repercussions.  
The actor sat down with HuffPost during a Build Series segment this week and expressed how eye-opening it's been for him to be a part of "American Horror Story" at this particular time in Hollywood's history. "Cult," which wrapped its run on Tuesday, explored not only harassment in the workplace, but the tumultuous aftermath of the 2016 presidential election in the fictional city of Brookfield Heights, Michigan. 
"I got a call from Ryan Murphy to appear in a storyline that ended up being remarkably prescient to how things went through this season," Mulroney said. "They created this world that actually got out ahead of what really happened."
As Mulroney describes it, the seventh season followed "a left-leaning, activist, gender-bending, homicidal cult at work that's out to get the conservatives ― out to kill them horrendously." His character, news anchor Bob Thompson, is one of those people, who's hiding a dark secret.
"I play a news commentator who's a sexual harasser, who gets his own, like, two episodes later in the most gory and horrendous way," he explained. "All of this was written before there were any of these horrifying revelations that have come out of the entertainment industry, and so many other industries. Thankfully, it's coming out and we're experiencing this great opening." 
They created this world that actually got out ahead of what really happened.

Dermot Mulroney on "AHS: Cult"
Mulroney, 54, is from Alexandria, Virginia, and grew up playing baseball on the field where Rep. Steve Scalise (R-La.) and others were shot by a lone gunman, left-wing activist James Hodgkinson, while practicing for a congressional game in June. Violent events like this, and the riots in Charlottesville, have caused the actor to be more selective with the projects he takes on ― whether they're socially conscious or feel-good escapes. He finds there's room for it all, which is why he took a role in one of Hallmark Hall of Fame's new holiday films "The Christmas Train."
Mulroney says movies like these are "designed" to bring joy to audiences who are looking for some peace of mind. 
"When you're an actor in a great piece of material like this, precisely what your assignment is ― and it's not to try and do what you're doing on 'American Horror Story' where you have some social commentary mixed in ― this is simply entertainment. It's for families," he said. "It's just a round peg in a round hole, and sometimes you just need that instead of trying to make something new or reinventing the wheel ― you know? Wheels work great." 
Mulroney feels it's his job as an entertainer to, well, entertain, and is privileged to be able to do it on many different platforms. Whether it's appearing on the big screen or in shows like "Cult," "New Girl" or "Shameless," he finds his gigs "freeing." 
"As an actor myself who's gone through the different eras of the entertainment industry, I can go act in those [TV] shows now because there's no limit anymore, which has just been fantastic for me," he said. 
"The Christmas Train" airs Nov. 25 at 8 p.m. on Hallmark Hall of Fame on the Hallmark Channel. Watch the full Build Series interview with Mulroney below. 
REAL LIFE. REAL NEWS. REAL VOICES.
Help us tell more of the stories that matter from voices that too often remain unheard.
BEFORE YOU GO
PHOTO GALLERY
Celebrity Photos 2017