We're down to the last couple of episodes of this season of "Drag Race" and -- as Ru reminded us this week -- by this point, the girls are family to the franchise.
So when Vegas showgirl Derrick Barry received the boot Monday night, the move definitely felt like saying goodbye to someone synonymous with this season of the competition. Episode eight saw the Britney Spears impersonator lip-synching against fan favorite Bob the Drag Queen after the episode's main arc focused on Barry not showcasing her range outside of a Britney framework.
However, according to Barry, we can expect much more than Britney from this performer in the future. The Huffington Post chatted with her yesterday about her time on the show, what we can expect moving forward and what it's like to come into this show from the realm of celebrity impersonation.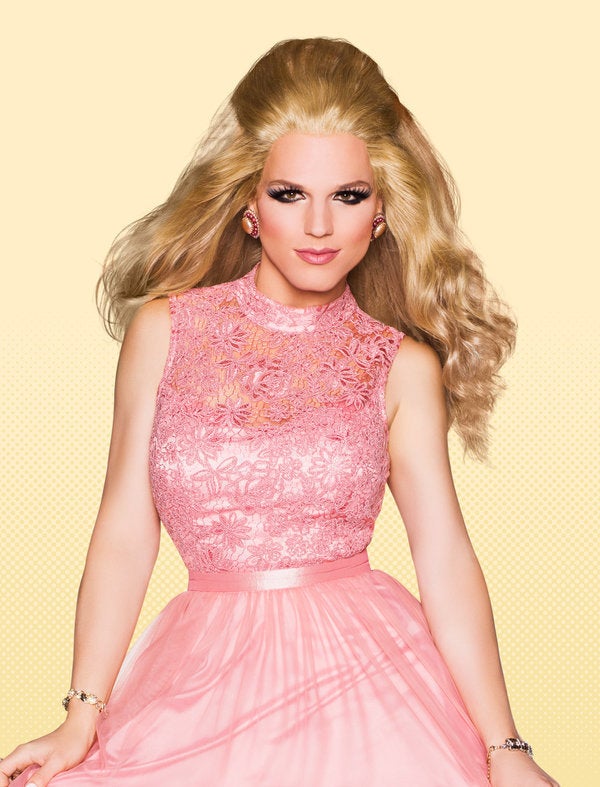 The Huffington Post: Hey Derrick! Thanks for making the time to chat with me. Where are you right now?
Derrick: I'm in Chicago -- I did the viewing party last night with Kim Chi at Roscoe's.
Very nice, how did it go?
It was fun! I mean, she's a hometown hero, so of course they're loving everything she did. And she won the challenge and exceeds in every creative challenge so it was fun to be a part of the viewing party with her. And Naomi was there out of drag so it was nice to have thee of us together. And then Bob called in so we had everyone except Chi Chi (laughs).
So you made it significantly far in this competition. To what do you attribute your success?
I've built a lot of confidence over a decade of doing drag and I think I applied myself to challenges and actually listened to critiques. I tried not to come up with excuses and if they wanted to see something different, I wasn't afraid to branch outside of what I was comfortable doing. So I think just being kind of seasoned from Vegas and doing shows nightly and traveling and working consistently --I think all of that professionalism just brought something to the competition that made me have a little more belief in myself than I think the other girls thought I had.
Well, yeah, it's really interesting that most of these girls come into the show from the club circuit and you come from the world of celebrity impersonation. How do you think that framed your experience? Do you think it gave you any kind unique experience or disadvantages? What are your thoughts about that?
What's weird, is in the world I work in since I do so many shows as Britney -- that's a great talent to have. Then coming there, I don't think that the other girls took [my Britney aesthetic] seriously. Or, didn't think it was drag or it wasn't to the level that they were doing. And it's just so interesting because in my world when you're coming to see me you're coming to see a theatrical show – Vegas is the same as Broadway for the West Coast. So, people are paying a lot of money to see your show and for you to deliver a product that's believable. And I think because maybe I have so much confidence in what I do in that aspect, it kind of rubs a lot of people the wrong way.
I don't know – I thought [being a Britney impersonator] was going to help me more but it ended up hindering me because they wanted me to do Britney but they didn't want me to do Britney but they wanted more but they wanted less. It was just a confusing headspace for me to wrap myself around. How do I change but stay myself when really what I do is primarily Britney?
I can imagine that's difficult to navigate. You and I actually chatted at the New York premiere and you went into the show saying you wanted to be what Chad Michaels was for Cher and that you ended up coming out so differently. How do you plan to build to build on this narrative?
Well, I have my new single -- available on iTunes -- and I'm excited to see where that road is going to take me. Obviously I'll always do Britney; it's my number one character and I'm not going to lose sight of that just because of "Drag Race." I would say that'll be half of what I do and the other half is going to be what I want to do in drag. And I feel like I've already accomplished so much as Britney that it puts me at the level that Chad is at with his Cher. We're both so known for that character and we have backgrounds in Vegas and obviously travel everywhere doing it as well. So I feel like I already accompanied that going into it, but I wanted to be recognized in the "Drag Race" scene as, "Oh, that's the one that does Britney" -- and I did that. So I'm happy with that.
Now I just want to focus more on doing my own drag and seeing what I can change about my features and having fun experimenting with eyebrows and wigs and costumes. It's a lot of fun! And I didn't think I was going to have so much fun doing drag at the level I'm doing it now but it's fun to go do a show or a meet and great and to have people say, "Oh my gosh, this is so cool, this isn't a Britney look and we love it!" Because that didn't exist for me before. If I didn't look like Britney then I wasn't doing my job correctly.
Totally. Who do you feel like you connected with the most on the show? Is there anyone you feel like you're taking away as a friend from this experience?
Well, I was the closest to Robbie Turner going into it because I'd worked with him and we met back in 2010. But I got so much inspiration from all of the girls. There's elements in everyone that I think are their strengths, with Kim's creativity and Naomi's fearlessness and Bob's humor and Chi Chi's struggle to get through -- all of those characteristics and those people are so inspiring. And I would say in that last episode, I really got to feel the most there. Because it was so challenging, it was such a struggle and some of the girls just breezed right through it because that's where their mind takes them. Their creativiety is endless and I still have to find what I want to do and how I'm going to channel my creativity. I've always been able to put it into performance. But to be able to put it into costumes and looks and all of that is so new for me. So, I think the most inspiring thing walking away from the show is how creative people really can be when it comes to drag. And there's no boundaries – no limits. And that's exciting.
I love that. I just have one more question for you. What do you want the legacy of Derrick Barry to be? What do you see the future holding for you?
A lot of bathing suits and coverup (laughs). Oh, just kidding! I think that I want people to realize that it's OK to go into "Drag Race" being known for one thing and to leave being known for another. And I want people to understand that the struggle is OK to go through even though you're doing it in front of people and you may find it challenging and it may be scary, but you have to jump -- and that's what I did.
I pretty much knew when I got the show that I was going to be leaving the Vegas show and I was trading one dream for another. You have to have the confidence to get through that and to know that the world is only going to open up to you if you're open to the world. And that's what I want people to realize is, yeah, it may have been a struggle, I may have had lows, but I did it and that's all you can do is show up and do your best and the best is going to be written for you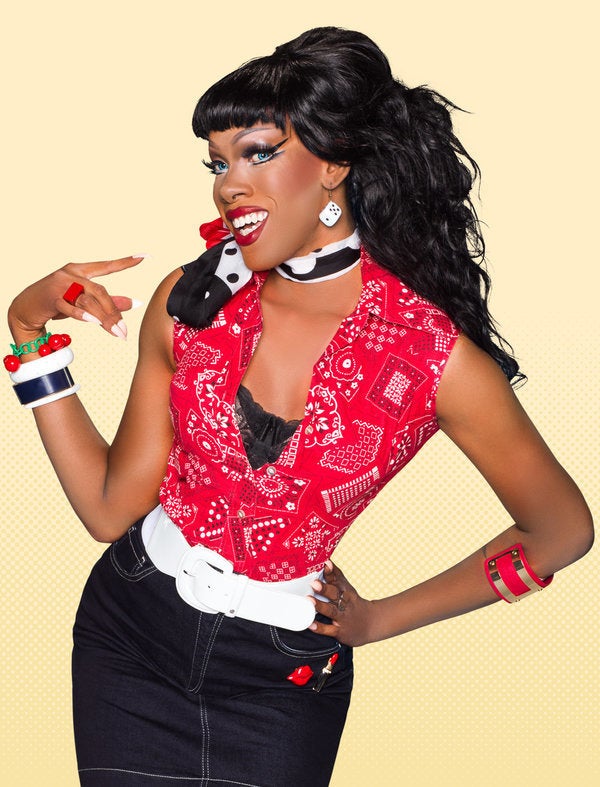 "RuPaul's Drag Race" Season Eight Eliminated Queens
Popular in the Community