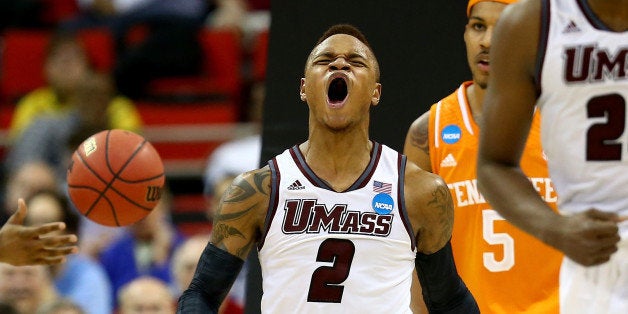 The first openly gay Division I college basketball player is moving on and speaking out.
UMass guard Derrick Gordon announced Sunday that he's transferring to Seton Hall, but he told USA Today he encountered plenty of discrimination along the way in his inquiries to potential new schools.
"During the recruiting process, a number of schools didn't want me because I'm gay," Gordon said. "To me, that's blatant homophobia. At the end of the day, no coaches will ever admit that they don't want me because I'm gay and there's baggage that comes with the attention."
He added that the reaction of many programs caught him off guard and left him hurt. "I was starting to lose hope," he told the paper. "I felt like I was being treated like an outsider, like I didn't belong in the NCAA." Gordon didn't specify any universities.
Gordon told USA Today he had no issues with the way he was treated at UMass, calling the decision to transfer basketball-motivated. The Huffington Post reached out to Seton Hall, but the school said it couldn't comment until the transfer is official.
Related
Before You Go
LGBT Atheletes
Popular in the Community