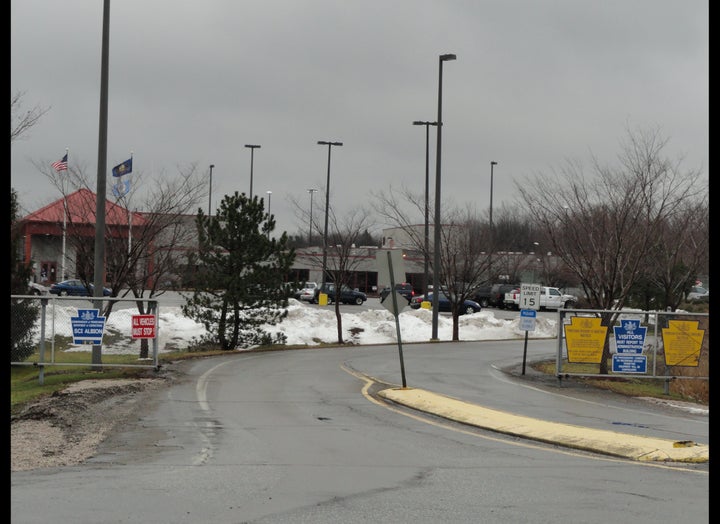 ALBION, Pa. -- A jury has awarded a former inmate at the Pennsylvania state prison here $312,000 for negligent care based on a broken ankle and subsequent tumble down a stairway.
Jurors found that Prison Health Services Inc., a for-profit company contracted to provide prison health care at the State Correctional Institution in Albion, failed to provide Derrick Jones, 41, with appropriate care after he broke his ankle in 2006. According to the Erie Times-News, Jones, also known as Derrick Alexander, was serving time for a drug-related offense.
"Essentially, what happened is he jumped [from the bunk] in his cell and broke his ankle," Jones' lawyer, Stuart M. Niemtzow, told The Huffington Post. "They misdiagnosed it as a sprain. They did not X-ray him for five days. When they did X-ray him, they took him to Millcreek Hospital."
After doctors inserted surgical pins in the broken bone and put Jones' ankle in a cast, he was returned to prison, where Niemtzow said the convict was given crutches and narcotics. "They told him they would provide him safe housing because he had already been hobbling up and down the huge stairs at Albion," Niemtzow said. "They forgot to or decided not to -- it was unclear at trial what they were really saying -- and the next day, he tumbled down the stairs."
Jones said the fall injured his back, knee and neck. He said he was never given an MRI, but was offered epidural injections for pain. Jones refused the injections because he hadn't received an MRI and was afraid prison workers wouldn't know where to inject him, Niemtzow said.
Two years later, after Jones' release from prison, he went for his own MRI in Philadelphia, and it revealed herniated disks and tears in knee ligaments, Niemtzow said. The attorney said the injuries will cause lifelong complications.
For at least a decade, Prison Health Services had a $55 million annual contract to provide medical services at Pennsylvania's correctional facilities, Niemtzow said. Every procedure and test, including an MRI, comes out of the company's bottom line, the lawyer said.
Kathryn Kenyon, the lawyer who defended Prison Health Services in the case, did not respond to a phone call or email requesting comment. In court documents obtained by the Times-News, Kenyon maintained Jones had received appropriate care.

"PHS similarly did not cause any of Mr. Jones' claimed injuries or damages," Kenyon wrote in the court documents.
The verdict in Jones' case, reached Feb. 17, came the day The Huffington Post published an exclusive interview with Kevin Barwell, a retired Albion correctional officer who blasted prison conditions. Barwell said he spoke out because of the New Year's Day death of Dennis Austin, a convicted rapist who died with bedsores covering a large portion of his body.
"It's happened before. This is a pattern that's been ongoing," Barwell said. Austin's death "is a direct result of negligence. They're not doing their job."
WARNING: GRAPHIC PHOTOS OF DENNIS AUSTIN (Article Continues Below)
PHOTO GALLERY
Dennis Austin
Austin, 48, had been diagnosed in July 2010 with lung and bone cancer, and the county coroner, Lyle Cook, attributed his death to lung cancer. Austin, imprisoned since 1991, had been serving a 28-to-57-year sentence for rape and kidnapping. His sister, Paula Thomas, said photos of her brother's bedsores demonstrate serious neglect. "It's awful. It's just awful," said Thomas, who said she suspects the bedsores caused or contributed to her brother's death.
Barwell, 48, said he had worked at SCI Albion, a medium-security correctional facility 30 miles southwest of Erie, for about 14 years. He retired in 2008. Barwell did not know Austin, but said he was familiar with the infirmary at SCI Albion where Austin received treatment.
"We had one inmate who was in the infirmary who was paralyzed from the waist down," Barwell said. "He had bedsores right down to the bone on his buttocks. I saw them, and I could actually smell the flesh. He needed [rolling] several times a day." After the inmate threatened a lawsuit, Barwell said, workers turned him regularly.
Susan Bensinger, deputy press secretary for the state Department of Corrections, declined to discuss Austin's death or Barwell's comments.
Del Fuoco said he was pleased to hear about the Jones verdict and noted there is an urgent need for change.
"It's a deadly combination when you take a prison where there appears to be little regard for the welfare of these prisoners, and you combine it with profit motive," Del Fuoco said.
Calling all HuffPost superfans!
Sign up for membership to become a founding member and help shape HuffPost's next chapter
BEFORE YOU GO