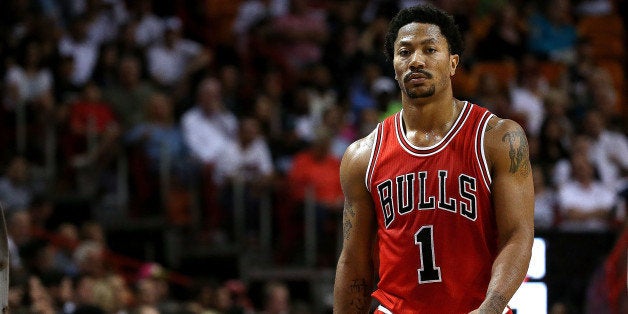 But more important than any other statistic was this: Rose played 48 minutes -- the most he's played in a game since his 2010-2011 MVP campaign -- and he played them with the sort of emotion that evokes the tired sports cliches people like me are often embarrassed to mutter in public: passion, fervor, joy, rage, devotion.
We live in the Age of Vine and Sabermetrics. But when Rose plays like he did last night, even for a game, it's a much-needed reminder that at their best, sports are more than collections of clips waiting to be uploaded, looped and shared with the world. They're more than collections of movements waiting to be dissected, spliced and morphed into the various aggregate statistics by MIT graduates.
At their best, sports still can be what the newspaper columnists of the 20th century wanted them to be: inspirations and metaphors for our own lives. And Rose, who has shown his vulnerable side to the world throughout his career -- sometimes of his own volition, sometimes not -- is a better reminder of that than most.
Yes, he makes ungodly amounts of money, but anyone who has followed his career knows that he's a basketball player first and foremost, a kid from the Englewood area of Chicago who wanted to be the best. And he was. In 2011, Rose was named the NBA's Most Valuable Player, becoming the youngest player to win the award at 22 years and 6 months old. But within a year, it all fell apart. His knees betrayed him, as they would again and again in the coming years.
We continue to watch Rose struggle to come back after all these years, to re-obtain what he had, to meet the potential he was on track to meet and to take control of his own body. And, if we're being honest, a lot of us see ourselves in him, including our own struggles and our own expectations for what life could be like with the realities we face.
It is stupid. And sappy. And silly. And irrational. But it is also true.
That's what made Thursday night in Milwaukee so exhilarating. Derrick Rose was Derrick Rose again, and Bulls fans knew all too well to appreciate what they were watching after years of seeing their local star fall to the ground and limp off the court. It was just one game, but it was also one whole game, and that was enough.
Rose could "be back." Or he could possibly never play another game like that again. We don't know, and that's what will make the rest of his career so exciting and so unlike every other player's in the NBA: he is a 26-year-old former MVP who could spend the next 10 years defying expectations, or he could be done at any moment, the latest in a string of careers that ended too quickly. We don't know. We can't know.
Such is life with Rose on your team right now. No matter if he plays well for an entire half, or an entire game, or even strings together a run of 10 games or a full season, the fear will hang over everything. It can't not.
In all likelihood, there will be more injuries, more setbacks, more letdowns and heartache. Every time Rose falls to the floor, people's eyes will raise. That won't change. But maybe there's something to realize here: Rose playing well, even for one night in April, can serve as a good reminder that we should appreciate the things we have in life now. For all we know, they could very well be gone tomorrow.
REAL LIFE. REAL NEWS. REAL VOICES.
Help us tell more of the stories that matter from voices that too often remain unheard.
BEFORE YOU GO
PHOTO GALLERY
Derrick Rose's Off-The-Court Style