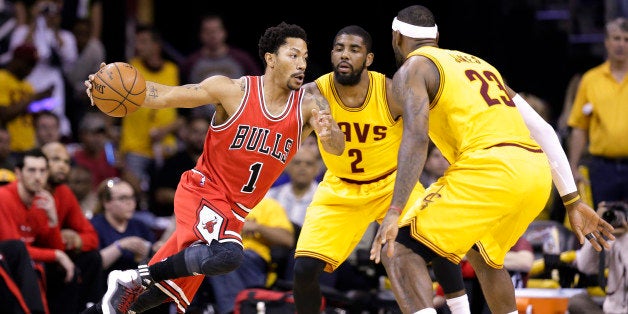 With the Chicago Bulls looking to Game 3 of a tied-up series with Cleveland, one big question is the stamina of Derrick Rose. Since returning from yet another injury, the Bulls point guard isn't playing at the MVP level that he showed four years ago. Rose has been good enough to give his team more offensive firepower -- at least when he's had ample rest.
But Rose, 26, doesn't recover as fast as he used to, and a disturbing pattern has emerged in his play. In playoff games after two or more days of rest, he is averaging 24 points a game for a healthy 48 percent, according to ESPN Stats & Info. More important, his assist-to-turnover ratio is 2.5.
When Rose has just one day of rest, however, his production plummets to 14 points a game, 30 percent shooting and a 1.4 assist-to-turnover ratio.
Bulls head coach Tom Thibodeau has noticed. "I think he's still working his way back," the coach said after Chicago's Game 2 loss to the Cleveland Cavaliers on Wednesday. The quandary for Thibodeau is figuring out how to maximize his use of Rose on shorter rest.
At its best, the Bulls offense combines pick-and-roll with a shooting barrage of big men who draw the defense to the perimeter. When he's healthy, Rose is a natural attacker and his probing causes significant problems for the opposition. When Rose is out, Thibodeau has compensated for the downgrade to backup point guard Aaron Brooks by sending Jimmy Butler to make plays in isolation as well as run pick-and-roll. Butler, whom I highlighted as a rising star in 2013, has risen to the challenge -- averaging 20 points while earning the NBA Most Improved Player Award and playing more minutes than anybody else in the league.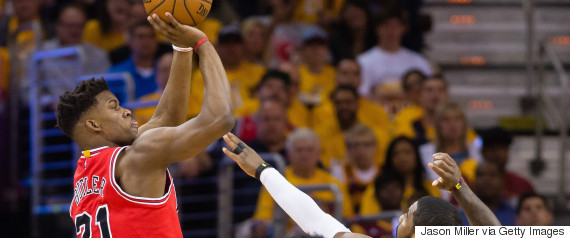 Jimmy Butler has stepped up for the Bulls.
With all respect to Butler though, the Bulls won't defeat LeBron James and the Cavs without an effective Rose running the show. One possible solution for Thibodeau is to decrease Rose's first-half minutes -- particularly in the first quarter -- and save him for the majority of the second half.
But that's a tricky game to play, given his team's dramatic struggles on offense. Chicago ranked 22nd in field goal percentage this season, but was even worse with Rose sidelined. Just how many minutes can Thibodeau steal without Rose on the floor? And can his offense keep pace with Cleveland's, even as the latter clearly misses Kevin Love?
Whatever he decides, Thibodeau needs Rose to be far more aggressive attacking the paint, a trademark of his game at its peak. Rose has yet to attempt a free throw in the two games against Cleveland, and he's gone three straight games without taking one.
Even more disconcerting is his 5-for-18 rate from the paint, per ESPN Stats & Info. Not only does this impact him, but it hinders the effectiveness of his frontcourt -- Pau Gasol, Taj Gibson and, maybe most of all, Joakim Noah.
The Bulls, despite all their health problems, are right in the hunt, knotted up 1-1 with Cleveland and headed home. But remember, this is also a franchise that has gone up 1-0 on LeBron (when he was with Miami) two other times in the playoffs, only to lose the next four. The pressure to win -- on Rose, on Thibodeau, on the entire organization -- is only mounting.
REAL LIFE. REAL NEWS. REAL VOICES.
Help us tell more of the stories that matter from voices that too often remain unheard.