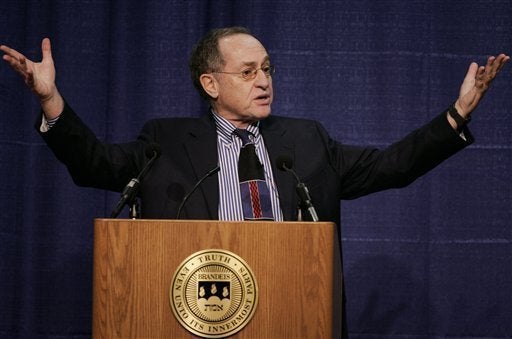 Alan Dershowitz, who taught Eliot Spitzer at Harvard Law School, came to his former student's defense today after it was revealed that Spitzer was tied to a prostitution ring.
Calling into MSNBC, the famous legal mind decried the prism through which the media was focused on the Spitzer affair, calling it a "uniquely American story."
"I feel terrible for Eliot and his family," said Dershowitz. "But I feel that this was a story that we have to put in perspective. Big deal. Married man goes to prostitute. In Europe, this wouldn't even make the back pages of the newspaper."
Reminded that Spitzer himself had railed against prostitution rings in 2004, Dershowitz admitted that there was "cycle of hypocrisy" that the New York Governor had become a part of.
The speech was interrupted by Spitzer's address, to which Dershowitz also responded. Asked, eventually, how someone he described as "brilliant" could be involved in something so boneheaded, Dershowitz didn't mince words.
"Men don't use their brains when it comes to something like this," he said. "They think with a different part of their body and that part of the body, the level of brains, there are no relationship to the level of brains in the skull, unfortunately. And when people think with that organ of the body, they make these kind of really, really terrible mistakes."
Here is some more of Dershowitz's defense:
After Dershowitz spoke, soon-to-be-departed MSNBC host Tucker Carlson came on air and offered a mild defense of Spitzer as well. Sort of.
"I would argue, if you're against Eliot Spitzer, and I think his public career has been shameful, this is not the way to get him," said Carlson, whose show's cancellation was announced on Monday. "Spitzer's true sins, in my view, are the ones that he commits in public, crushing other people for the sake of his own political career, for instance, which has been the hallmark of his time in public life. Not going to a hooker. That's no way to get, in my opinion, your political enemy. So to see the press getting all high-handed about the fact that grown man went to a prostitute is nauseating."
Popular in the Community