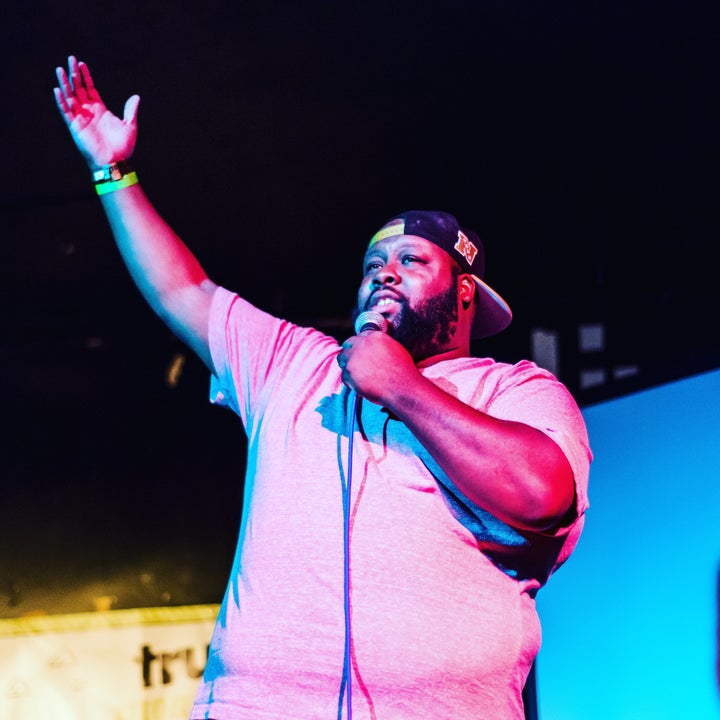 So Des Moines, Iowa is dope af. Frfr. (Roughly translated, that means "Des Moines is dope as f*ck. For real, for real.")
Who knew though? I certainly didn't. After all, I only came here in 2012 for a girl (who dumped me a month later.) All I knew of Des Moines before that was that it had a funny name, was in the state that made all of the corn and for some reason, I knew that T-Boz from TLC was born here. What I'd come to learn, however, is that Des Moines is pretty lit, tbh.
I started performing stand-up comedy in Des Moines at the House of Bricks in 2014. I now get to travel across the country telling jokes to strangers for money. It's pretty cool, but I especially love when people introduce me. They say "all the way here, from Des Moines…" and there is a palpable "what the f*ck?" that comes over the room. I can see and feel the audience start to mentally prepare for jokes about corn, tractors, farming, Ashton Kutcher and white people stuff.
"I can see and feel the audience start to mentally prepare for jokes about corn, tractors, farming, Ashton Kutcher and white people stuff."
The easiest one of those to dispel is always the last, as I am, in fact, a big a** black dude. I also mostly tell jokes about squirrels and the weather. But Des Moines makes for interesting conversation after shows, because it seems no matter where I go, after the obligatory handshakes and "oh my God, you are the greatest comedian I have ever watched" conversations, there is generally one or two people who stick around to talk to me about it. Sometimes they are from Des Moines themselves and want to chat about Zombie Burger, and sometimes they are from some other part of Iowa and they want to talk to me about the Des Moines Farmers Market; other times they have no connection at all, and they are just genuinely curious about the city and how and why I managed to stick around all this time. Its pretty simple: Des Moines is cool.
And the thing about being cool: It always happens when you aren't trying to be cool. That is Des Moines in a nutshell. People in Des Moines aren't trying. They're doing. They're being. They're doing cool sh*t, being cool people. In maybe the most pure measure of cool I can think of, the ability to adapt and grow, Des Moines continues to be ahead of the game. Whatever you think you'd miss here, you won't. Des Moines has it, and if we don't, we are either working on it or understand how unnecessary "it" is. All this, with a three percent unemployment rate, one of the most affordable housing markets in the country and a median household income of over $45,000 a year, and it sort of starts to feel like I'm bragging.
When I got here in 2012, the Romney/Obama election was going strong, and unbeknownst to me, the apartment I moved into was on the same block as Barack Obama's Des Moines campaign headquarters. President Obama has a strong love for Iowa, as his 2008 election was fueled heavily by him winning the Iowa caucuses. He visited Des Moines during his campaign at least three times, and to this day, it's still the most magical night of my life. People were lined up for blocks, in the streets, filled with hope and excitement.
"President Obama visited Des Moines during his campaign at least three times, and to this day, it's still the most magical night of my life."
Michelle Obama gave a speech that night; I think Bruce Springsteen was there? (I always get Bruce Springsteen and Jon Bon Jovi mixed up, but it was one of them!) It was all quite impressive, so impressive in fact, that I let Barack Obama shake my hand as he walked through the crowd of people there to see him. I bet he still thinks about it every day, honestly. Truth be told, I think about that night a lot. Looking back, that was the moment I felt like Des Moines was home. All of the consideration I was giving to leaving slowly melted away, right along with any notion that I needed to be somewhere bigger, brighter and busier to be happy.
The other question I get a lot from people curious about Des Moines is "what is there to do in Des Moines?" There are so many things to do here! I feel like sometimes I take it all for granted. Just in the five years I have lived here, I can recall many evenings spent with friends having a great dinner at one of the many amazing restaurants here (Splash, Flying Mango, Latin King, etc.) then capping the night off watching some local performer in a cool bar (Decoy at B.B.C, Rainbow Penley at Star Bar, Bonnie Finken at Wooly's). I also saw Dave Chappelle here. The list of cool stuff on a larger scale keeps going, too. Drake (yes, the rapper) came through and stopped by Drake (yes, the university). Alton Brown and Guy Fieri have both come through to film segments for their nationally-televised cooking shows featuring amazing local eateries, and for some strange reason Mark Wahlberg was hanging around town for a few days when the new Hy-Vee was opening downtown. The turn up is real in these Des Moines streets!
I remember watching a TV show once where the main character was describing some experience as a "New York moment" ― in essence saying that it was a moment the city provided that could only have happened there. I remember it, because I have so many of those here in Des Moines. As I continue building friendships and meeting new people around town, it becomes more and more obvious that I am not alone. It would have been absurd 10 years ago to base a piece of art like a movie, TV show or play on life here. The assumption would have been that no one would get it, the appeal would wear off after five minutes and that would be that. You know what happens when you assume, though. It shocks me that no one has created a documentary about one of the many semi-pro sports teams around town, and some of the awesome personalities they have brought through. Behold former Iowa Cub Taylor Davis staring creepily at camera for proof:
Sometimes you worry that if everyone is exposed to something that only you and a handful of other people are privy to, and it becomes popular, it will lose the thing that made it cool to you in the first place. While Des Moines could fall into that sort of takeover, similar to Denver, Portland and Austin, I like to think that there are enough of these "moments" happening here to sustain an uptick in popularity.
It seems inevitable that at every stop I make along the winding road of shows I do throughout a year, I must stay on alert for someone asking: "When you gonna move?" It has become so frequent that I honestly don't know the last time I went somewhere and it wasn't brought up. It makes me feel special for sure. It makes me feel wanted, and let me tell you, I can really appreciate that feeling of being wanted for something besides my exceptional body, and this cool, viral picture of me holding a box of cereal.
At its core, though, it drives home the point I think I want them to understand so desperately: "The thing that makes me most special, that makes me feel special, and the thing that is the most special to me is Des Moines." This place has what it takes. It's dope as hell. I am here, after all.