WASHINGTON -- At the end of a year in which five different candidates took turns leading in polls of likely Iowa caucus-goers, the final and most respected survey shows the Iowa caucuses headed toward a photo finish.
The final Des Moines Register Iowa poll shows Mitt Romney and Ron Paul leading the pack with 24 and 22 percent respectively, followed by 15 percent for Rick Santorum, 12 percent for Newt Gingrich, 11 percent for Rick Perry and 7 percent for Michele Bachmann.
But the pollsters report a twist: In the final two days of polling, Thursday and Friday nights, Romney still held a narrow lead (with 24 percent), but Santorum moved up to 21 percent, ahead of Paul at 18 percent.
The results remove any lingering doubt that Iowa is now Romney's to lose. The former Massachusetts governor has already suggested that he is all in in the Hawkeye State and is planning to spend caucus night in Des Moines.
But it remained unclear whether he was the prohibitive favorite against Ron Paul. A second-place finish now would carry a disappointing note.
Romney's top advisers huddled in the lobby of the Stoney Creek Inn in Sioux City, Iowa, as they waited for the Register poll results to be released. Once the numbers came in, their pleasure was clear, but they declined to comment, saying they would let the numbers speak for themselves.
The Register results also give major credence to talk of a Santorum surge. The former Pennsylvania senator may be third in the poll, but his showing in the final two days of polling suggests a candidacy on the rise. He may be the beneficiary of near-perfect timing as well, with precious hours left until voters caucus and expectations still relatively low.
Santorum said in Ottumwa, Iowa, that he was pleased with the poll results and that he's headed in "the right direction."
"I feel very comfortable that the momentum is in our favor and we're going to surprise a lot of people," he told reporters after a rally.
Santorum attributed his recent success to people becoming more confident that he can beat Romney, whom he said many conservatives do not want to win in Iowa. He said he won't do anything differently in the next two days and will continue to be accessible to voters and reporters. "I'm a tortoise," Santorum said. "I just keep moving."
"People are realizing that I can win this," he added. "Probably earlier in the polls, they didn't know that we were doing as well. And I think the fact is that people are now saying, 'Hey, this is a guy that can actually win. We always wanted to be for him, but we weren't because we didn't think he could win.'"
Gingrich campaign spokesman R.C. Hammond downplayed the importance of the Iowa Poll results and his candidate's fourth-place finish.
"If this is the Super Bowl, then we just saw the pre-game show," said Hammond. "But everyone knows the real action happens after kickoff."
The poll of 602 likely Republican caucus-goers was conducted Dec. 27-30 and has a margin of error of plus or minus 4 percentage points. The sample included 302 likely caucus-goers interviewed in the final two days of polling with a margin of error of plus or minus 5.6 percentage points.
The Des Moines Register's Iowa Poll is the nation's longest continuously running newspaper poll, and it has asked Iowans about their caucus preferences since the 1980s. The Register and its current pollster, Ann Selzer, gained further acclaim four years ago when their final pre-caucus survey was the only public poll to show Barack Obama with a wide lead over Hillary Clinton and John Edwards. It was also the only poll to accurately forecast the "dramatic influx" of first-time caucus-goers that helped propel Obama to his eventual Iowa victory.
The results of the latest Register poll are broadly consistent with those from other surveys and are a close match to those from HuffPost Pollster's Iowa chart based on all public polls. The chart, like the Register poll, shows Romney leading Paul, with Santorum moving ahead of Gingrich into third place.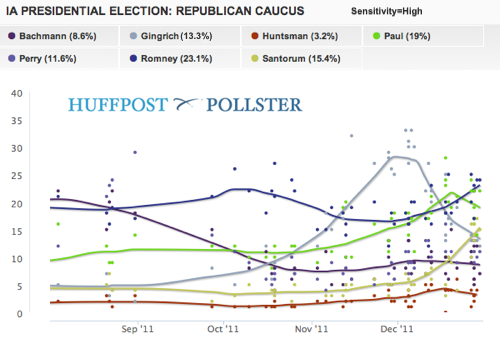 The most pronounced trends across all of the recent surveys have been the collapse of support for Gingrich, who led the field on the last Register poll with 25 percent, and the more recent rise of Santorum.
That said, even the widely respected Iowa Poll is still just a poll, with the same potential for error as any other survey, and the Iowa caucuses have a history of volatility and surprise not predicted even by the final polls. With less than a week remaining before caucus night, 41 percent of likely caucus-goers said they could still change their minds about which candidate to support.
Jon Ward and Elise Foley contributed to this report.

Popular in the Community