Des Moines Water Works CEO Bill Stowe says there's a word for an Iowa bill that proposes to dissolve the utility he's overseen for four years: retribution.
Two years ago, Des Moines Water Works sued three farm-heavy Iowa counties located upstream from the city for costs of filtering nitrogen the utility claims came from the farms. The state Supreme Court ruled against the utility in January, and a federal trial is set for June.
But Stowe said Iowa's mighty agribusiness interests are seeking justice of a different form by pushing legislation that would eliminate the utility altogether as revenge for the legal action.
"It's clear to me the bill is intended to get at us because of our lawsuit," Stowe told HuffPost on Wednesday. "It sends its own message: Don't step in the way of Big Ag, or you'll suffer the consequences. That has a huge, chilling impact on civil discourse."
The legislation, introduced last month, would dissolve existing independent water utilities in Des Moines, as well as in the neighboring suburbs of West Des Moines and Urbandale, and replace them with city departments under control of city councils.
The bill's sponsor, Republican state Rep. Jarad Klein, has deep connections to the state's powerful agriculture interests. Klein, a farmer whose district is 100 miles east of Des Moines, is a member of the Iowa Farm Bureau, according to his state legislature biography. The Farm Bureau has opposed the Des Moines utility's lawsuit and donated nearly $10,000 to Klein's 2010 campaign. Klein also belongs to groups representing pork producers and corn growers, which have opposed the utility's litigation.
Klein denies his legislation has anything to do with the Des Moines utility's lawsuit, according to local media, and did not respond to an interview request. The Farm Bureau says it's not involved, noting that it did not author the bill and has not registered in support of it.
Klein has insisted to local media that the bill is a step toward a regional water authority that combines resources of Des Moines and its suburbs, giving suburban concerns more representation.
"Having more voices, more opinions, backgrounds, diversity at the table helps us produce a better result," Klein told a local news station last month.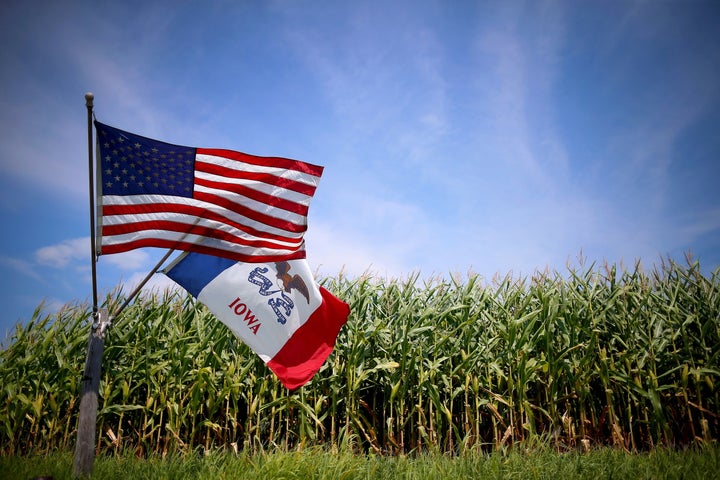 Debate on the legislation has been fierce. A large crowd of opponents on Monday packed the Iowa state capitol for a public hearing. Critics noted that language requiring the formation of a regional water authority has been removed from the bill since it was first introduced.
Still, the legislation appears to have momentum.
State Rep. Chris Hall, a Sioux City Democrat who sits on the state's three-member House agriculture committee, was the lone vote against the measure when two GOP committee members advanced it last month. A Senate subcommittee also approved the bill, so it is now bound for the full House.
Hall doesn't buy Klein's argument for a regional utility, noting that existing state law already allows for such a move.
"When you look at the bill itself, the clear takeaway is that it's politically motivated," Hall told HuffPost. "There is not rationale in public policy that is sound that will be created by this legislation."
"The water quality problems we have are real, and if we don't address them and don't make progress towards real solutions, we're essentially just taking our chances on something much worse happening," Mandelbaum said.
That "something worse," Mandelbaum and other critics of the bill fear, could be a crisis rivaling the lead emergency in Flint, Michigan.
"What they're proposing to do is to take the responsibility for providing safe drinking water and place it with people who don't have any experience or expertise running a water utility," Mandelbaum said. "That's exactly the same type of circumstances that were in place in the runup to Flint."
For his part, Stowe is undaunted. 
Facing the possible dissolution of his water utility and an uncertain future for the legal battle he brought, Stowe said the state's nitrate pollution cannot be downplayed much longer.
"You can kill the messenger, but not the message," Stowe said. "The waters of our state are getting worse instead of better, and we are articulating that message. And that doesn't go away until the facts disprove it."
This story has been updated to include information from the Iowa Farm Bureau.
Joseph Erbentraut covers promising innovations and challenges in the areas of food, water, agriculture and our climate. Follow Erbentraut on Twitter at @robojojo. Tips? Email joseph.erbentraut@huffingtonpost.com.
Calling all HuffPost superfans!
Sign up for membership to become a founding member and help shape HuffPost's next chapter
BEFORE YOU GO