Typically, when an environmental and economic disaster strikes a state, its leader takes the time to address the threat, look for solutions, maybe even show up in person.
But as coral reefs throughout the Florida Keys have turned ghost white and perished in recent weeks amid a record-breaking, relentless marine heat wave, Florida Gov. Ron DeSantis (R) has remained completely silent — at least publicly.
HuffPost was unable to identify a single comment from DeSantis about the crisis, which is forecast to persist for months and threatens to devastate not only the remaining corals in the Keys but also the region's tourism-based economy. A spokesperson for DeSantis did not respond to a request for comment Friday, instead forwarding HuffPost's questions to the Florida Department of Environmental Protection.
Brian Miller, a spokesperson for the environmental agency, told HuffPost in an email that the state has "taken many preemptive actions to safeguard Florida's Coral Reef for generations to come" under DeSantis' leadership. Since 2019, Florida has spent more than $50 million for coral reef recovery and restoration, he noted.
"The Governor's forward-thinking funding priorities ― including coral reef restoration and recovery initiative grants ― provide crucial financial resources to tackle current and future environmental issues, including those currently affecting Florida's Coral Reef," Miller wrote.
Of course, funneling money to reef restoration does nothing to confront the main threat to corals. Planet-warming greenhouse gas emissions are driving up ocean temperatures and fueling mass coral die-offs.
"No matter what we do regarding restoration, local sources of pollution, marine protected areas — if we don't get our hands around global climate emissions, anything we do is a rear guard action that will only put things off for the future," said Bill Precht, a veteran coral scientist based in Miami. "And that's not good enough."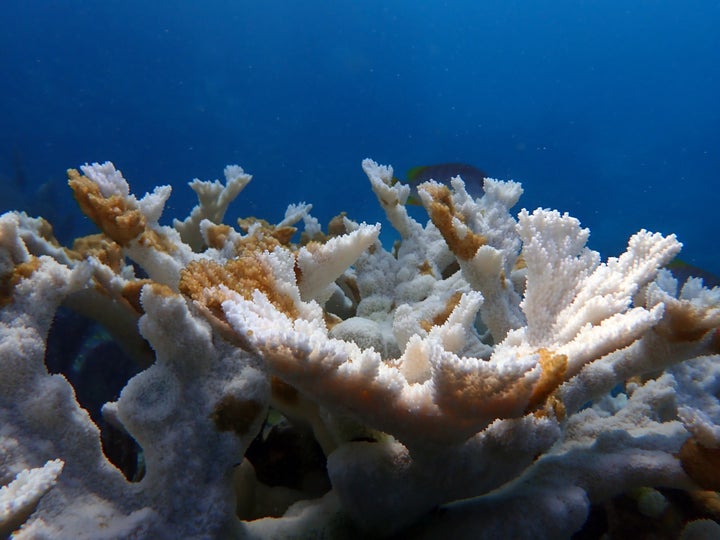 When corals are exposed to prolonged spells of hot water, they become stressed and expel their zooxanthellae ― the symbiotic algae that they rely on for most of their food ― and turn white, a phenomenon known as coral bleaching. If temperatures return to normal, bleached corals can recover. If not, they can die.
Water temperatures in the Keys have been in the low- and mid-90s since early July. Already, scientists there have documented widespread bleaching and coral mortality. And the threat of heat stress is far from over. The Keys and much of the Caribbean are under the National Oceanic and Atmospheric Administration's highest alert level for bleaching, which means reefs there have a 90% chance of severe bleaching and mortality over the next several months.
The situation is so dire that scientists have mobilized to relocate corals from offshore nurseries and into labs in a desperate effort to preserve their genetic diversity.
DeSantis, now a 2024 Republican presidential candidate, often touts Florida as an economic powerhouse. Early in the COVID-19 pandemic, he lifted lockdown restrictions, citing the effect those safety measures were having on the state's economy.
"Our economy is the envy of the nation," he said during his State of the State address last year. "And the state is well-prepared to withstand future economic turmoil."
Yet for the last month, DeSantis has ignored environmental and economic turmoil in the Keys, apparently too focused on waging his never-ending political war on "woke ideology." This week, for example, his Department of Education "effectively banned AP Psychology in the state by instructing Florida superintendents that teaching foundational content on sexual orientation and gender identity is illegal under state law," the College Board said in a statement. And at a GOP primary campaign stop in New Hampshire, he promised to "start slitting throats" in the federal government on "Day One" if elected to the White House.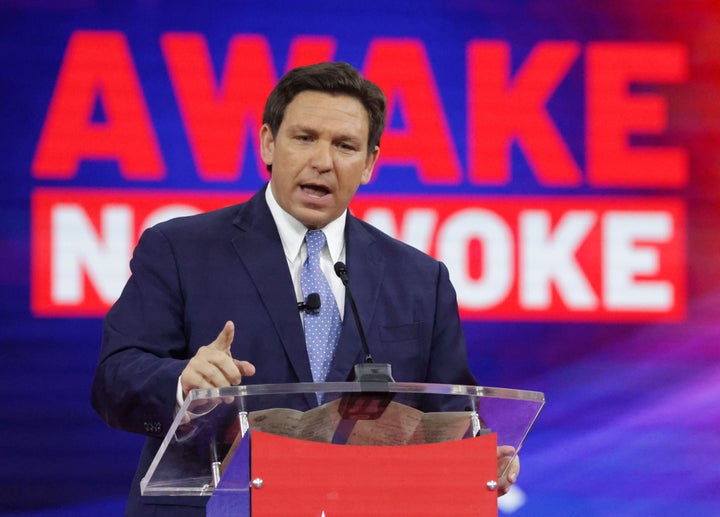 Coral reefs are vital ecosystems, providing habitat for more than 25% of the planet's marine species and generating goods and services valued at an estimated $375 billion each year. Ocean recreation and tourism in the Keys support approximately 33,000 jobs and account for $2.3 billion in annual sales, according to NOAA. Reefs are the backbone of the area's economy.
Precht called coral reefs the "major breadwinner for South Florida" and said he's been troubled by DeSantis' silence on the unfolding disaster.
"I've been surprised with the lack of leadership on an issue that has tremendous ramifications not just for the reefs of Florida but for the economy of Florida, which includes ecotourism — No. 1 dive destination in the world — commercial fishing, sport fishing and everything that goes with all of those things," he said. "Lodging, hotels, gasoline stations, restaurants. The number is billions of dollars a year in importance to the state of Florida."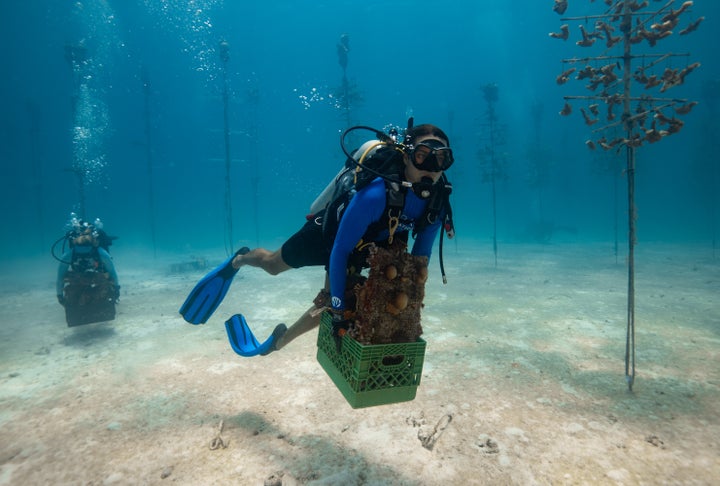 Precht has been studying corals since 1978 and said he's always been an optimist. But the devastation to reefs over the last decade, in particular this summer, has left him feeling shocked and depressed. He noted that Florida entered this year's bleaching event with already historically low coral cover. Upwards of 90% of corals in the Keys have vanished since the 1970s due to warming temperatures, disease and other threats.
"We've had continual declines from disease and past bleaching events, and the reefs in Florida have never recovered," Precht said. "If we lose 50-plus or 90-plus percent [of remaining corals], depending on how bad this thing gets, what's left? There's nothing left."
"I don't want to say it's over" for the reefs, Precht added. "But there are going to be places in the Keys that are going to see mortality levels we've never seen before. And there might not be much left in those spots."
In unveiling his proposed state budget earlier this year, DeSantis declared that "conserving Florida's beauty, protecting Florida's beauty, has been a staple of our administration from the very start."
Yet like many Republicans, he has largely ignored the mounting effects of climate change in his own backyard.
"I've always rejected the politicization of the weather," DeSantis told Fox News in May shortly after announcing his presidential bid.
Support HuffPost
The Stakes Have Never Been Higher
Popular in the Community