After only three months in his position, one of the five board members hand-picked by Florida Gov. Ron DeSantis (R) to oversee Walt Disney World has stepped down from his role, according to local reports.
News 6 Orlando confirmed Saturday that Attorney Michael Sasso resigned as vice chair of the Central Florida Tourism Oversight District board. Spectrum News 13 was first to report.
DeSantis, who officially entered the 2024 Republican White House race last Wednesday, appointed Sasso, along with four other board members in February, after he signed a bill into law to take control of Central Florida Tourism Oversight District, formerly known as Reedy Creek Improvement District, which was previously operated by the Walt Disney Company.
The enactment of the law follows Disney's public opposition to the state's controversial "Don't Say Gay" law, which prohibits any discussion on sexual orientation or gender identity in kindergarten through third-grade classrooms.
Sasso's reason for resigning remains unknown. He reportedly did not attend the last Board of Supervisors meeting on May 24. His term was through February 2027.
Sasso could not be immediately reached for a comment, and DeSantis' office didn't immediately respond to an inquiry from HuffPost.
The governor had named Sasso's wife, Meredith Sasso, to the state Supreme Court last week.
The resignation comes as the Central Florida Tourism Oversight District board, including Michael Sasso, and DeSantis are facing a federal lawsuit by the Walt Disney Company alleging a "targeted campaign of government retaliation" in response to company's opposition to "Don't Say Gay."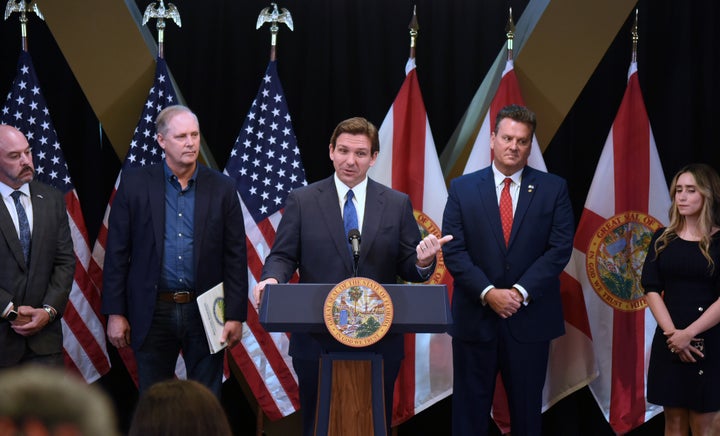 Similarly, the board members filed a lawsuit early this month against the entertainment giant, claiming that Disney engaged in "a backroom deal" with previous board members.
When the Reedy Creek District was established in 1967, Disney was given authority over issues like land use, fire protection and sewer services that usually fall under the responsibility of local governments.
Michael Sasso, of Orlando, is the managing partner of Sasso and Sasso law firm. He also serves on the Sixth District Court of Appeal Judicial Nominating Commission and is the commissioner of the Public Employees Relations Commission and as a trustee of Valencia State College, according to DeSantis' office.
It remains unclear who will be appointed as his board replacement.
Popular in the Community