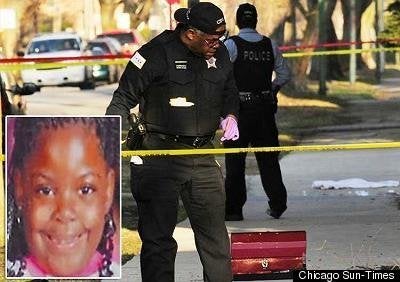 A 7-year-old girl remains in intensive care Thursday after being shot in the head Wednesday evening on the South Side.
Desaree Sanders was riding her scooter outside her grandmother's home in the 8000 block of South Manistee Avenue when a gunman opened fire on two young men running past her, the Chicago Tribune reports. Desaree's 11-year-old sister tried to hold her back, but she inadvertently crossed into the path of the gunfire.
Desaree, who is in first grade, was taken to University of Chicago Comer Children's Hospital in critical condition, the Chicago Sun-Times reports.
The child was shot in the "upper right side of her head" and that doctors found fragments of bullet and shattered bone when they operated, according to the Tribune.
"The doctor is very optimistic that she might end up being just the way she was prior to this," Desaree's relative and registered nurse Brenda Ware told the Tribune.
Two men were taken into custody following the shooting, which is believed to be gang-related.
The Sun-Times reports that an off-duty officer witnessed the shooting and police apprehended a motorist and passenger in a car that fled the scene. Both were later released without charges.
A neighbor of the wounded child told the Tribune gang activity and drive-by shootings are common on the street, and Ware pointed out that the violence increases when the temperatures heat up.
"This will not end with Desaree," Ware told the paper. "It's a sad thing, but it happens far too often, too many times and the weather hasn't even gotten warm yet. You hear about (gun violence), but today it hit close to home because this is my family."