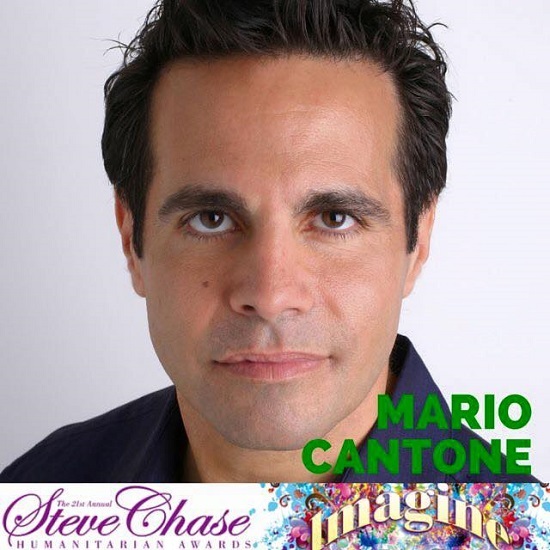 Producers of the always-poignant, forever-important Steve Chase Humanitarian Awards, which take place in Palm Springs, California each year to benefit Desert AIDS Project, have the whole community (and the people we reach worldwide) truly imagining a world without HIV/AIDS, by championing #IMAGINEnoAIDS. If you come across this episode prior to February 7th, 2015, attend this year's gala at the Palm Springs Convention Center. In this episode of Nicholas Snow Live, I preview this year's event and bring some of my Steve Chase Best of the Red Carpet Interviews from past events with Greg Louganis, Melissa Etheridge, Suzanne Sommers, Jesse Tyler Ferguson, Lucy Arnaz, Larry Luckinbill, Lorna Luft, Megan Hilty and Mathew Morrison.

Check Out Current Events Podcasts at Blog Talk Radio with
SnowbizNow
on BlogTalkRadio
Download Nicholas Snow Live podcasts for free from iTunes.
And here's a related video featuring Desert AIDS Project Board Chairperson Barbara Keller and Board Member Jim Casey, co-chairs of the Steve Chase Humanitarian Awards to take place Saturday, February 7th, 2015, in Palm Springs:
Here are official details about the 2015 Steve Chase Humanitarian Awards released by Desert AIDS Project:
As the signature fundraiser for Desert AIDS Project (D.A.P.), the Steve Chase Humanitarian Awards last year raised more than $1.4 million for client services. Desert AIDS Project (D.A.P.) serves people living with HIV and AIDS by providing comprehensive support, including medical care, case management, and social services, like food, housing, and counseling. D.A.P. also offers free and confidential HIV testing at a number of locations throughout the communities it serves.

The generosity and philanthropy of Helene Galen has helped to sustain many a nonprofit organization in the desert communities, including Desert AIDS Project. Although one of the ways she's supported D.A.P. is through her long-standing sponsorship of one of the awards given at the Steve Chase Humanitarian Awards, on February 7th, it will be Ms. Galen receiving the 100 Women Award for 2015.
Her counterpart receiving the 2015 Partners for Life Award will be Dave Morgan, president of Reaction Marketing & Promotions, which created and has produced and presented the increasingly-popular Dancing with the Desert Stars event for four years. The recently-staged 4th Annual "Dancing" event raised nearly $65,000 for the 100 Women and Partners for Life annual giving programs at D.A.P.

The 2015 Science and Medicine Award recipient will be Dr. Michael Gottlieb, a physician and immunologist best known for his identification of AIDS as a new disease with the first diagnoses in June 1981. Gottlieb was famously Rock Hudson's doctor, following the actor's AIDS diagnosis until his death in 1985, as well as physician to the namesake of the Elizabeth Glaser Pediatric AIDS Foundation, which shares with Desert AIDS Project the distinction of being named a "Top 20 HIV/AIDS Charity" for both 2013 and 2014.

Barbara Keller, D.A.P. board chair and co-chair of the organization's signature annual fundraiser, explains, "These honorees could not more richly deserve their individual recognition."
Jim Casey, gala co-chair and president/CEO of presenting sponsor Integrated Wealth Management added, "We're also beyond delighted to have the hysterically funny Mario Cantone as our emcee for the evening...and we might as well add that Broadway sensation Shoshana Bean will be the evening's featured performer."

Mandy Moore gave all the right moves to Bradley Cooper and Jennifer Lawrence in the Oscar-nominated film Silver Linings Playbook. Remember that dance that captured their tortured love story ... the one that was equal parts clumsy, romantic, and touching? Mandy will give that same delicate touch to the featured dance sequences at the 21st Annual Steve Chase Humanitarian Awards held Saturday, February 7, at the Palm Springs Convention Center.

The gripping story of a couple living with HIV combines the talents of Scott Alan, whose songs have been sung by Broadway's elite, with the creative direction of Live It Up! Productions president Trini Garza and his co-creative director Brandon Alameda. Trini and Brandon teamed up with Scott to write a very tender story that will be told throughout the evening of the gala.

The moves, though, come courtesy of Mandy Moore. She's directed huge production numbers on ABC's Dancing with the Stars. She also created Cirque du Soleil's Michael Jackson: The Immortal World Tour. Mandy both directed and choreographed the movie-cum-Broadway musical, The Wedding Singer. At "The Steve Chase," she will be directing the So You Think You Can Dance All-Stars.
All of the work that Mandy, her dancers, and the other entertainers - Shoshana Bean, Scott Alan, and the evening's emcee, popular comic actor Mario Cantone - perform for the gala help celebrate giants in AIDS research, treatment, volunteering, and philanthropy. Moreover, it raises funds needed to provide the comprehensive and compassionate care that Desert AIDS Project offers our friends and neighbors in Riverside County living with HIV and AIDS.

Staging a glamorous evening that entertains and informs the Coachella Valley about HIV - so we can support those with this harsh and angry disease - is an important chapter in the D.A.P. silver linings playbook.

To learn more about Desert AIDS Project, please call 760-323-2118, visit desertaidsproject.org or find them on Facebook, Twitter, and YouTube.
REAL LIFE. REAL NEWS. REAL VOICES.
Help us tell more of the stories that matter from voices that too often remain unheard.