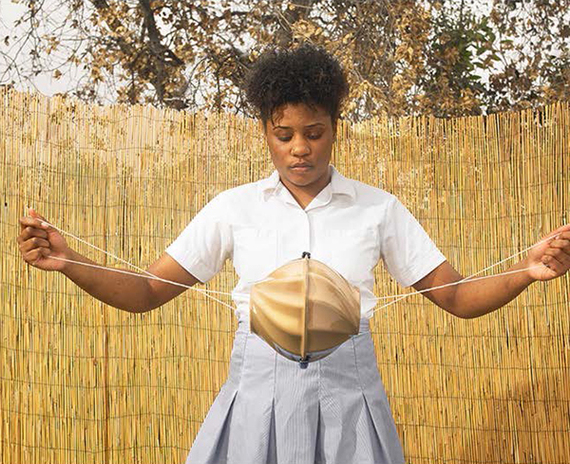 Wash, dry and carry kit for sanitary pads, by Sohyun Kim, Tanjana Vasily and Mariko Iwai
Design driven new entrepreneurial ventures promise a reinvigoration of progress in developing nations. When design is done right, it offers much more than mere decoration, it acts as a creator and mediator of strategy context and execution.
Apple's development costs are less than half that of their competitors, so design does not have to be cost prohibitive. In fact, the developing world can benefit immensely from design, perhaps even more than the developed world.
For more than a decade, ArtCenter College of Design's Designmatters program has taught design students how to design offerings with stakeholders in the developing world. In collaboration with the college's undergraduate departments from product, to environmental, graphic and interaction design, sponsors, NGOs and government institutions, Designmatters' students go to the source, immerse themselves in the communities and collaborate on useful sustainable solutions to everyday problems.
A core portfolio of Designmatters transdisciplinary projects consists of on-site user research in the developing world together with co-creation of concepts with the stakeholders. This is followed by prototyping and testing of concepts before finally detailing and refining the concepts into viable business models and useful products.
So, - how much value can a fourteen-week student project add to the world? Analyzing twenty-four Designmatters projects over the past four years, ingomer&ingomar - consulting mapped their Design Index (an un-weighted composite of nine Design Quality Criteria) and Probability of Success in a Fundable / Non Space and found that approximately twenty percent represented fundable ventures. This is on par with the fraction of finalists in the INDEX: Award considered worthy of funding.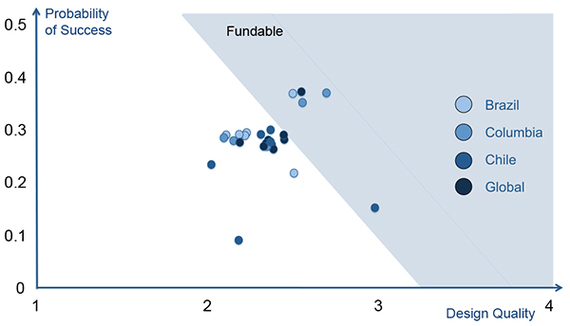 Just how much Market and Technology risk do the Designmatters projects take on? Compared with conventional Venture Capital (VC) funded startups, Designmatters projects take on significantly less risk on both parameters. This makes perfect sense, since developing countries need solutions that address immediate needs, before speculating and investing in long-term needs.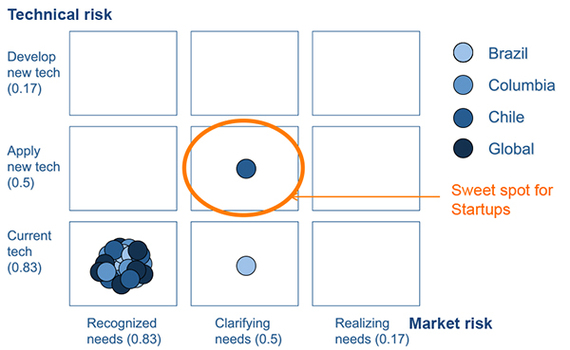 Market - Technology Risk matrix
In order to gain and sustain momentum with inherently low profit margins, these ventures need to quickly become sustainable and independent of subsidies. This requires rapid market adoption and scaling, thus market and technology risk needs to be very low. Their unique situation of untapped markets make this possible since they do not face the stiff competition and downward spiraling profit markets that is found in traditional Red Ocean markets.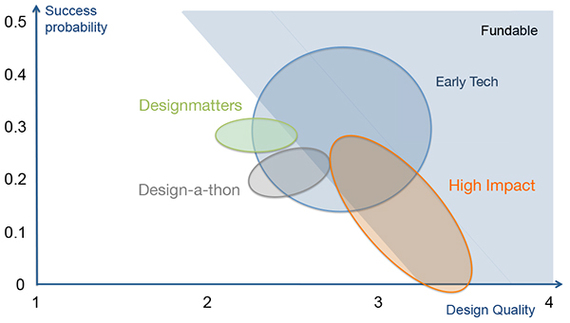 Comparing Designmatter projects with a Design-a-thon, Tech Ventures and High Impact ventures in Applied Design Science's Design Valuation Dashboard: Design Quality - Probability of Success space
Finally, how effective is the Designmatters process in launching new design driven ventures? Comparing their Design Index - Probability of Success performance with that of a design-a-thon weekend in Pasadena, tech startups in Los Angeles and INDEX: Award high impact new ventures, show that the Designmatters process is effective in reducing risk, with design performance only slightly lower than that of professional teams.
Also, if these undergraduate design students can match and sometimes surpass professionals, imagine what they can accomplish upon graduating with useful skills and practical experience under their belt?
Educating and providing the practical experience in designing for the developing world represents an enormous opportunity for society. By lifting developing countries out of poverty and assisting them to engage with the international community we can successfully address the daunting global challenges facing us all.
REAL LIFE. REAL NEWS. REAL VOICES.
Help us tell more of the stories that matter from voices that too often remain unheard.