Co-written by Arnold Wasserman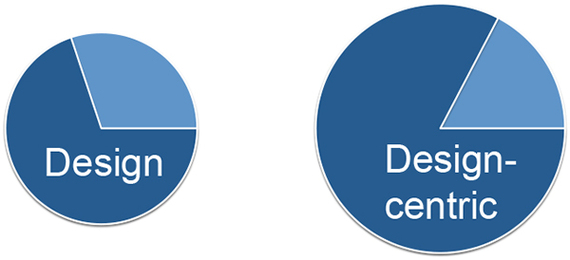 The opportunities for leveraging design are tremendous when developing breakthrough innovative offerings in new entrepreneurial ventures. Unsaddled with entrenched cultures, organizational architecture, procedures and legacy requirements, design has a "blank slate" to approach opportunities strategically and not just as an exercise in product differentiation . Studies at Stanford show that, for established firms, the strategic use of design offers an added value of six and a half to thirty percent.
Can startups realize better results and, if so, how do they take advantage of their unique "blank slate" advantage?
The path to building design competencies usually goes though a series of design engagements. A startup may begin by crowdsourcing their logo, hire a freelance designer for ad hoc assignments, engage with a consultancy for longer-term projects, then arrive at hiring a designer and begin building strategic design capabilities. However, by then, the advantage of strategic design may have been severely diminished.
The second way is to find a designer interested in being a founder. These days, designers are just as open as other technical professionals to joining in a risk venture.
To turn up potential design partners, one has to poke around where designers hang out. That means local chapters and conferences of professional design associations like Industrial Designers Society of America, and AIGA as well as design schools, in particular those that emphasize design entrepreneurship.
To be fair, the term "design" covers a lot of territory and that can cause confusion about its scope.
Is design the aggregate of all the small bits like hardware, form, factor, material surfaces, finishes, textures, radii, color, buttons, typography, etc.? Is design all the details of configuration and behavior of the user interface (UI) that are used to control and operate software driven systems, whether free-standing, networked or web-based?
Or is design the middle stuff, like the User Experience Design (UXD) and Interaction Design (IXD) that crucially connect the user to the product, service and company? Or is it branding - not just the logo and identity but all messaging at every touch-point of contact with employees, customers, users and other stakeholders?
Is design the big stuff, like the entire cycle from user-centered design research for needs-finding and opportunity identification through concept generation, prototyping and testing to production, supply chain logistics, distribution, branding, marketing and continuing version iteration?
Or is design the really big thing committed to improving life by re-engineering industrial capitalismsuch that every act of innovation contributes to improving health, social justice, equity, learning, creative fulfillment and sustainable prosperity for ten billion people on a single planet?
The answer is yes, today, design is all the above and even more. It also means applying Design Thinking- the habits of mind, the methods and tools and techniques of design - to every sort of purposeful human endeavor. Entrepreneurs today need to be as fluent in Design Thinking as in the latest programming language or business model.
The entrepreneur still not persuaded about design might consider that competition is coming not only from the U.S. but also from the rest of the world. Nations as disparate as South Korea, Taiwan, Singapore, Denmark and South Africa, promote design as a key to accelerate innovation in the creative sector of their economy.
China is spending hundreds of millions ramping up design-driven startups in support of the government's strategy to move up the value chain from export manufacturing to domestic consumption. In recent decades, China has set up nearly a thousand design schools (The U.S. has forty-seven design schools - all packed with students from Asia).
In summary, design is the front end to innovation, which is the door to entrepreneurship, which is the engine to grow the creative economic sector with the highest value-added.
Special thanks to Arnold Wasserman for researching this article
Popular in the Community