As I shared last post, this year I dressed as Dorothy Draper for Halloween. With a crown of feathers, pin curls, and a smashing vintage dress dripping in rhinestones and topped with a fabulous boa, I embodied Dorothy Draper. While not a soul knew who I was, I felt classic, poised, and glamorous, just as I imagined Dorothy would.
But why did I choose Dorothy and not Candace or Elsie? I absolutely adore Dorothy Draper. Her work is so iconic of 20th-century interior design. Her style is bright and eclectic, mixing unexpected pieces in a fabulously dramatic way that stills looks fresh and contemporary all these years later. She's credited with inventing the Hollywood Regency style, so we can thank her for introducing drama and color and balancing glam with classic.
The best part about loving Dorothy? One of her most famous works, The Greenbrier Hotel in West Virginia, still maintains her 1940s interior designs, thanks to her protégé Carleton Varney. A time capsule of sorts, it's pure eye candy for visitors and a must-see for interior design fans.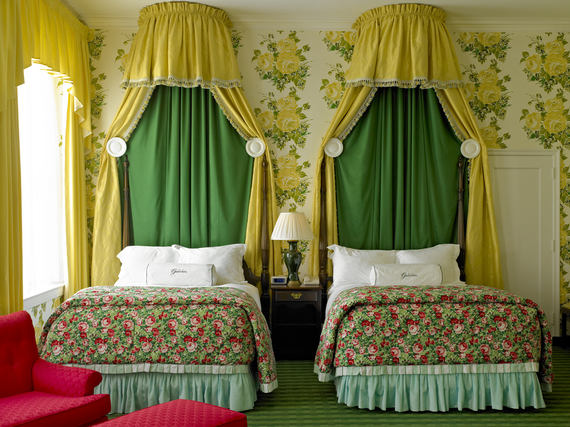 One of the seven bedrooms in The Greenbrier's Presidential Suite, perfectly showcasing Dorothy Draper's signature style. Courtesy of The Greenbrier.
Want to learn more about Dorothy Draper and her style? Pick up a copy of her vintage book Decorating is Fun, or check out Carleton Varney's In the Pink: Dorothy Draper, America's Most Fabulous Decorator.
While I was technically only Dorothy for just one night, I try to channel my inner Dorothy Draper on a daily basis. Whether it's through design or fashion, I always mix unexpected pieces for a twist or add a pop of glam. Plaid shirt with rhinestone necklace? Why not. Motorcycle jacket with a feminine dress? Do it up! While Dorothy wouldn't have considered plaid shirts or leather jackets, you can pack her style with eclectic pairings that add a bit of drama.
How do you channel your inner Dorothy Draper?