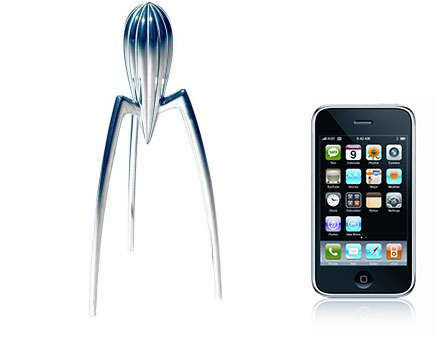 Although both innovative for their time, the difference between Juicy Salif and an iPhone becomes immediately apparent. The first is a beautiful sculpture, however a rather useless juicer. The second is a marvel in research-driven user-centered design.
Conducting thorough design research enhances the probability of creating novel design concepts, so, why is design research given so little attention? Utilizing evidence-based, cross-disciplinary design research may offer a viable way forward.
The creative process of design, is often based on tacit knowledge, intuition, assumptions and personal preferences and is seen as a standard way of working in the field of design. However, as Gjoko Muratovski points out in his forthcoming book Research for Designers, the process of design needs to be enhanced and improved by bringing evidence-based, cross-disciplinary design research into the mix. Using design research that transcends disciplinary boundaries, designers can be empowered to challenge existing conventions. Armed with data from their research, they can introduce new and innovative solutions that might have otherwise been considered too risky without the supporting evidence.

The use of cross-disciplinary research in design is important because this represents a willingness to look beyond the immediate concern of project execution. Intuition is a good starting point, however design research can be a cornerstone of innovation strategy. Design research can be used as a process that brings together intelligence gathering, information analysis, synthesis and prototype testing.
Designers who are proficient in research methods that range from ethnography and case study development to user-centered design research and action research can be invaluable in any sector that seeks innovation. Research-savvy designers now have a seat in the boardroom and participate in the strategy planning and the development of the design brief, rather than waiting for the design brief to be delivered to them by the marketing or engineering department.
For example, the iPhone was based on a significant amount of research and it revolutionized the whole mobile phone sector. The more research is involved in the early stages of the project, the less risk of failure in the marketplace. From this perspective, evidence-based design research also acts as a form of risk reduction for the company. Other market leaders such as Nike, IBM, BMW, IKEA, Dyson, Harley-Davidson and Nintendo operate in the same way. Similar design research approaches are now also receiving traction both in the public sector and in the non-governmental sector.
Design research is essentially effective at increasing an offering's innovativeness while ensuring usefulness and market acceptance. It achieves this by feeding more of the right knowledge to designers, enabling them to jump into idea generation at a higher level.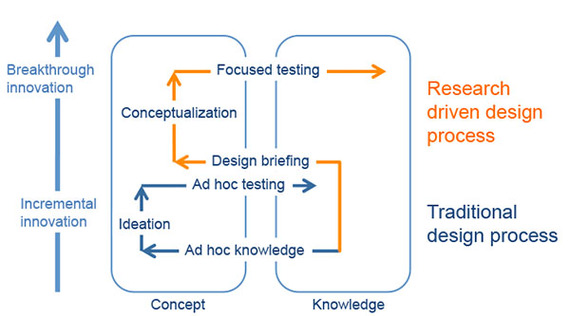 This way of working may be new to many 'old school' designers who used to focus on form, style and processes of making, without taking into consideration the broader context in which their designs will be used. However, this way of working is now seen as archaic in a globalized world that faces new challenges ranging from global warming and terrorism to global epidemics and financial crises. If designers want to be recognized as strategic leaders capable of driving innovation in both business and the public sector, they will need to show greater accountability and transparency in their work. They can do this most effectively by learning to do design research.
Calling all HuffPost superfans!
Sign up for membership to become a founding member and help shape HuffPost's next chapter