I have been stranded in France, due to the unpronounceable and un-spellable (unless you are Icelandic) volcano that erupted on my way back from the 2010 Design Leadership Summit in Venice Italy. Conceived by Peter Sellick, the Harvard educated entrepreneur,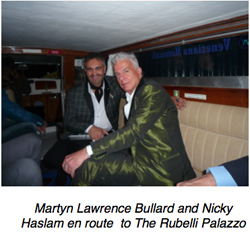 The event was opened with Nicky Haslam's irreverent insight into his life. From his aristocratic upbringing to life on his ranch in Arizona and on being one of London's most sought after decorators. Being English I found him hysterical, but like me, he swallows his words and I think some of his hilarity went unnoticed. What made this summit different from the others was the location and the integration of the european design community.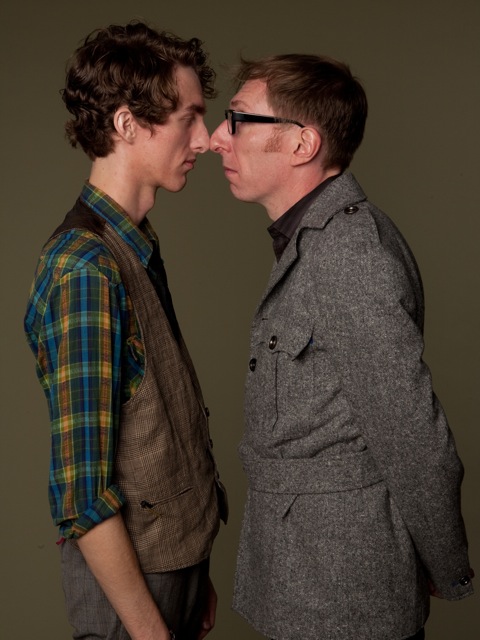 One of the panel discussions, lead by Paul Goldberger, the architecture critic for The New Yorker, was "What can we learn from European Designers". Not as much as we had hoped, as two of the keynote speakers,Kelly Hoppen and Anouska Hempel, didn't show up.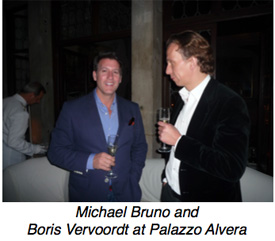 The talks were all by prominent people in their fields and covered such topics as, "How to Develop Social Media Strategies for your Design Business", "Energizing Leadership with Jung Archetypes" (bit confused by that one), "How to Develop Social Media Strategies for your Design Business" but what I got the most out of was "Innovations in Creative Communications" a panel discussion that included Stephen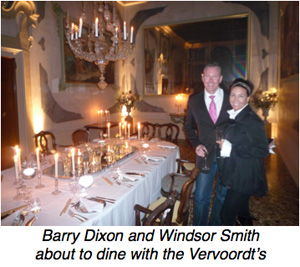 Drucker the brand new editor in chief of Town and Country, Giulio Capua, Architectural Digest publisher, and Michael Bruno, the creator of 1st Dibs.com. Michael is an internet phenomena. From being a real estate genius in the 90's in San Francisco he came up with the idea of making antiques from the Paris Flea Markets available to his friends at home. What started out as a hobby has turned into one of the most successful internet search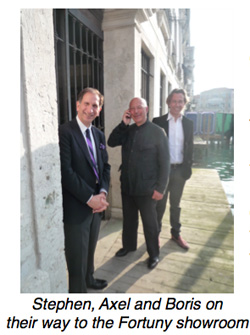 engines that facilitates not only the design communities around the world but also anyone looking to find and buy antiques (furniture, jewelry and clothing).
We had a number of hosts including The Riad Family, heirs to the Fortuny empire. A company that was in dire need of being resurrected, they have done an extraordinary job and brought the Textile company out of the 20th century and into this one.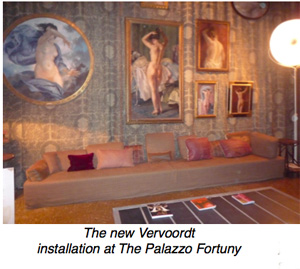 The showroom on the Guideca has just undergone a major renovation by Virginia based Interior Designer Barry Dixon. He has done a stellar job of bringing new life and energy into the space. Being a colorist foremost, I found the new color combinations introduced to the collection innovative and inspiring. My favorite was a tangerine and aqua color way to one of the Fortuny classics.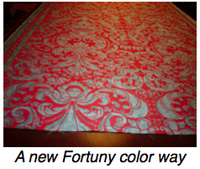 I managed to slip away with a group of friends to various other non related events. The first night I hosted a dinner at the Palazzo Alvera on The Grand Canal, a wonderful example of Venetian aristocratic living. The Piano Mobile has been divided into two, and whilst the Contessa's side overlooks the Grand Canal, Axel Vervordt and his family have the garden apartment. A group of us were fortunate to be invited, by his son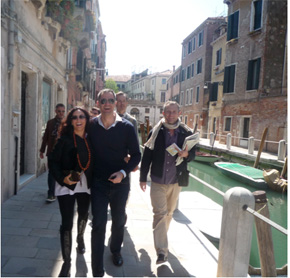 Boris who now heads the furniture side of the family run business, to a small dinner that he and his father Axel hosted. Axel is a master art dealer, decorator, and inventor in his field. His inspiration comes from everywhere but really most apparent is the simplicity of Japanese culture.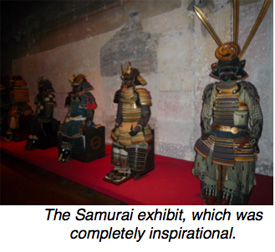 The forerunner to combining architecture and furniture successfully, Axel's look has been imitated throughout the states. He gave the key note address at the closing ceremony held at the Fortuny Museum where he has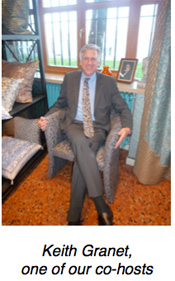 curated the show and overseen the enovation of the space, which is extraordinary. With his extraordinary use of space, he has combined the classic Fortuny patterns Keith Granet, one of our co-hosts with the Fortuny costumes, Italian Antiques and his signature style. The space has been made so inviting and in his words "wanted places for people to sit, relax and spend time". His oversized sofa's simply slip-covered allows the spectator to do exactly that.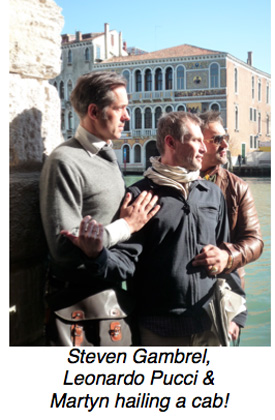 The top floor of the museum had for me the piece de resistance of my trip , an exhibition of Samurai warrior dress. An exceptional collection of cloths that were worn for battle. I didn't observe any blood, they were all pristinely clean. Apparently they had a new outfit every time they went onto the battle field. I am feeling a Samurai warrior collection coming on.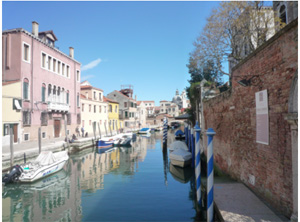 Its difficult for me to comment on all the characters at the Summit as we were close to 200 and everyone there really stood out. My traveling companions Martyn Lawrence Bullard, known for his dramatic interiors and rock & roll clients (Kid Rock, Cher, Elton John), and Windsor Smith, Designer, antique dealer, mother of boys (like me), whose look is New Hollywood, inspired by movie sets from the 40's. We laughed from the moment we took off from LAX on our Virgin flight until we all got stuck in various places due to the volcanic ash.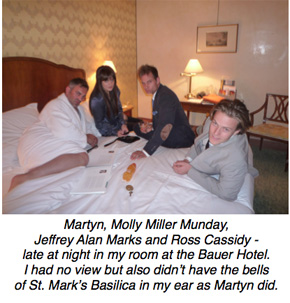 If nothing else, the three of us could give up decorating and become travel agents. WIndsor was in London taxing out on to the run way at Heathrow when her plane was sent back to the gate, she was the first of many thousands of flights to be grounded. Martyn had arrived in Rome and I flew to Toulouse. Apart from getting sick I have been monitoring calls, talking to travel agents and listening to the news to know how to get back to the States. Like so many people stranded for those 7 days clocking up bills in expensive hotels across the continent, their eagerness to get home is justified. Martyn beside himself as he had to get back to LA to install the entry of the Los Angeles Antique Show, drove 18 hours back to London.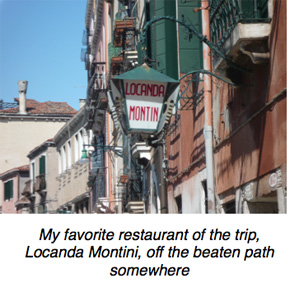 As he pulled in to Dover he discovered Rome airport had re opened. I answered a message on Facebook and instead of it being personal it went on my wall (i joined really to check up on my kids) and not knowing how to navigate well I had replies from many with good ideas, one was to get the Queen Mary leaving Southampton, but not being quick enough I missed finding a seat. Windsor had us all booked out of Lisbon, via New York, but word then had it that the ash would have reached the East coat by the end of the week and to top it the larger volcano was beginning to bubble.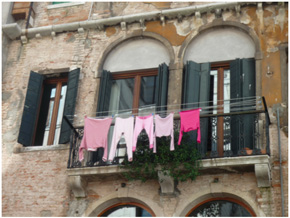 It took Gordon Brown 5 days to address the situation publicly, he was too busy canvasing for his upcoming election next month. We were told continuously to wait 6 hours. Test flights showed nothing to implicate that European airspace should be in such a state. No one was given any news and general consensus is the government had been over cautious? British airspace opened last Wednesday,and immediately there was no more coverage on TV of the volcano and it almost seems like it never happened. With the back log to get back to the UK for my return flight I took advantage of this Fore Major, stayed put and cleaned house!
P.S. my internet was down for the last few days so posting this was not easy. I am now sitting on a completely empty BA flight from Toulouse to London on my way back to Los Angeles, drinking copious bottles of white wine with my great friend Sarah Graham, a fabulous botanical artist. The advantages of a volcanic eruption, empty flight and charming crew. Not to mention the still relatively trail-free heavens visible from my window.
There is however definitely an LA smog overshadowing "Our green and pleasant land".