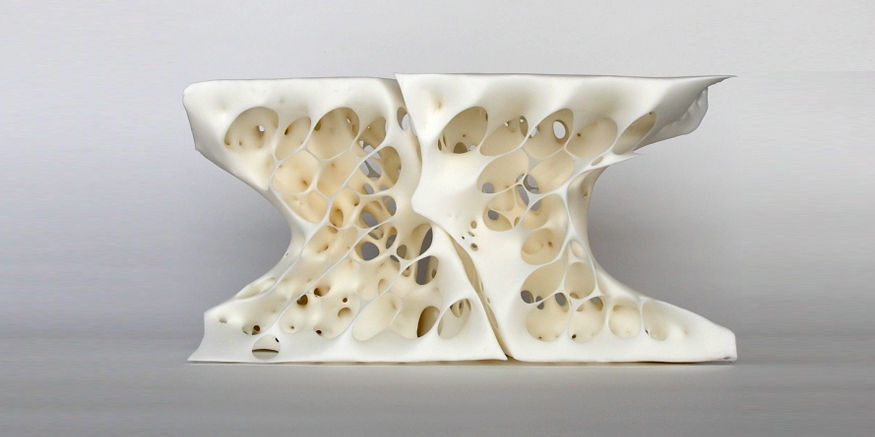 The Hammer and Song, Peter Macapia
fabricated with polyamide through fusion
The design field doesn't have borders, at least not ones that keep out architects, doctors, artists and other charlatans. The industry is nebulous enough that established practitioners in other fields think nothing of marching in and planting a flag or perhaps more accurately, a chair that occasionally one can actually sit in. New York City, along with many, many other things, is a fantastic place to look at burnt chairs, wine openers, windows, clothes and innovative design objects. What follows are few of my favorite places to see the best and brightest.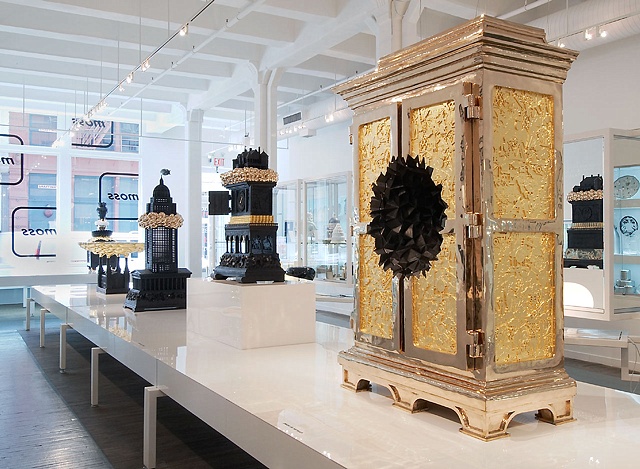 Robber Baron, the complete Suite
Tales of power, corruption, art and industry, cast in bronze by Studio Job
moss was started in 1994 by Murray Moss who was joined by Franklyn Getchell in 1999. They've built the industry standard for design galleries. Inclusion in their shop and gallery is the calling card every aspiring designer covets. Their solid curatorial program, flawless display, and knowledgeable staff are second to none.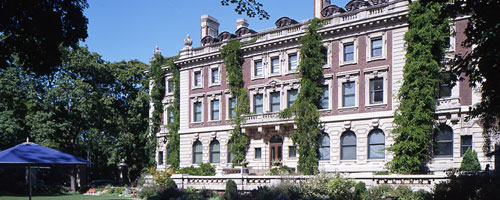 The former Carnegie Mansion, 5th Avenue, NY
Housed in Andrew Carnegie's former home on 5th Avenue, it's an often overlooked destination on NYC'S Museum Mile. There is short list of places that display, discuss, and examine how we live more intelligently, thoroughly, and with as much scholarship as the Cooper Hewitt. Their current exhibit "WHY DESIGN NOW" and their sponsorship of the National Design Week and the National Design Awards establish them as not only reliquaries of design's past but an advocate for its bright green future.
Across the street from Gagosian Gallery in Chelsea is eponymous design gallery Sebastian + Barquet. Understated, impeccable presentation, and unmatched quality are the hallmarks of this three year old gallery. They made a huge splash at the height of the market in 2007 with the purchase of Marc Newson's Lockheed Lounge for a just over $1 million.
Their showroom located two blocks away currently has an exhibit of original furniture pieces and drawings by Donald Judd. Without a doubt, it is the most tasteful, elegant display of any objects or art I can remember seeing. If you're lucky enough, you'll get a tour backstage, where they have the largest collection of museum quality design objects and furniture under one roof this side of Maastricht.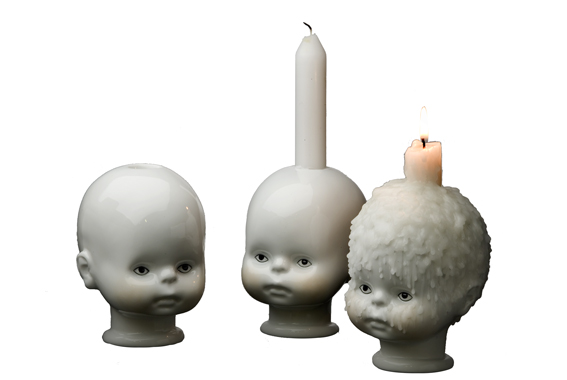 Little Joseph [2006]
Maxim Velcovsky for Qubus
Hand Painted Porcelain
3.1" W x 4.7" H
A little less polished than the rest, but certainly more gutsy, The Future Perfect projects out as the new kids on the block. Founder Dave Alhadeff has the moxy and freedom to take chances on designers, giving quality design a shot regardless of pedigree. Dismiss them, and run the risk of missing out on the next great designer. They are worth the trip out to Williamsburg, if only for being closer to Fette Sau.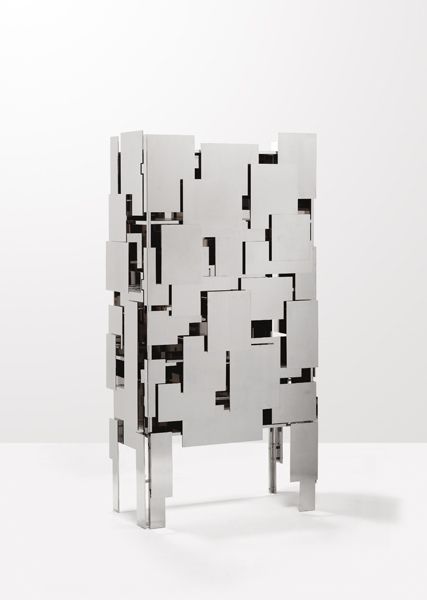 Mattia Bonetti "Strata" Cabinet
Philips de Pury, Sotheby's, and Christies all have made commitments to the growing and lucrative design market. They regularly host dedicated auctions with museum quality previews and catalogues. It's also where the savy buyer can find the best values, albeit at the top end of the market. As one industry insider said lately, "I'm broke, but I can't afford not to buy, at these prices." These events can be design porn extravaganzas. Don't be intimidated, march into their preview as if you are the future owner of that Mattia Bonetti Strata Cabinet that finishes out your bedroom just so.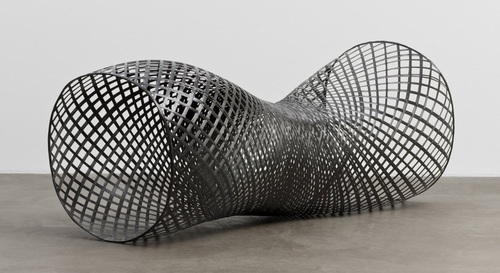 Spun Chaise Lounge
Mathias Bengtsson (Danish, born 1971)
Carbon fiber, 34 1/4 x 33 7/16 x 82 11/16" (87 x 85 x 210 cm). Fund for the Twenty-First Century, MoMA
Nobody does it better. They have the resources, the collection, the cache and in a keystroke of genius, they have the @ symbol too. This Sunday you can join curator Marianne Eggler for a walk and talk through current exhibition Action! Design over Time. Their recent exhibition on Bauhaus was a wonder and is still online.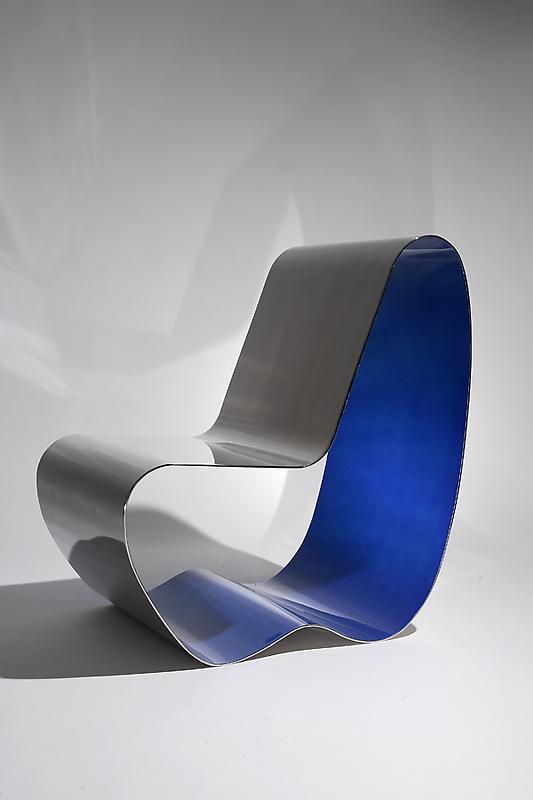 125mph, 2007 Forrest Myers
Polished Stainless Steel and Candy Apple Enamel
For those paying attention, this is bonus number six location on my list. Ron Arad, Frosty Myers, Shira Kuramata and Dutch Artist Joris Laarman are all represented by Friedman Benda in Chelsea and in my book, that gets you in as a bonus location. Laarman's exhibition in early 2010 was a study in quiet wonder and flawless execution of concepts and the latest technology in fabrication.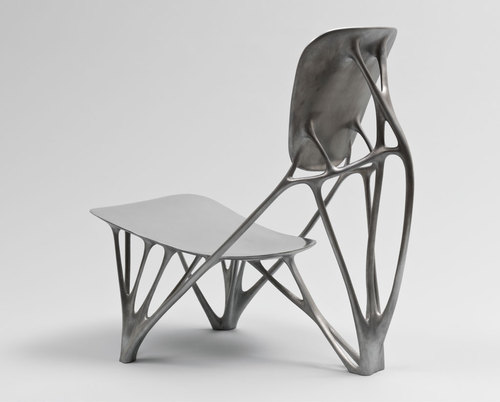 Bone Chair by Joris Larman
MoMA, Architecture and Design Galleries, third floor
All this, and I've just scratched the surface; Areaware (not a place, but a state of mind), ICFF, Haresh Lalvani at Pratt transforming the way we conceive of and manufacture shape, Artware Editions, Gagosian's Shop all are worth your time and money, not to mention a future post here. Stay tuned.
Related
Popular in the Community