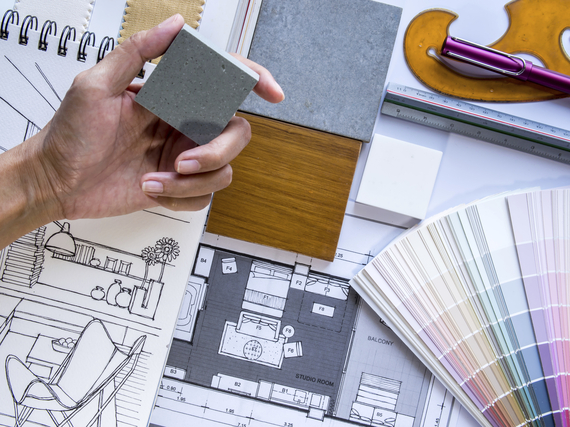 During my initial meetings with some of my clients, they often reveal how they've hit a roadblock in the design process. Most are able to successfully get the ball rolling, but they hit a frustrating plateau that leaves their home feeling incomplete. They learn that decorating is more than just picking pretty pieces -- it's a process. So when a client feels stuck, I recommend they shift their focus from "what to do", to "what NOT to do". By changing their frame of mind, they're able to alleviate their indecision, approach the process in a new way, and ultimately create the space they crave.
The Catalog Look
Many companies are making high-quality design more accessible than ever. Although this accessibility is great for consumers, it can lead to a massive design blunder. By purchasing all of your furnishings and accessories at a single store, your home will quickly resemble a page from their catalog and lack originality. To avoid this mistake, shop from various sources -- mix in a little vintage amongst the new. Find ways to make it personal by incorporating art, objects, and accessories that highlight your sense of style and reflect your personality.
Not Asking for Help
Asking for help is often misinterpreted as a sign of weakness or defeat. This just isn't the case. By combining minds, you're more able to blast through design barriers. The next time you find yourself in over your head, consider reaching out to a professional interior designer and scheduling a consultation. If you're not ready to make that plunge, take a smaller step: meet for lunch with a design savvy friend and ask for some advice.
Picking the Paint First
Never paint first. This might seem like a logical first step, but it will inevitably limit you later on. It's best to find inspiration from an area rug, a piece of art, or another inspirational element in the space. Next, pick your fabrics. Always remember that there are thousands of paint colors to choose from. By picking shades based on an inspiration piece or fabric, you're able to remain versatile throughout the entire design process.
Not Having a Plan
Your furniture plan is your roadmap to creating a room. It should be your first step -- a blueprint that showcases every piece you need. From that, a budget can be created. The entire design process is streamlined once a comprehensive furniture plan is developed. Save yourself the future headache by sitting down and establishing a plan.
Forgetting to Layer
A well-designed room has multiple layers. For most people, the furniture is the easy part. The process becomes complex when pulling everything together: art, throw pillows, blankets, vases, trays, books, candlesticks, etc. All of these items are essential to making a space feel complete. So be sure to focus on the layers beyond the furniture -- these details bring the room to life.
Scale
Scale is one of the toughest things to get right. In a world where we frequently purchase furnishings online, we can be deceived into believing a certain piece will fit perfectly into our space. But all too often, when our brand new furniture arrives, we discover it's too large or too small for the room. So be deliberate when designing the scale, size, and fit of the furniture. If you're struggling with this step, let your floor plan be your guide.
Mixing Too Much
An interesting design relies on an artful mix. But you can't blindly throw anything into a room and expect it to result in a masterpiece. If you combine too many styles, it will compromise the harmony of the space. So when mixing and matching, take time to consider the relationships between each piece -- search for a common thread, such as color. Mixing these elements mindfully will give your space a unifying effect and make the room feel complete.