The Divine Comedy, a current exhibition at the Harvard Graduate School of Design, features world renowned artists known for blurring the boundaries between art, architecture, and political activism. The press release explains the show's intention to engage the "public domain." But does a private university really qualify as public?

This isn't art accessible to a mass audience at the scale of Anish Kapoor's Cloud Gate in Chicago or Christo's Gates project in Central Park, but is nonetheless uniquely situated to be vicariously observed - scattered across lobby or courtyard site specific locations on campus. Inspired by the epic Dante poem, these works were curated around the themes of history (Ai Weiwei), mind (Olafur Eliasson), and cosmos (Tomas Saraceno). Ai Weiwei memorializes Chinese school children who died in a major 2008 earthquake, using 5335 identical backpacks (representing each student) arranged into cubes and accompanied by an audio recording reciting their names. This political statement protests poorly constructed schools, and demands government accountability (the kind of questioning that has led to his trouble with the Chinese authorities, and mysterious "disappearance").
Saraceno took to the sky with Cloud City. More than just a visual statement -- this strange floating sculpture docked at the Le Corbusier designed School for Visual Arts is outfitted with solar panels and sensors making it a weather vehicle capable of flight and transmitting atmospheric data back to the site. Half art project, half science experiment -- Saraceno's installation is more closely related to the Eliasson exhibit -- which delves further into scientific inquiry. Eliasson's 55 art object devices scattered through Gund Hall's lobby completely alter the character of the architecture school to feel more like a laboratory.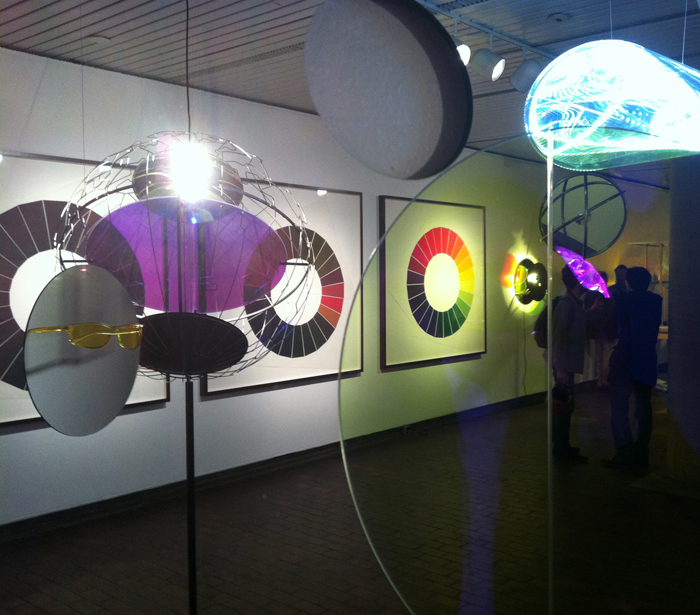 A spinning gyrosphere, chromatic wheels, meteorite chandeliers, and cleverly arranged mirrors offer curious distractions to students on their way to studios.

Eliasson's fun house experiments are aimed at challenging traditional notions of perception. By revealing peculiar properties of light and space (the same mediums designers tinker with) he sets a tone of playful experimentation, pulling viewers in to more closely inspect, and question. One of the most interesting potentials in pairing exhibit with academic studio -- are that the creative insights it provokes might even filter in and enhance the design process.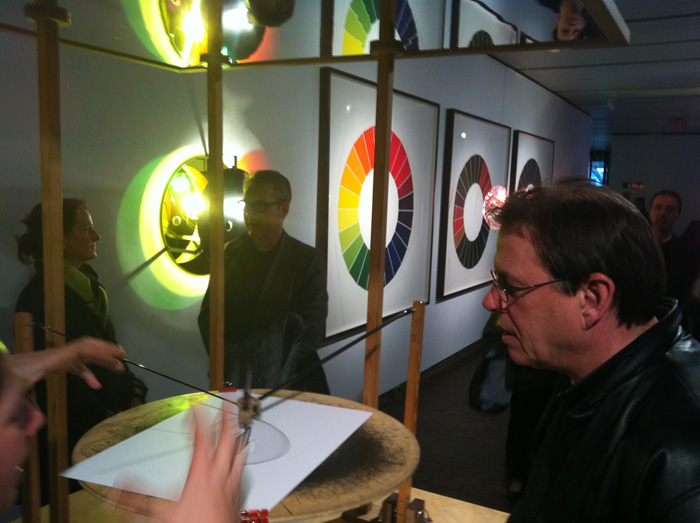 In the photo above, two complete strangers collaborate to create spirograph designs (the drawing arm is set in motion by users and propelled by the momentum of counterweights).
Whether or not art is technically "public" -- situated in everyday contexts, viewed over and over in passing -- has a unique ability to powerfully shape the identity of a place, reveal aspects otherwise overlooked, even promote social engagement. After seeing this show at the forefront of a growing trend to extend art beyond the confines of the gallery -- I'm curious what other spaces might host this type of site specific installation?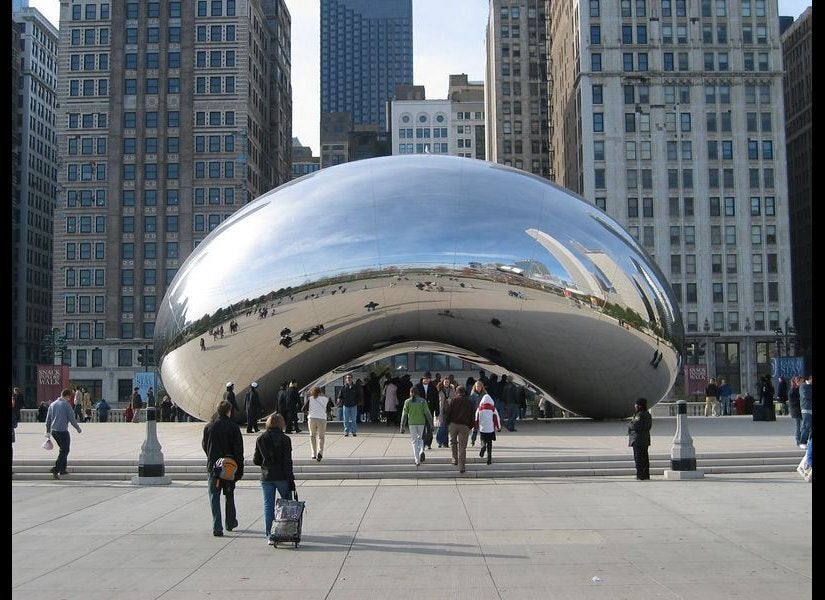 Public Art and more from the artists