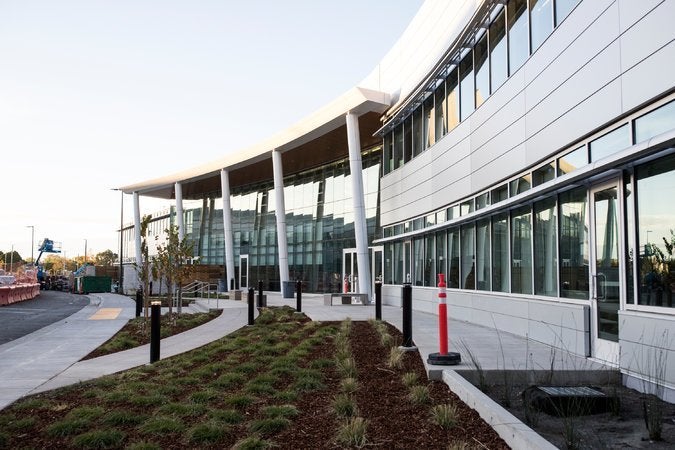 The New York Times recently published a glowing report on the latest charter school "success" story – Design Tech High School in Redwood Shores, California. In January 2018, D-Tech will move into its own $43 million building on the Oracle corporate campus, what the Times calls "a new twist on the evolving relationship between big tech companies and schools." Oracle, of course, sells all kinds of technology to school systems including laptops, online writing programs, learn-to-code lessons, and data management systems, but this project is about helping kids, not marketing Oracle products. The company is also the second largest software manufacturer in the United States.
The Times headline claims "Now on Oracle's Campus, a $43 Million Public High School." But D-Tech is not quite a "public school." As the article and the school's website make clear, D-Tech is a charter school, "a publicly funded school that has its own school board and operates independently" of the local school district. The charter school's management will pay Oracle $1 a year for use of the facility.
The Times reporter just loved everything about D-Tech charter school, but again, the New York Times strongly advocates for charter schools. D-Tech will be located in a "sleek new school building" with a "two-story workshop space" where students can "create product prototypes." Oracle employees will "mentor" the school's 550 students in "business plan development" and students will be able to use the company's Club Oracle fitness center. The Oracle Education Foundation will offer two-week courses for D-Tech students and provide unpaid internships. According to Colleen Cassity, executive director of the foundation, the project is "pure philanthropy" with "no strings attached."
The website Great Schools is a little less laudatory about Design Tech High School and its reports are more revealing. The student population at D-Tech is 45% White, 27% Asian, 18% Hispanic, and 10% other. The San Mateo Union High School District where D-Tech is located is approximately 30% White and 30% Hispanic, and 22% Asian, so Whites and Asians are over-represented at D-Tech and Hispanics are under-represented.
About 20% of the students at D-Tech are considered low income. There is no data for students with special needs or English Language Learners. District wide about 20% of students are eligible for free or reduced price lunch and a little over 10% are considered English Language Learners. While composite test scores at D-Tech are above state average in Math and English, "Test scores for low income students at this school fall below the state average for all students." Great Schools concludes, "Disadvantaged students at this school may be falling behind other students in the state, and this school may have significant achievement gaps."
The data for D-Tech also is less impressive when compared with a local "traditional" public high school in the San Mateo Union High School District. Aragon High School is located five miles from D-tech. It is eligible for federal Title 1 funding and does not receive support from Oracle, 71% of the student population at Aragon is considered minority, 18% are economically disadvantaged, but more students achieve proficiency on state math and English exams than at D-Tech and are rated college ready. Students at other San Mateo high schools also perform highly on most state evaluation measures.
Despite extra money, special support, and a selective student body, the D-Tech charter school model for success turns out not to be such a great success at all. So why is Oracle throwing all that money and support into the school?
The Oracle Education Foundation is closely tied to Oracle the company. It provides technology grants to school districts, sponsors an online learning platform, and an annual competition, all designed to promote Oracle products and the Oracle brand. Its "volunteers" are Oracle employees. Students who participate in Oracle programs are introduced to Oracle technology and receive Oracle paraphernalia that makes them walking advertisements for Oracle the company.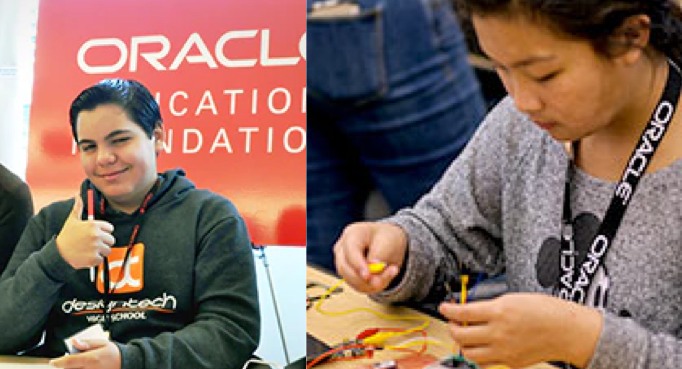 Oracle's founder, Board chair, and Chief Technology Officer is Larry Ellison According to Forbes he is worth $60 billion. The company has assets of $135 billion and annual revenue of almost $40 billion, so the $43 million dollar high school building is a drop in the bucket, as well as a tax deduction and a great ad for Oracle products. This is not Ellison's first edu-business venture. According to a San Jose Mercury investigation of California Virtual Academies, an online charter school chain, Ellison provided $10 million seed money for its parent company, K12. Fewer than half of the "school's" enrollees graduated with a high school diploma. Almost none qualified for admission to the California state university system. The chain was fined $2 million by the state Department of Education in 2017 for contract violations and irregularities. Ellison also partnered with Michael Milken in something called Knowledge Universe, which operated early-childhood learning centers, for-profit K–12 schools, online M.B.A. programs, and tech training for working professionals. Most of the businesses failed, but apparently Ellison has not stopped trying.
Ellison considers himself a libertarian and originally supported Senator Rand Paul of Kentucky in the 2016 Presidential contest. He then switched to Florida Senator Marco Rubio, giving a Rubio super-PAC $4 million. Now he is a major Donald Trump fundraiser and donor. As a Trumpster, there is reason to question whether Ellison has the best interests of public schools at heart.
Calling all HuffPost superfans!
Sign up for membership to become a founding member and help shape HuffPost's next chapter
This post was published on the now-closed HuffPost Contributor platform. Contributors control their own work and posted freely to our site. If you need to flag this entry as abusive,
send us an email
.