Event planners and party designers are keeping a close watch on the trends of interior design, not only for their personal love for style, but also for creative and new ideas for their tablescapes, parties and events. The interior design world has always influenced the event industry, and it's a partnership that is continuing to create dazzling weddings, showers and dinner parties.

Take, for example, the chevron trend. Seen in everything from rugs and drapes to bedding and pillow covers, chevron is an energetic design first seen in heraldry, flags and military insignia. Party designers have fallen in love with this stylish pattern. Personally, I'm thrilled! Stripes and polka dots have their place, but trendy patterns are fun and fresh for all sorts of stylish events. A simple way to incorporate the zig-zag print is by using chevron print fabric. Spoonflower is one of my go-to stops for unique fabric designs. They have dozens of chevron styles in all sorts of colors. Use it as a tablecloth or make napkins out of the fabric to incorporate the design.

Another way to use chevron? Paper! Everything from the party tags to gift labels and menus can all incorporate a touch of chevron and color to jazz up your event. It's these little "paper goodies," as I like to call them, that truly take a special occasion to the next level. They help keep your theme from the minute the guest receives their invitation to the moment they leave with a cute favor box with a chevron favor tag. Visit Shop Sweet Lulu to find cute chevron printed treat bags! Another source I love for chevron printed paper goodies? Sweet Beaker! Their shop is full of cute gift tags in this trendy print! Etsy shop, Luxe Paper, even has a full party printable collection for you DIY lovers!
Interior design trends have seen a lot of quatrefoil print as well as chevron. Peaking in popularity during the Renaissance, the quatrefoil shape represents four leaf petals overlapping each other. So thank our long ago friends for this motif popping up everywhere from chairs to rugs and curtains to pillows. It doesn't stop there, however, as quatrefoil is also popping up as a popular wedding invitation motif as well as event design trend. Take a look at how I used this motif in a green fabric as a tablecloth for an evening backyard dinner party.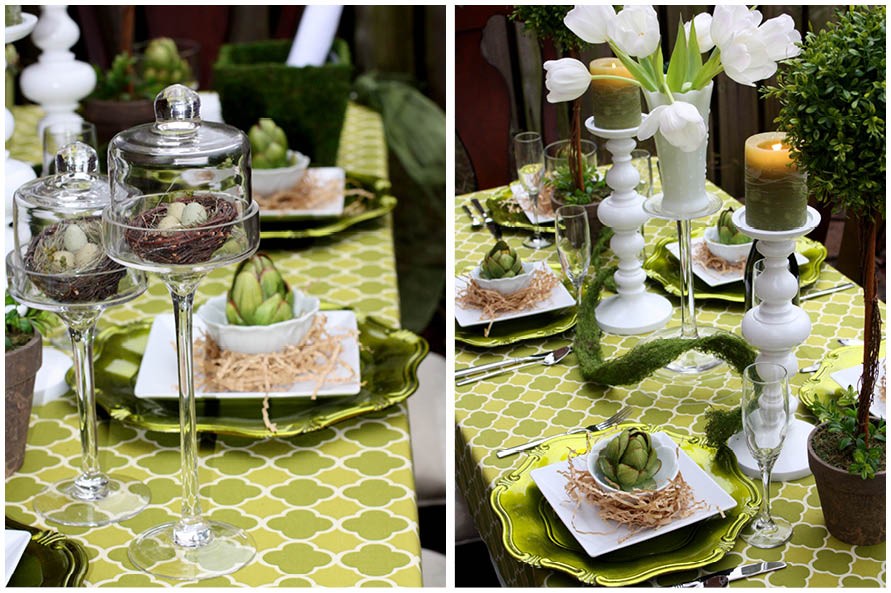 I love how this trendy print can be used for a fun and casual birthday party motif, as well. A green and navy color palette is perfect with a touch of hot pink. Check out the quatrefoil print invite that sets the mood for an evening of birthday cheers! This trendy invite is also available in a mod yellow and brown for a baby shower!
For more quatrefoil prints, check out the Anson collection of The Lettered Olive or create your own quatrefoil platter with this DIY step-by-step tutorial! Not feeling crafty? Purchase ready-made and personalized melamine plates that are perfect for children's parties and backyard gatherings!

So pick up the latest issue of Veranda or Style at Home magazine to pick up some fun ideas for hosting your next chic gathering!
Related