If the rave reviews from the New York Times and Style.com are any indication, fashion designer and former reality star Christian Siriano might just be on his way to becoming a card-carrying member of fashion's rarified designer club.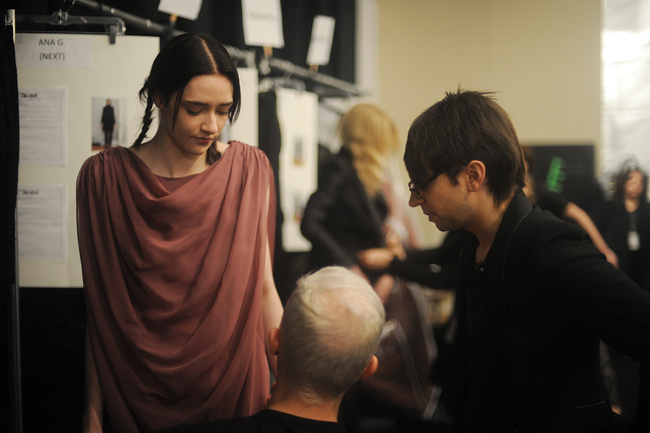 Yesterday evening, fresh off the heels of dressing pop icon du jour Nicky Minaj on SNL (which he describes as "cool and weird"), Siriano revealed a surprisingly subdued collection that caught the attention of critics -- in good way. "I love fantasy," Siriano gushed backstage, citing influences by everything from Dracula orchids to Drew Barrymore. The slight designer, clad in a somber uniform of All Saints trousers and Prada patent leather sneakers, was surprisingly calm beneath his signature coiffure and decidedly more demure than his onscreen personality who has coined millennial catchphrases such as "Fierce!" and "Hot Tranny mess." In fact, Siriano was quite serious about his clothes. "It's difficult when you're starting from that place where you fans from all over," he admitted. "But at the end of the day I wanted the clothes to be cool and I wanted women to wear them." Well it seems, mission accomplished.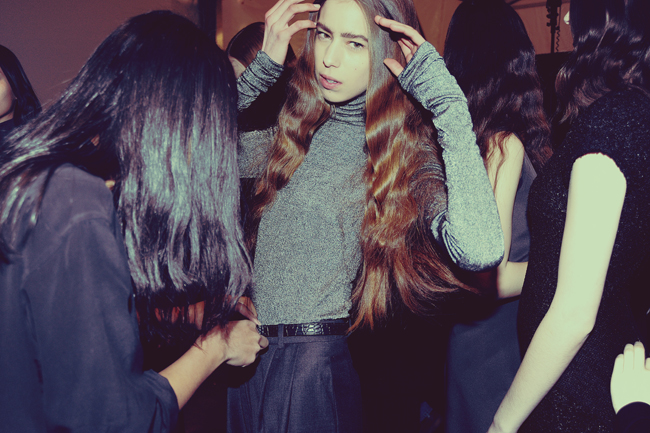 As the show opened, the 25-year-old couturier unveiled a decidedly grown-up and surprisingly self-contained collection with a cast of fresh-faced models who called to mind the dark innocence of Virgin Suicides coupled with Emmanuelle Alt-like androgyny -- perhaps a nod to it-stylist Danielle Nachmani (who has worked with the Olsens, Maggie Gyllenhaal, The Row and Transformers babe Rosie Huntington Whitley) and who meticulously spun Siriano's signature glam style into cool-girl status, pairing down of a voluminous floral number with a simple chiffon tee. Indeed, the first look set the tone with a diaphanous asymmetrical chiffon skirt paired with a contrastingly military belted jacket and furry "harness booties" from the designer's Payless Gold collection. What followed was a parade of austere but sexy sheer black ensembles and monochrome moss greens, a wink to the Black Orchid theme he had in mind. The showstopper? An oversized tulip-shaped skirt paired paired with a simple snug turtleneck crying Ali McGraw gone goth.
Next up for the designer? "Work and sales meetings," he replied studiously. As for the critics? "If it's a catastrophe, it's a catastrophe. You wipe the slate clean and start over." Pausing, Siriano became reflective and added thoughtfully as any fashion veteran would, "You're only as good as your last collection." (Images by kirillwashere.com)