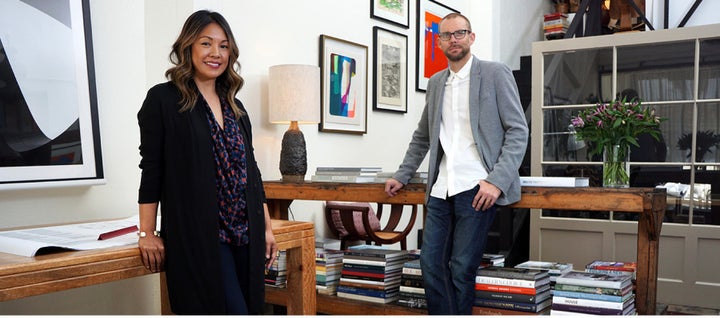 EDEL LEGASPI AND CHRISTOPHER COURTS BELIEVE A PROJECT SHOULD BE AS PRACTICAL AS IT IS BEAUTIFUL. BY COMBINING THEIR 20 PLUS YEARS OF EXPERIENCE AND THEIR LOVE FOR UNIQUE CUSTOM DESIGN, THEY ARE ABLE TO PRODUCE PROJECTS THAT REFLECT THE CLIENTS WHO INHABIT THEM.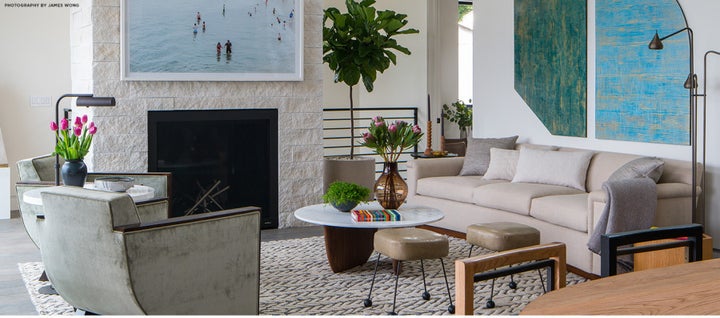 What inspired this career path for you? Edel: As a child, I always knew I was going to be in the arts. Many afternoons after homework were spent admiring architectural models and drawings sprawled throughout my architect uncle's home. After debating between majoring in fashion or fine art, an opportunity to work with famed interior designer Kelly Wearstler defined my path to interior design.
Chris: I inherited my love for architecture at a very young age as well while watching my father draft house plans on the weekends as his side job. I saw the passion and joy he exuded when creating homes for his clients, and I knew this was the path I wanted to pursue.
What is your go-to source for inspiration? We are inspired by Los Angeles and the abundance of creativity and energy happening in our city. We have so many creative makers—artists, designers, furniture makers, lighting designers, etc. around us who make our work so much fun and exciting. We are so fortunate to be able to collaborate with local talent in L.A.
Tell us about your creative process. At LCD, it is our intention to dive into our clients' desires and needs. Our discovery phase includes an extensive interview process, image/mood boarding, and educational outings. From visits to a local museum to taking a drive around Los Angeles to be inspired, we work to discover the design elements that speak in the most authentic way to our clients' aesthetic inclinations.
Describe your style in 6 words or less. Always different, never the same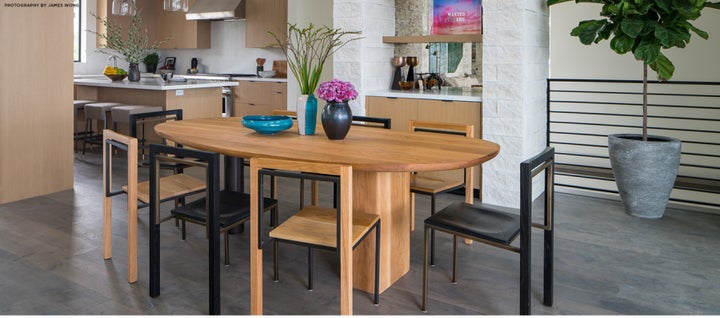 What's a staple in your tool kit? A tape measure, paper, and pen – you always need it!
Who do you look up to in the design world? Edel: I have been fortunate to have worked with some of the great designers in Los Angeles such as the queen of design, Ms. Kelly Wearstler, and my awesome multi-talented friend Jamie Bush, who are both truly inspiring in their own ways. I also love the work of Atelier AM and Roman and Williams.
Chris: I am a big fan of architect William Hefner for his diverse style of architecture and overall vision and detail. Backen, Gillam, & Kroeger are also architects who create stunning projects with their thoughtfulness and connection with the outside. Rob Sinclair is also a phenomenal architect who has perfected his craft…I am lucky to call him my friend and mentor.
If you could design a space for anyone, what kind of space and for whom would it be? For us, it would be a space for someone who wanted us to design something that we hadn't designed before…it's our job to "design a space for anyone"…that's what makes each project more interesting than the last. Every client is different in turn, creating a space just as different and unique.
Tell us your favorite design-related word, phrase, or quote. "Cohesive" is a constant word that gets thrown around the office quite a bit. It's important for us to have a cohesive design that speaks to the architecture/landscape/interiors of the home and the lifestyle of the client.
Which design blog, website, TV show, or magazine would you be lost without? Pinterest, Architectural Digest, Google
Share a little bit about the pieces you're consigning on Viyet. The pieces we have on Viyet are all custom designed by us. All the pieces celebrate the beauty of natural materials and are inspired by California modern design. They were part of a show house that we were the architect and interior designer of. All the pieces were hand-drawn/hand-templated by us in collaboration with our woodworker and stone maker.
What do you love about Viyet? We love Viyet as a great resource for quality-made furniture and one-of-a-kind vintage or custom pieces.
Popular in the Community