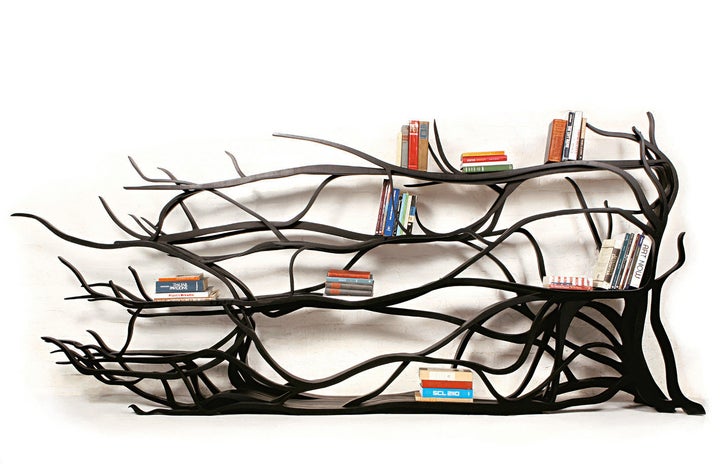 Design Showcase Houses are breathtaking homes in which every living space has been given a makeover by an interior design or landscape professional. The annual events are eagerly awaited events by design junkies nation wide, myself included.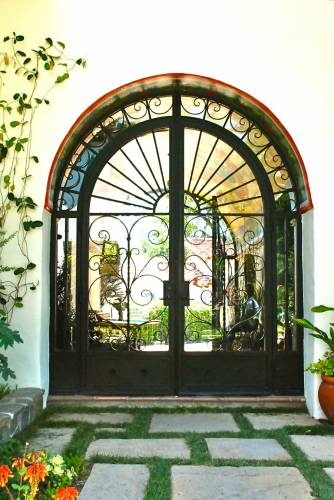 The event begins with a mighty band of dedicated volunteers who search for a gorgeous home possessed by owners who are able to move out for five to six months. Once that has been arranged, local design teams compete for the chance to work their visual magic on one specific area of the property. The chosen teams are then given an agreed upon time to bring their concept to life. Finally, the front doors are opened wide, and ticket holders are invited to tour rooms that have undergone designer transformations.
Proceeds are dedicated to a worthy local charity. Win-win!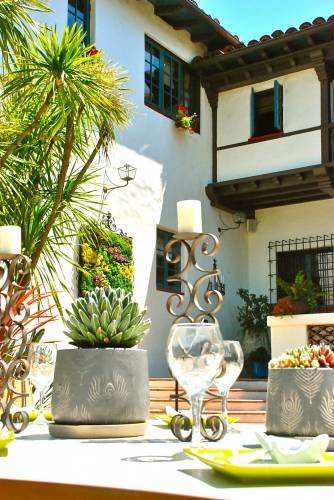 View of the home from the Andalusian Courtyard designed by FormLA Landscaping.
However, as I drooled my way through this year's Pasadena Showcase House for the Arts, considered one of the oldest and most prestigious in the country, I wondered what else guests should expect from the experience. Beyond the fact that we've managed to get past the security cameras, hedges and privacy gates -- (with permission no less! No posing as pizza delivery today!) and enter estates of a caliber most of us visit only in movies, books, and daydreams -- I couldn't help but think there must be lessons to be learned and tips worth jotting down.
It turns out, the designers responsible for the superlative style on the romantic 6,429 square-foot historic Spanish Colonial estate chosen as this year's Pasadena Showcase House couldn't agree more.
1. Check out the before picture.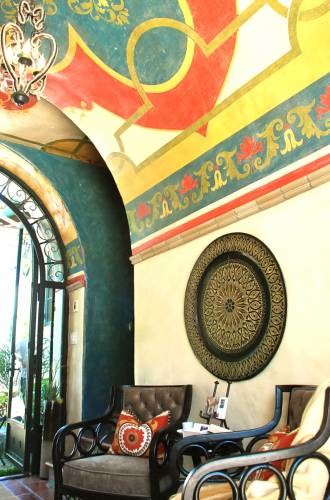 The breezeway from Jason Lai and Stephanie Leese at L2 Interiors.
Interior designer, Jason Lai, who created an original mural and plan for the breezeway, says the first thing attendees should notice in a room is the "before picture." Lai says it helps guests, "clearly understand how much more the designer has enhanced the space."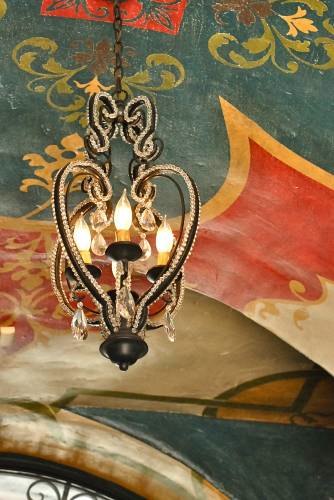 The chandelier and painted ceiling with distressed finish by L2 Interiors.
"Sometimes guests underestimate the work and thoughtfulness that goes into the transition," says Cassy Aoyagi, the designer responsible for re-imagining the outdoor Andalusian courtyard. "Even where things appear to be untouched, believe me, they have been."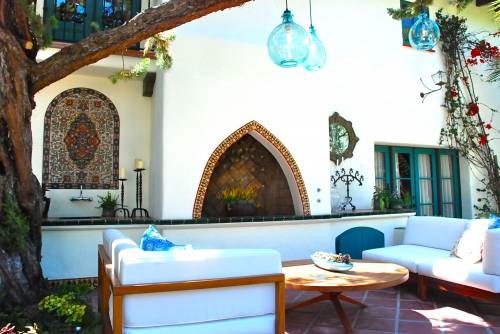 The Andalusian Courtyard by Cassy Aoyagi and FormLA Landscaping.
2. Take note of unusual treatments and details.
Aoyagi also advises keeping an eye out for unique materials. "Designers go very far out of their way to incorporate things they may not [be asked to use] in a typical client's design, so keep a lookout for very special and one-of-a-kind pieces."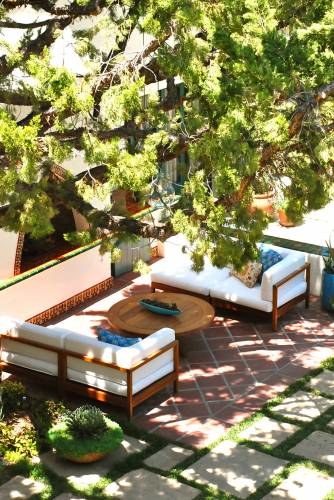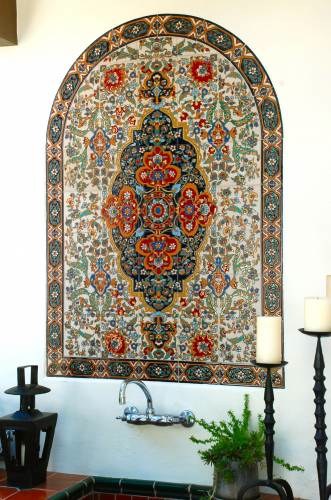 Scenes from the Andalusian Courtyard by FormLA Landscaping.
Lai agrees and suggests, "Pay attention to all the fine details that the designer puts into their work. For example in the breezeway, the custom chair rail and base board, the stenciling on the stairs leading to the kitchen, the custom floral arrangements...Without the meticulous details the space would not look the same."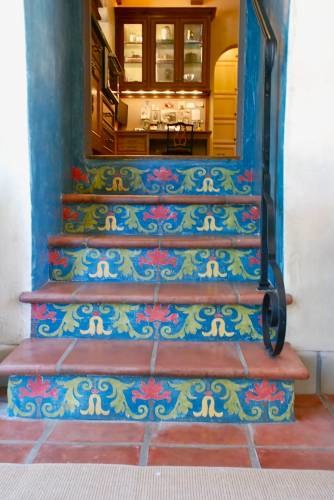 The stenciled stairway leading to the kitchen appears to be a historic detail -but it's not. Charm courtesy of L2 Interiors.
Copper Gyer designed the guest bedroom and incorporated details such as a cork ceiling treatment and a brass-backed guest chair from JF Chen that was equal parts art and utility. Gyer says the quality of the workmanship and level of details is definitely one of the most important lessons. "What you see in a showcase is often far beyond what is available to the public at retail, and it presents a great opportunity to familiarize yourself with high-end, quality pieces and workmanship."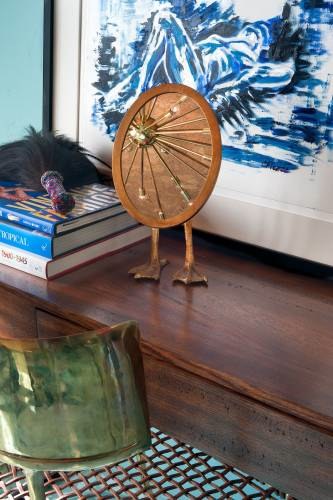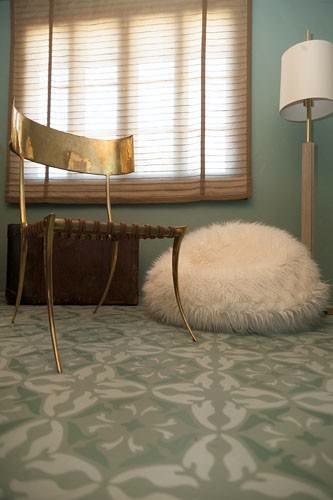 Guest room chair by JF Chen. Don't miss: the painted floor, faux fur pouf and whimsical desk details (the light fixture is reflected in the mirror). Desktop vignette photo by Alexander Vertikoff. Chair and Pouf photo by Everett Fenton Gidley.
3. Repeating colors, elements, themes = new trend.
In addition, Gyer says, "Showcases should provide the public with a litany of ideas that range from DIY projects to those for which you'd need to call in a professional designer for help. Design houses often have some of the latest products and trends. Take note if you are seeing a lot of the same type of accessory or color palette. Note the rooms you like and visit the designer's websites for more of what you love."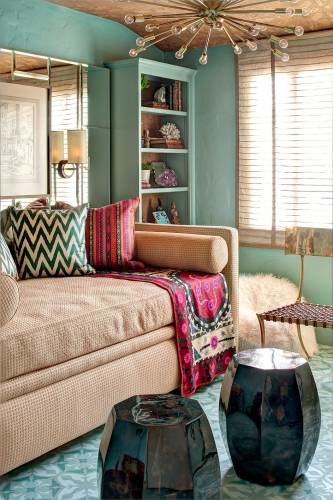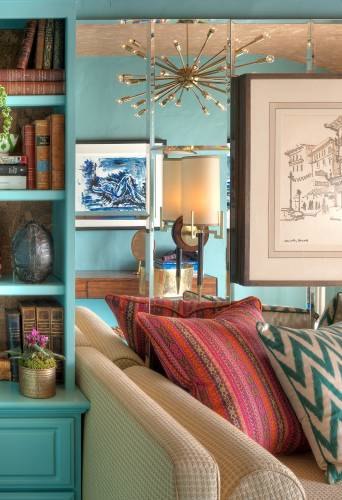 4. A designer approach to problem solving.
"I think a show house should be a sort of design laboratory," says interior designer, Mark Cutler, who put his own talent to work on the Casita, or guest cottage, "where designers can try out new ideas and combinations. So people viewing should look at it that way, and be looking for creative approaches to problems...not view it like you would a home done by a single designer."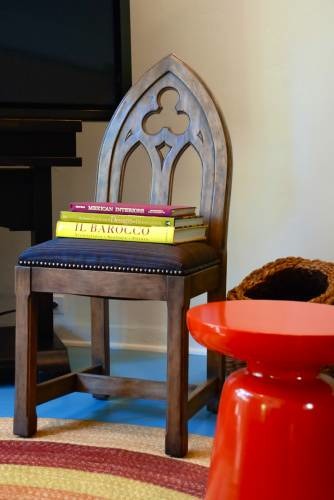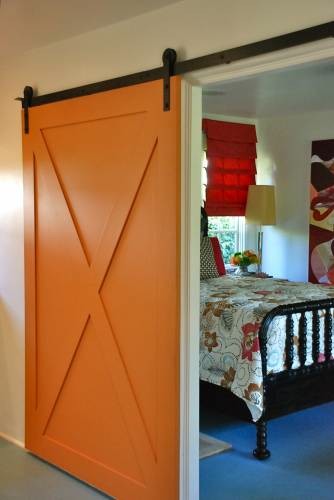 Cottage eclectic: The Casita as envisioned by Mark Cutler Designs. I love this door!
Maya Williams says she faced just such a challenge designing the girl's bedroom. "It was originally the staff quarters when the house was built in the 1920s," says Williams, "so it was one of the smallest rooms and I wanted to show what could be done with an ordinary, small, and frankly boring space. With no architectural detail in the room, the most significant aspect of it was on the outside -- the view seen from the window. So I took inspiration from the natural surroundings and brought in the colors of nature and botanical aspects of the grounds to brighten and lighten the space. I used many special tactics to make the 10x13 room feel bigger, such as the placement of the bed the use of mirrors, and mirrored furniture, bright colors and lightweight fabrics, extra lighting, smaller sized furniture and a satin finish on the walls to start."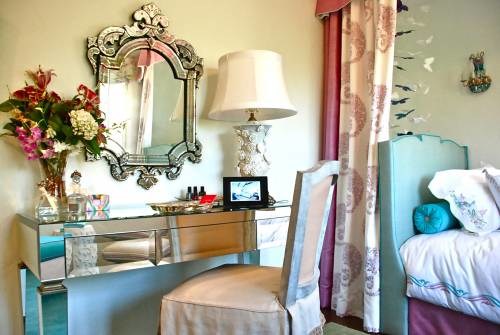 The girl's bedroom as interpreted by Maya Williams Design.
"It doesn't matter how small or dull a room is...you can make it the most welcoming room in the house by harmonizing good design and functionality."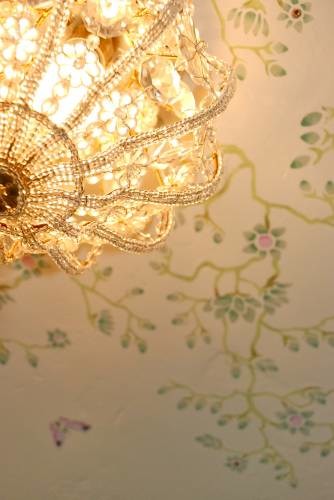 The glittering, girly fixture sheds light on a hand-painted mural dotted with crystals. From Maya Williams Design.
5. Define your personal style.
Designer Debra Lynn Henno says, "Attendees should also focus on how a room makes them feel, and take note of their emotional response when they enter a room. Do they feel relaxed, invited, happy, inspired, etc? Those that attend showcase homes are usually on the lookout for inspirational ideas, innovative concepts, or creative new trends. If attendees take note of their emotional response, it will help and encourage them to create a space that generates a similar experience."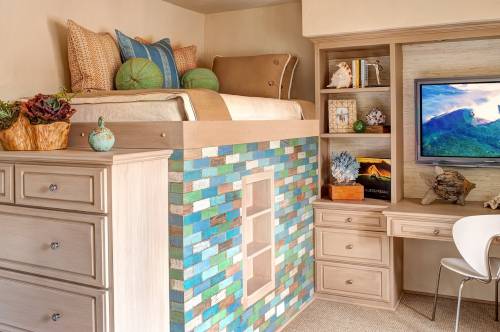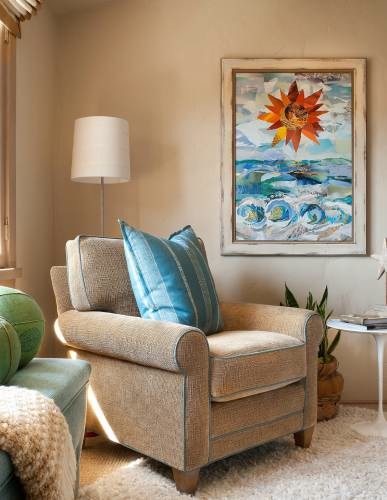 Debra Lynn Henno created the boy's bedroom -- and cleverly incorporated a problem area (a permanent structural casing) into a loft bed! Both photographs by Alexander Vertikoff.
Interior designer Karen Shoener, who led her firm, Designs of the Interior, in designing the large family room and adjoining bath, says professionals take note of the vibe as well. "We always pay attention to whether or not the room feels good and how it is connecting with the people who are walking through. A setting should create an emotional response of some sort."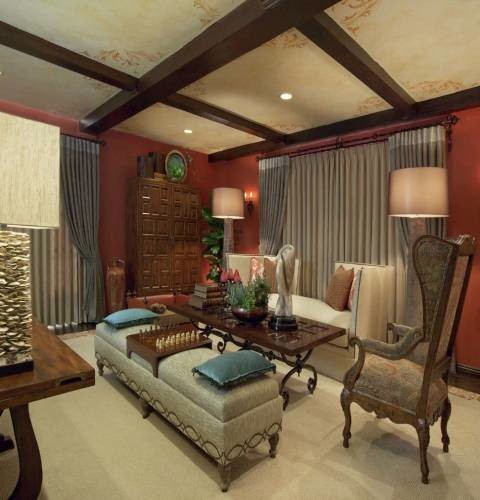 Elegant details define the style of the room. Photography courtesy of Designs of the Interior.
"It's not enough to have beautiful furniture in a room," says Shoener, "We always ask ourselves, does the room function and welcome you in?"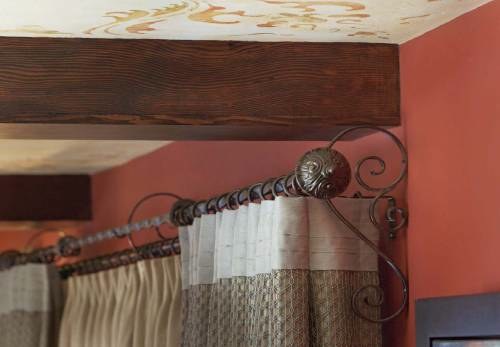 The living room lay out is created with a comfortable flow of conversation areas. A great example of scale and clever planning. Photography courtesy of Designs of the Interior.
"I feel that by touring the work of 26 different interior designers," says Alicia Friedmann, who provided the vision behind the upstairs bathroom, "the attendees should learn that there are many different design styles. Hopefully they will pick which design styles speak to them.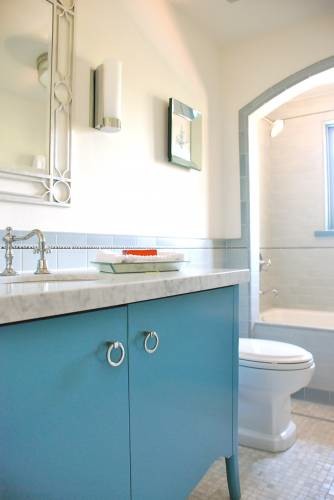 Hallway bath by Alicia Friedmann Design.
6. Finding your own design dream team.
Aoyagi also notes showcase houses offer a great opportunity to jot down the names of design firms for future reference. "In many cases," says Aoyagi, "there is very little client influence when working in a showcase house, so when you see a designer's work, it often shows their own personal taste rather than the clients -- which is a rare glimpse into what a designer may do in their own house -- and even enable a prospective client to see how [a designer's] style may fit with their own."
Williams adds, "A lot of the time the designers themselves are in the room so it's a great venue to meet them and ask questions. Perhaps even get to know a designer to potentially work with."
Paul Devine, the designer behind the showcase home's dreamy sleeping porch and hallway, reminds attendees that the furniture and decor are for more than just viewing. "The items in the home are for sale," says Devine. "The money raised goes to many different charities and supports small businesses. Yes, small businesses. From the shops and showrooms to the trades -- even the designers involved -- are all small businesses."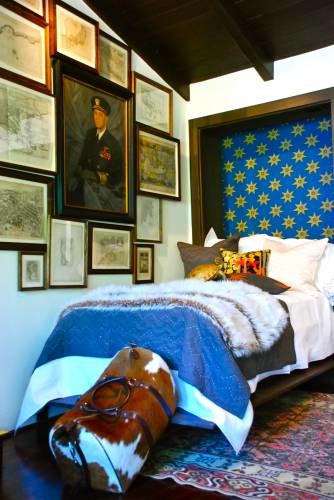 One of three Murphy beds on the sleeping porch, designed by Paul Devine.
"If you like something," advises Gyer, "make a note of it and call the designer. You can often literally take home your favorite pieces -- after the show, of course!"
8. Rethinking what you already own.
However if your dream furnishings outstrip your reality-based budget, Devine encourages attendees to take inspiration from what they see and "reinvent" what you already own. "Even accessories can be decorated," says Devine, "In [the sleeping porch area] there was a large, white shell topiary. I designed the pair for myself in Italy years ago. I thought the look would be great in the room, but because it was showcase, I wanted to kick it up a notch so I turned the topiary into a paper butterfly aviary display."
Devine also believes, "art should be hung artistically." Frames don't need to be lined up in perfect rows. Sometimes art looks better when the frames overlap and even over-hang one another. I call it dimensional hanging."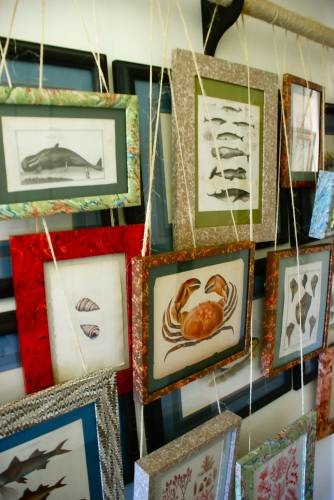 "Simple additions of color can make a big impact," says Devine. "Such as changing plain art matts to a color...or go crazy and change a simple frame to a hand-made frame made of imported marble paper."
9. How to achieve balance (at least in your home decor!).
Finally, in addition to taking notes on all of the above, Henno says that showcase homes are also great way to view examples of balance in both spacial planning and the use of color. "A design space is more likely to be successful if the designer's architectural layout, furniture placement, and overall composition is balanced. Once your design blue print is mapped out," she explains, "color must be carefully chosen. Color balance should be maintained throughout a room making sure a color is not over-used in one area, and lacking in another. A room should organically capture an eye as a whole."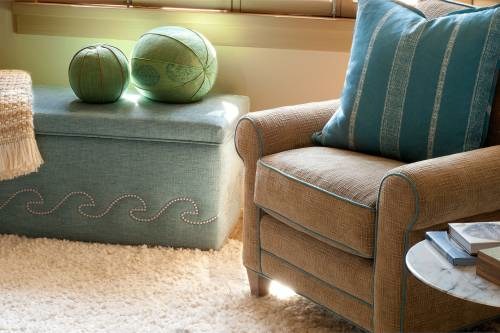 Color and texture by Debra Lynn Henno Design. Photography by Alexander Vertikoff.
"Color combinations are an easy take-away," agrees Gyer. "Paying particular attention to the use of color, texture and scale is always a good lesson."
"I think attendees should let themselves be taken by their imaginations when at a showcase," says Friedmann, "For many, it is imagining living on the estate, and I feel this is a very creative and healthy thing to daydream about!" Just don't let them see your suitcase...they might get suspicious...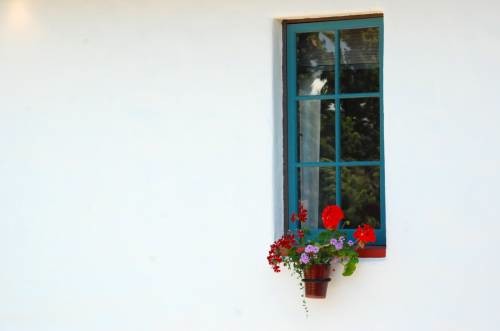 All photography, unless otherwise noted, is by Bonnie McCarthy.
Support HuffPost
A No-B.S. Guide To Life
Related
Popular in the Community