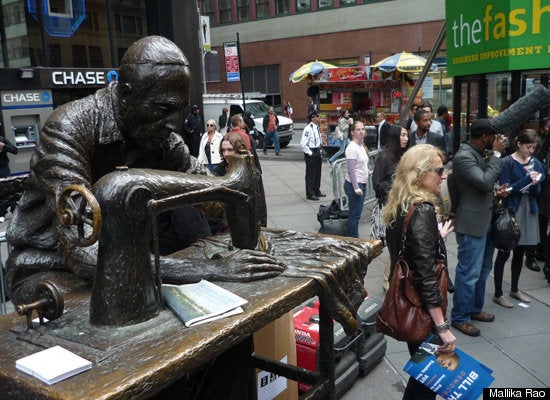 Hundreds gathered on Wednesday in the heart of New York City's garment district to sway city officials against a decision that may push out the struggling garment manufacturing industry.
Rally organizers say the once-booming district may soon disappear if a plan to lift zoning regulations goes through. Union workers, fashion students, politicians and designers turned out in support of the district, with the repeated chant, "Save the garment center!"
For 22 years the city has seemed to protect the area comprising the district - from 34th to 40th street, between Broadway and Ninth Avenue - by requiring building owners to match any new office space with an equivalent manufacturing space elsewhere. The rules are loosely enforced, and as designers shifted their factories abroad, landlords rented space out to higher rent-payers.
A recent decision by Mayor Bloomberg to push the entire district into a 300,000 square foot building fell through when the building became unavailable. Many say that sort of compromise would do little to keep the garment district in any meaningful way and are pushing Bloomberg to commit to zoning laws before mayoral elections in November.
Speakers at the rally positioned their cause as an antidote to the kind of specialized economy they said caused the economic collapse. "We cannot base New York City's entire economy on Wall Street and real estate," said City Council Speaker, Christine C. Quinn. "If we didn't know it before this year, we know it now."
Leveraging the public outrage against outsourcing, rally organizers pitched the age-old "Made in America" concept.
"We were all promised that the bad jobs would be sent abroad, and the good ones would stay here," said Marc Levin, director of a recently released HBO documentary on the history of the garment district, called Shmatta: Rags to Riches to Rags. "We thought we could maintain our standards of living or even be richer if we kept the flashy jobs here. Well that's what fell apart. The economy has no clothes."
The garment district was the heart of New York's biggest industry in the mid-1900s, and an easy symbol of a time that seems irretrievable. "I have friends who would come to New York, and say, 'First thing: take me to the Garment District,'" said 74-year-old Leola Phillips, who worked in the district from 1957 to 1992, at a time when its prominence was beginning to fade. "They could get nice sweaters for cheap, they could even get their wedding dresses there."
Phillips worked as a clothes-tagger, while her mother performed the more taxing duties of actually tailoring the clothes. "She had to make so many collars an hour. It's hard work and you got to get paid," Phillips said. "You don't even want to know where our clothes are getting made now - they get pennies for it."
According to Marc Levin, Ninety-five percent of the clothes sold in America today are made abroad. That statistic has reversed since 1965, when only 5 percent of American clothes were manufactured elsewhere.
"I don't think it'll ever be what it was," Levin said. "But if all we do here is marketing and financing, we've lost something."
Despite its low production numbers, the US manufacturing industry accounts for 24 percent of the revenue made in clothing sales. That is because most high-end pieces are still made in the garment district, a boon to designers, many of whom show their work during the city's Fashion Week.
"When you're getting a show ready and you need buttons or zippers or pleating done at the last minute, quite frankly it's a big help," said designer Michael Kors.
Held in February and September, New York's Fashion Week brings in hundreds of millions of dollars to the city. Without a garment district at hand, Manhattan could become less appealing both to established designers and to young people without the money to outsource their manufacturing, said designer Nanette Lepore.
"When I was a fashion student here, the garment workers taught me so much because I could stand right by them while they worked," she said.
Lepore believes the garment district could conceivably migrate to places like Brooklyn or Los Angeles, where immigrant workers have fueled a rise in manufacturing, leaving Manhattan without one of its signature artistic industries.
Popular in the Community