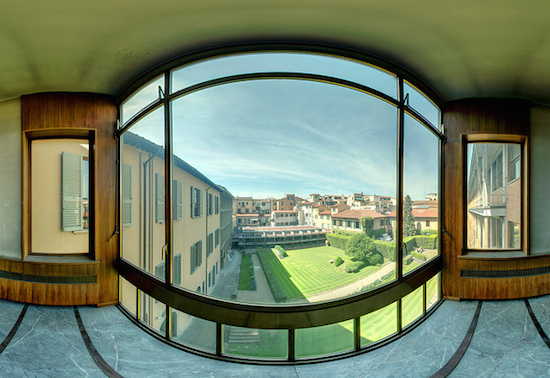 Italy is a country of contradictions. But then, everything and everyone who is even remotely interesting to me is a mix of old and new, good and bad, mild and passionate -- with every nuance of feelings and experiences in between. The world would be a boring place if everything could be easily catalogued and identified, this side black, that side white with no place for the endless shades of grey in between.
When it comes to schools, the principles behind the IED, the Istituto Europeo del Design in Florence are everything I love and more. The design institute combines the old disciplines so familiar to the city where it operates with an ultra modern approach to fashion, design, visual communication and art management. It is a one-stop shop for everything art and design, and if there is anything I've learned from these years of blogging, it's that a place that offers everything under one roof, be it fashion, film and food -- or design in this case -- is the ideal. Our modern-day heaven is not about luxury and decadence, it must include the principle of convenience.
But convenience without excellence is well, useless. IED is instead a haven of mastery, a place where students from all over the world converge to learn but also share their own knowledge, create and be transformed. If a modern-day Leonardo da Vinci or Michelangelo will emerge, they will no-doubt come from an IED institute, and my bet is on their Tuscan branch.
Walking through the halls of this bank turned learning sanctuary, situated behind the Duomo and the Accademia on a narrow side street, it felt like anything was possible. And then a stroll through its gardens, in the crisp Florentine winter air, only confirmed it. I saw the world in a different light, through the eyes of the students and teachers at the IED, a place where endless combinations and infinite designs can be achieved.
I had a chance to catch up with the Director of IED Firenze, Alessandro Colombo during last January's Pitti Uomo, and I'll admit, I was intimidated at first by his knowledge and wisdom. It's not often that I find myself at a lack for words and feel that the person across from me knows things I'll never be able to wrap my own head around. And yet, with his help, I may just turn out to unravel the secret of learning them. Which of course is the sign of a great educator, a master mentor who can accompany his students on a journey of discovery. Check out what he had to say about art, the future of fashion and design and the IED in Florence.
Can you describe IED to someone who may not have heard about the Istituto Europeo del Design?
Alessandro Colombo: The IED was born in 1966, so it has been in operation for nearly 50 years. The first one was in Milan, and began as a school for learning disciplines within the creative industries. The Seventies were boom years in Italy and there was a real need for designers. In the last 48 years a lot has changed but what remains is the fact that the "Made in Italy" brand is still an important asset within the realm of all creative industries, fashion design, and visual arts. And a need was born for all the disciplines to come together, to create an artistic dialogue. The idea of a school that teaches "vertically" no longer feels modern, most learning centers are now imparting knowledge diagonally on their students. So IED grew within that idea as well.
And when did you join IED?
Alessandro Colombo: I came to IED when the school opened in Florence, in 2008. In the past six years since the school opened it's been an interesting experience. Since the very beginning we were clear that it should be IED Tuscany, not just Florence, because this would be the thinking head of a much larger concept incorporating all the different disciplines and diversity of a region known for so much.
Tuscany is known for so much! From marble to leather, to food and wine.
Alessandro Colombo: Exactly! And there again by making it about Tuscany, if a dialogue is born for example between leather and marble, it's easier to create this integration here. The other fundamental criteria for the school is a kind of motto, our vision of "high craftsmanship, high technology". That again is an intrinsic sum of what Tuscany represents, it is in the region's DNA. Because also from a technological point of view, Tuscany has a lot to say.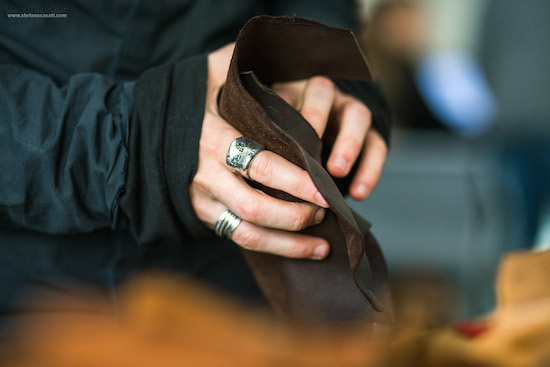 What do you mean, technologically?
Alessandro Colombo: For example, there are companies here that work with NASA and no one knows about them. Or they work with Formula One and no one knows about that. Therefore it's high technology paired with great craftsmanship that is present here in the region. And for us at IED, the idea of "Made in Italy" is exactly that. In order to interest the newer generations about craftsmanship, the concept has to be cool to them. I'm not sorry to use that exact word, "cool"...
It's not a foreign idea, in fashion and design, it's all about being "cool"!
Alessandro Colombo: Yet in certain sectors like for example knitwear it still isn't considered such... It is becoming more so because of certain state of the art innovations that push the envelope like what the company Plug and Wear here in Florence is doing by introducing in each yarn electronic circuits, so the thread is made of cotton and silk, but also copper, which becomes a conductor enabling the introduction of microchips etc.
What is the percentage of foreign students to Italian students at IED?
Alessandro Colombo: About fifty fifty on four hundred students, which include masters, day and night courses. We don't have an uneven demographic, which I think is very lucky, and we do have a wide circle of provenance. It varies every year, due to politics of marketing etc, but also themes and chance. One year we'll have more Australians, right now we're working a lot with Lebanon, because we've worked with the Lebanese school, Thailand, China, Japan, Mexico Brasil. Very interesting for two reasons. The composition of the classes that are multinational. So in each class there are Italians of course, even in the English language classes we make sure there are Italians, sometimes we encourage this with scholarships, but also they can all communicate together. People who come from different time zones and different countries, varied traditions and opposite views on the concept of work, and so on. This is a richness in itself. And the other plus that sometimes companies don't wholeheartedly understand is that these students represent markets that are incredibly important. A twenty year old that arrives from a BRIC market [meaning from Brazil, Russia, India, China, and South Africa], can give you a point of view that belongs to a potential client within that market. On how to communicate, where to find a common ground and so on.
So the students become the teachers in this case as well.
Alessandro Colombo: Absolutely, but then when they move to a company and begin working they can be the engines of growth on a particular market.
What is the goal of the school in the next five years?
Alessandro Colombo: The objective is to maximize and reinforce the crossing over of disciplines more and more. It can still be improved. And to be able to work on an international level in a more structured way. We work a lot in collaboration with Italian fashion and design brands but would like to work more and more with foreign companies. The real objective that is always in front of us is to be at the service of brands that wish to invest in Italy and the "Made in Italy" concept.
All images and video courtesy of the IED, used with permission.
Calling all HuffPost superfans!
Sign up for membership to become a founding member and help shape HuffPost's next chapter