What if we could design public services that uplift and inspire the people who see them every day? Today is International Service Design Day, the second annual celebration of the craft and profession of service design. To commemorate this day, as designers, we need to issue ourselves a challenge: to take on impossible tasks and transform them with our trade.
Like many New Yorkers, I often find pass through the city's two main train terminals: Grand Central and Penn Station. While both buildings service the same function, they couldn't be more different.
Historian David Cannadine has called Grand Central "one of the 20th Century's most elaborate and majestic buildings," and remarked that "it never fails to lift my spirits when I'm lucky enough to set foot there."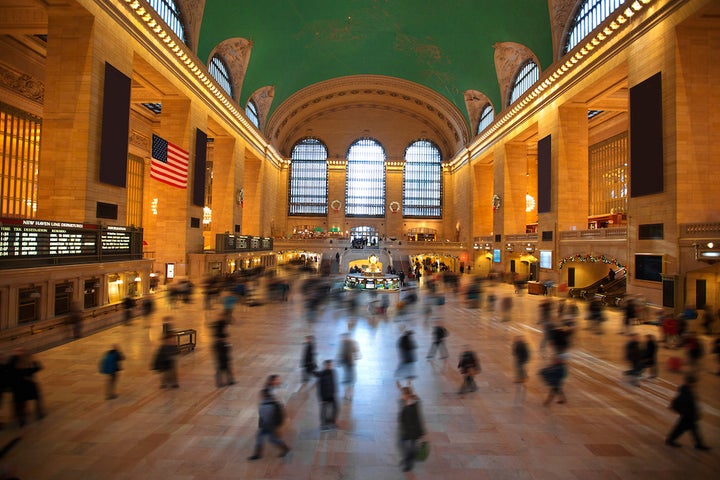 Whenever I pass through, I look up at the celestial constellations painted on the ceiling, a reminder that beyond the towering buildings and human achievements of the Big Apple, there is a bigger, more awesome universe out there full of infinite possibilities.
In contrast, to say that the current Penn Station does not inspire would be an understatement. It is a drab grey subterranean purgatory that one endures en route to one's final destination. It serves its purpose.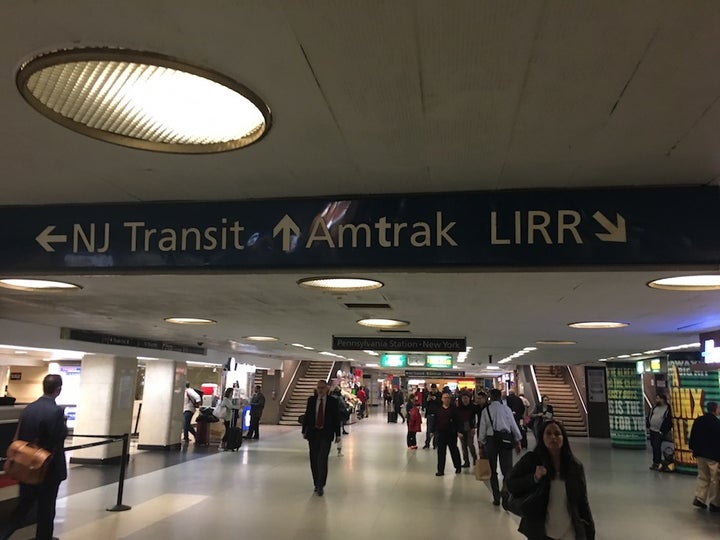 What if more public services could be more like Grand Central and less like Penn Station?
As designers, "public services" include infrastructure, both physical and intangible, for the common good of residents and visitors. The term also encompasses public-private partnerships such as LinkNYC, which provide benefit to the public but funded with corporate advertising and sponsorship money.
A service doesn't have to be old or expensive like Grand Central in order to inspire and uplift. Take for example the "I Voted" stickers that we get on Election Day. These small symbols offer a little bit of decorative delight to complement our outfits that day, but also signal our pride in exercising our rights as citizens of a democratic society.
What if there were a way to signal that same kind of pride when we fulfill our civic obligations after jury duty or on tax day?
Or imagine if the process of getting your driver's license at the DMV could fill you with the same exhilarating feeling of freedom as driving down an open highway on a summer's day?
As a service designer, it is my job to work with governments, companies, and communities to ask questions like these and to design customer and citizen experiences that live up to those questions. While we must take into account financial, environmental, and bureaucratic constraints when designing public services, we also need to ask bigger and bolder questions.
Instead of simply asking, "how do we make this work?" We could ask, "how do we make this transformative or transcendent?" In addition to asking, "how do we make this service better?" We could also ask, "how can this make US better?"
In order to ask these bigger questions, funders and buyers of design projects also need to broaden the scope of their vision, instead of simply looking at the narrow requirements and specific needs a project serves.
In my own work with New York City's Design for Financial Empowerment project, we have taken an approach that starts with a question: how might we increase client retention (and in turn, outcomes) for the City's free financial counseling services? This service helps New Yorkers deal with everything from creating a budget and paying down debt to getting a back account or mortgage. In the end, we arrived at a design approach that would inspire community and engagement, including live events, interactive video, and a "loyalty punch card" to help clients track their progress. If we had started with the question, "how might we use a mobile app to improve financial counseling," we would have defined our scope too narrowly.
For example, a designer looking to transform the airport experience wouldn't just think about speed and efficiency. They might ask, how do we bring back the humanity and romance of air travel? How do we design airports to better remind us that travel is ultimately about fostering better human connections, whether with people across the country, or across the world?
If we are to make American infrastructure and public services transcendental, than we all, whether we be designers, public administrators, politicians, or concerned citizens, need to think bigger. We need to design for a higher purpose: civic interdependence and a more perfect Union.
Support HuffPost
The Stakes Have Never Been Higher
Related
Popular in the Community