In high school, Michael Cherman, 23, knew he wanted to be a clothing designer. He made shirts and sold them out of the back of his car. His dream led him to Parsons, but he stayed only a year. He wanted to learn on the job, and found his way into a graphic design role at Nike's Bowery Stadium store. There he worked until the store's closure in 2013, giving him the perfect incentive to found his own brand, ICNY. The company's aim has been to create reflective clothing to keep runners and cyclists safe.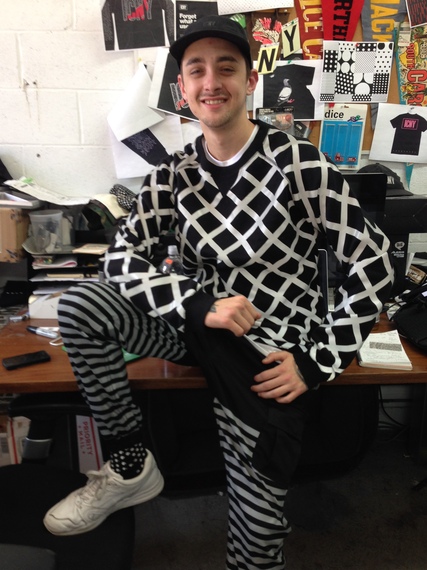 (photo by author)
Alex Schattner: What does ICNY stand for?
Michael Cherman: I-C-N-Y is meant to be spelled out: I See New York. It refers to the company's dedication to visibility, function, and style. I was a commuter cyclist, and I needed something stylish that kept me safe, and I could wear into work. I didn't want a secondary item that became a burden. I wanted my clothes to keep me safe while looking good doing it.
Did you go to school for clothing design?
I studied under the Design & Management major at Parson's for a year, but I felt like I was in the wrong place. They didn't care how much I already knew about graphic design or business, I had to take intro classes. I had already been teaching myself things, and doing what so many of my classmates had only been dreaming about.
I started making t-shirts in high school, and sold them out of my car. Doing that got me expelled and the shirts got banned. Two boys got into a fight on the quad, because of a shirt shortage, and I was blamed. Although this attention might have looked negative it gave me the belief I could make something that people care about.
What did you do after Parsons?
I was interning at a downtown [NYC] boutique when I decided I needed a job. I wanted to work for Jeff Staple, the owner of Staple Design, Staple Pigeon and Reed Space. I did a poster campaign emblazoned with the words "Jeff, My Name is Mike. I want to work for you." That whole campaign got me arrested, because I was technically participating in vandalism. Two nights later, I was out of jail and a week later Nike called me up to invite me for an interview after seeing the campaign. I ended up landing the job at Nike at nineteen. The team and I were breaking down varsity jackets, cutting them up, taking out the lining, adding patches, and laser-etching the leather. I was learning all these new techniques.
After the three years there, Nike shut the place down. I was like, "What am I going to do now?" So, I bought one of the heat presses and a vinyl cutter. I started making everything one by one. I went to stores like Uniqlo and American Apparel, bought blank socks in bulk, and then hand-applied the vinyl to them. From there, I eventually got to a point where I could produce the socks in Korea and then hand print them here and finally now all produced in one factory.
I started with socks because your legs are constantly in motion when you're on a bike. That means they're the part of your body drawing the most attention--moving in and out of the light, it creates a strobe.
Most of your products are on black fabric. Doesn't that defeat the purpose?
Black actually allows the silver reflective material to shine even brighter. The darker the garment, the better reflective works as the light can be more focused on the bright silver reflective areas. The other reason I decided to make it black, is because it's the preferred color of New Yorkers, and I found myself wearing it all the time. That's how I got into my accident. I was riding my bike home one night after work and was wearing all black as usual. I had a green light when I was struck by a suburban going through a red light. The car drove away and I was left laying in the middle of the street with my bike crushed and my body bruised thinking what I could do to keep myself safe while riding and running in New York.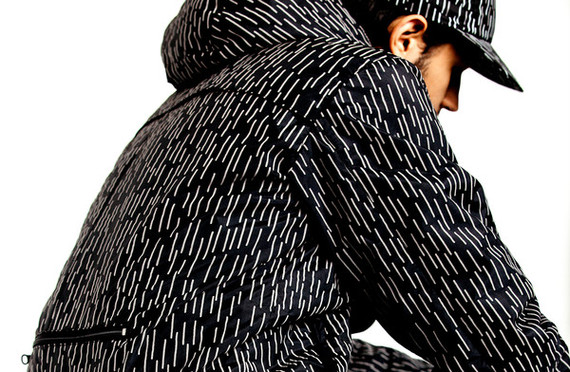 ICNY's FW14 "Rain" Windbreaker Packable Jacket (photo from Lookbook)
How do you support production costs?
I put 30,000 dollars of my own money into this. Most of the money I earned from working freelance, I saved. Even so, the brand got to the point where we had our first run, and we had all these orders from different shops, but I didn't actually have the money to go out and buy enough socks.
I ended up finding my partner, Adam Cott, while I was in a totally separate meeting. I happened to flash a pair of my socks--they glowed because of the sunlight--and we got into this long conversation about ICNY.
ICNY has two seasons under its belt now, right?
Yes, we've released two collections so far; however we are four seasons deep into development. The second dropped three weeks ago. So, even with those two seasons out, We're constantly developing a year ahead of a release which puts stress on sales, because you're spending money producing clothes that won't hit retail for another year. All of this can be frustrating as the product is always getting better and we're getting smarter. I'm just grateful to have a chance to have a small salary and have a chance to build my own brand under my vision at such a young age.
How do you get into stores?
We were lucky enough to get into a big Parisian boutique called Colette. Once we got in there, other international accounts started picking it up: Japan, Australia. From there, we got into a showroom, and went from being in twenty retailers last year to more than two hundred. Generally we work off word of mouth. It has been very powerful for us as most brands are making very general clothing, while we make clothing with purpose.
What's been the biggest lesson?
Early on in the business, I setup collaborations with friends' companies that I thought were really cool, but didn't have enough selling power. We might sell 25 shirts out of the 150 that we made.
Your clothes are inspired by 90's street style, right? When did you get into that?
I was in middle school when I discovered this company called FULLBLEED by Rob Dobi . I loved his graphic t-shirts and saw he was doing freelance. With inspiration from young designers like Rob, I began to make designs of my own. I would show my designs to my friends, and turn their favorites into shirts. I could charge twenty bucks for them, because that was something most kids had on them. I started a business without knowing what I was doing. I think I called myself CEO, and the company was called, "New Castle." I didn't know the beer existed.
The pants you're wearing now, did you design the cut and fit?
Yes. I found a sample pair of pants that I liked, and diagramed them on the computer. I was sure to include pockets, cuffs, stitching, and any other details that were important and I wanted added. From there the "techpack" is sent to the factory for sampling. It's a long lengthy process that can sometimes be frustrating as you're trying to make the best clothes possible and you're communicating with people in another place who may not even understand what you are trying to do. I'm constantly trying to get better at communicating with people.
How do you stay ahead of the competition?
I went to a trade show last year and almost every other vendor had reflective gear. When I started three years before, there was nothing. So, I'm not going to say I started the trend, but I definitely helped perpetuate it. Before that, no one truly appreciated what [reflective material] did for safety and sport.
What marketing has worked best?
Social Media has been huge. Moving from 1,000 followers last year to 24,000 this year. The toughest thing is to get people to make that first purchase, because people aren't sure if the brand is cool, or how long it's going to be around. Social Media has allowed us share our story, and given us a more level playing field with bigger brands, like Nike.
I'm really interested in wearable tech and functional apparel as a whole. We will be constantly trying to push the envelope on how people work with Reflective, Performance and Tech Materials.
Related
Popular in the Community