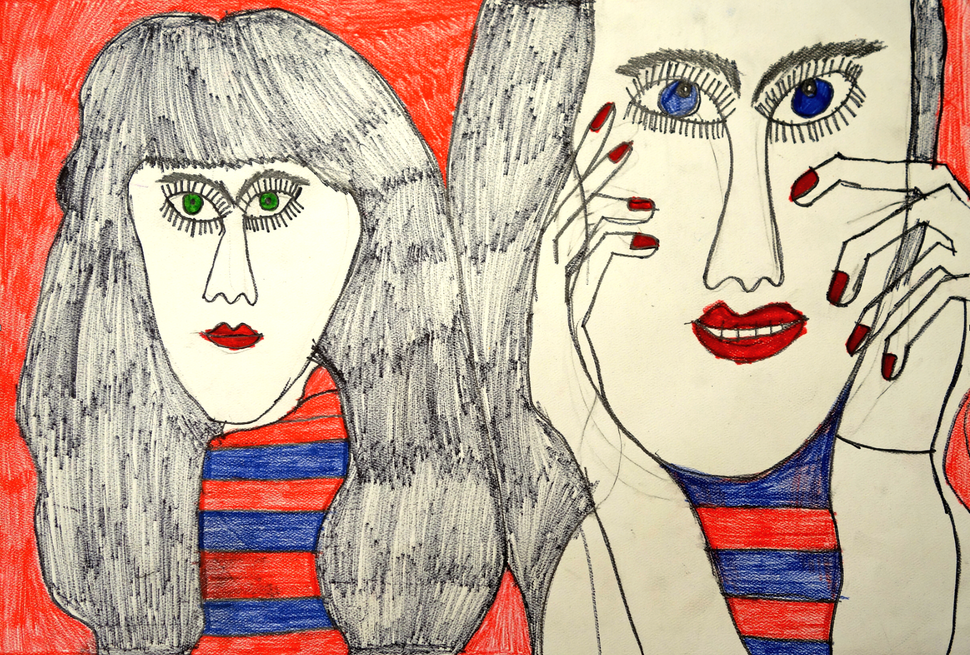 When I was a kid, before ideals of feminine beauty seeped into my consciousness, I held an almost pious reverence for every woman I saw -- in real life, in fairy tales, in morning cartoons. I especially revered my grandmother, though. I'd watch in awe as she applied makeup before her vanity mirror ("put her face on" as she put it), smoothly painting herself over in motions so routine they were like ceremonial rites.
I would stare, enamored, at the way her lavender veins wrapped elegantly around the back of her hand and down her forearm, and how her eyelashes appeared coated in velvety black ink. I'd use marker and pen to mimic such marks on myself, drawing and rubbing purple on my hands so it looked like they came from the inside. It was clear to me, before I could read about people being born, that women were made.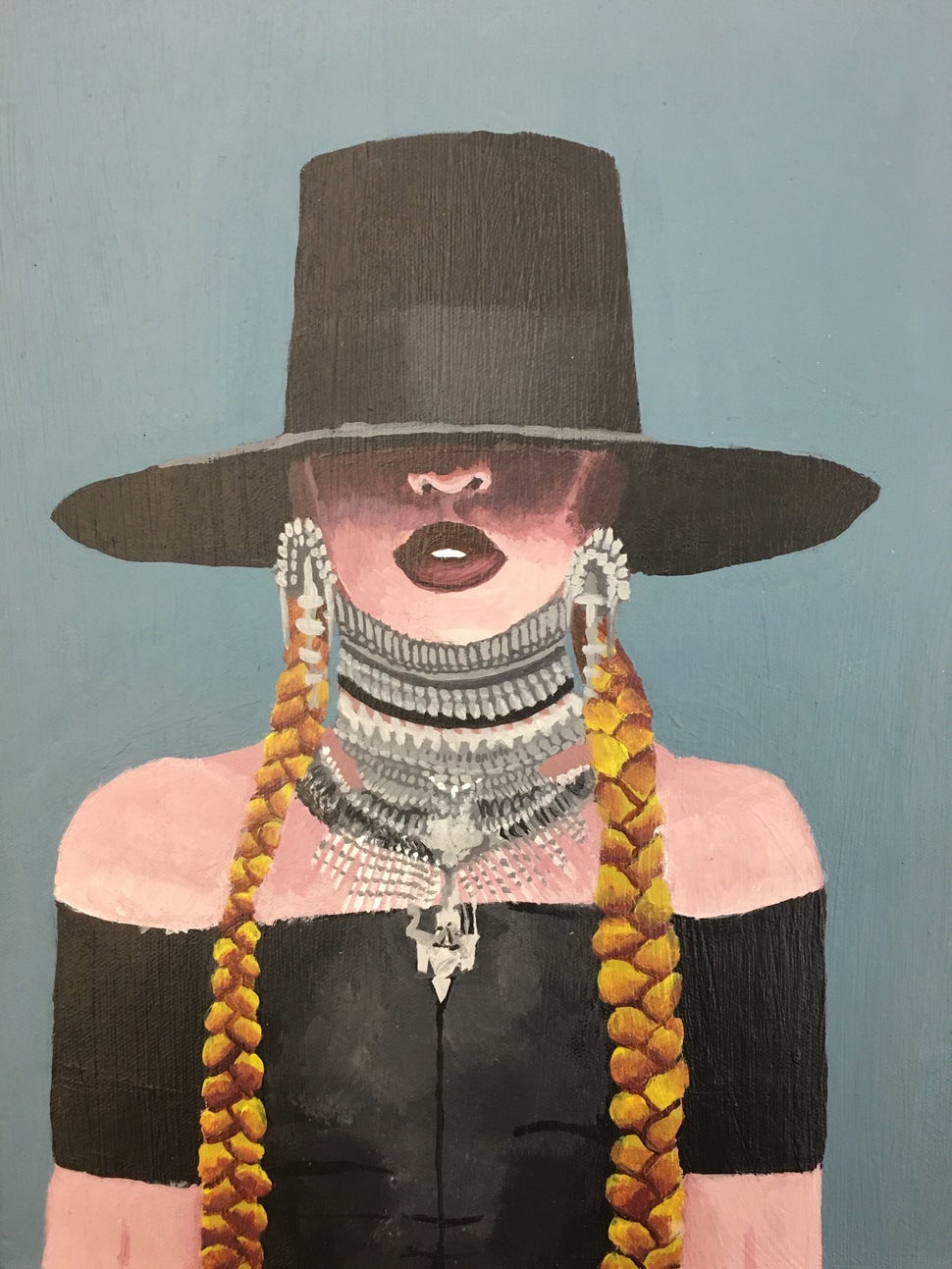 LAND (League Artists Natural Design) Gallery, based in Brooklyn, is a nonprofit studio and gallery space that works with adult artists with developmental disabilities to bolster life skills through art. Artist and curator Matthew Bede Murphy co-founded the gallery in 2003, and opened its doors in 2005, bringing the first venue of its kind to one of the world's artistic capitals. 
"The vision, from the very beginning, was to give our artists a platform to share their work with the world," Murphy explained to The Huffington Post. "Through art, we can address so many of the major things you need to learn in life -- how to be confident about what you make, talk about what you make, share what you do with the world, identify your position in the world through artwork. We're trying to carve out an even playing field."
LAND works with 16 artists at a given time, and constantly has a lengthy waiting list. The gallery is funded through Medicaid and to be eligible, artists must be diagnosed with a developmental disability and meet the requirements of the state. Most importantly, however, they must be devoted artists who are serious about their craft, ready to participate in a high-paced and energetic art environment, all day, every day. LAND staff members review potential artists' portfolios and ensure that, even if the artists can't quite function independently in their outside lives, they are able to handle the pressure and excitement of working in a communal gallery space, one that receives no small amount of visitors and public attention.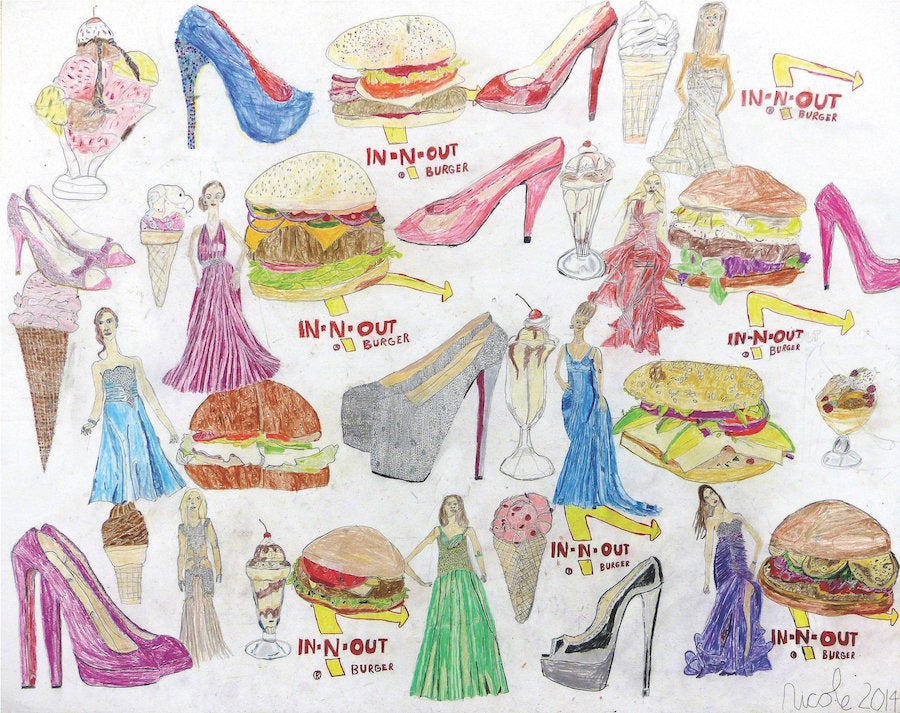 "What happens here is art first, people first," Murphy said. "The art is therapeutic in nature and the process of making work in a community setting can both empower our artists and foster identity -- it's a natural spillover."   
LAND mounts around six exhibitions a year, most of which are group shows loosely focused on a single theme. Sometimes the LAND curators and staff conceive of a theme beforehand, other times it manifests almost naturally from a particular artist or group of artists' work. "We just open our eyes and see the work moving in a certain direction, and dream up something where it all kind of fits," Murphy said. Past shows include "Land of Metal," which stemmed from artist Michael Pellew's heavy metal obsession, as well as "Space Invaders," which included artists fixated on visions of outer space, science fiction, 1980s TV shows and video games. 
The concept of "Designing Women" is based on the work of artist Byron Smith, whose flat pencil drawings depict femininity with graphic drama, giddy adoration and a heavy helping of style. 
When Smith first came to LAND, gallery coordinator Sophia Cosmadopoulos told The Huffington Post, his work was far more pared down and revolved mainly around renderings of gorillas holding basketballs and shoes. Smith works in the gallery only one day a week, and speaks very little, normally answering questions with a single word. He is known for carrying a boot around with him much of the time.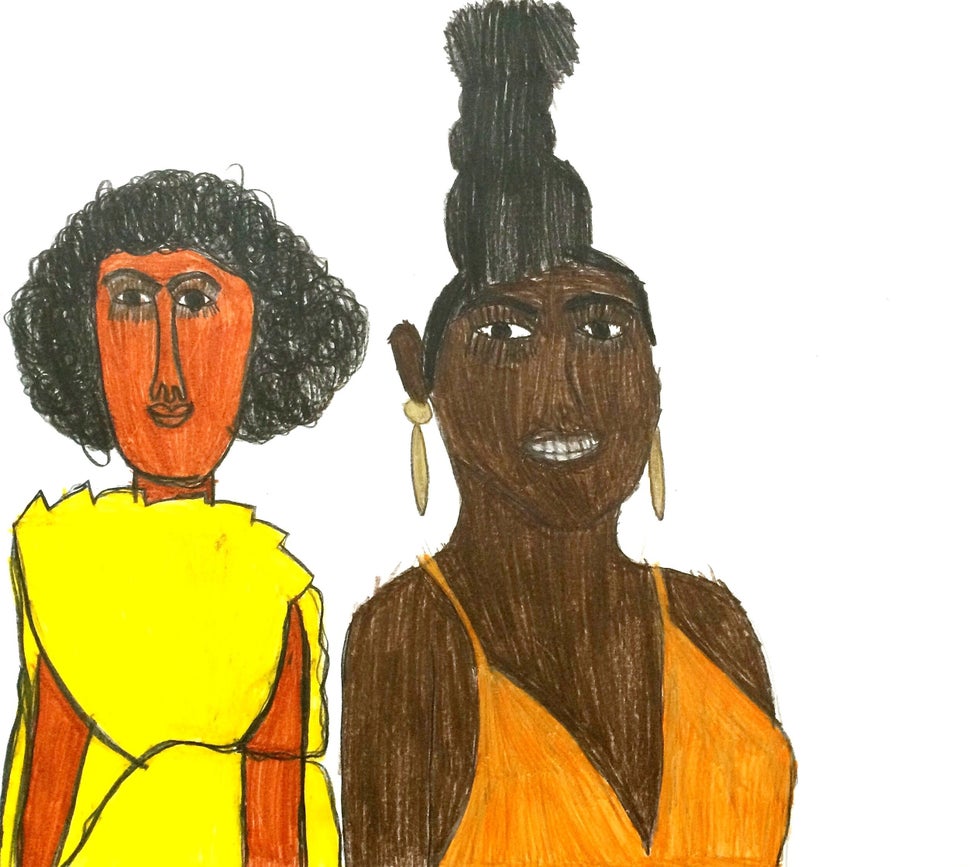 Over the past two years, during his residency at LAND, Smith's work has grown in complexity as he's honed a particular aesthetic. He's become engrossed in drawing what he calls "models" -- women culled from magazines and the internet.
In the drawing above, Smith illustrates actress Lupita Nyong'o and musician Solange in their past Met gala gowns, featuring Nyong'o's towering, sculptural, Nina Simone-inspired do and Solange's round, sunshine gown. In another piece, he draws Billie Holliday against a vibrant blue backdrop, her body swallowed in a cocoon of a shawl. In all of Smith's drawings, eyelashes sprout like geometric vectors and hair is rendered with the precision of a stylist. His lips are the shape you imagine lips to be, plump and defined and luscious whether smiling or frowning or at rest. 
"Designing Women" features a variety of other LAND artists including Nicole Appel, who takes up to eight months to complete a single drawing. For most of her works, Appel focuses in on a specific person in her life, deconstructing their personas to create a collage of their influences and interests. Her piece "Burgers and Heels," for example, is a portrait of her childhood friend Deborah, whom Appel's father described as a "foodie and a fashionista." Appel's homage features a variety of In-N-Out burgers, ice cream cones, delectable sundaes, and glamorous women in floor-length gowns.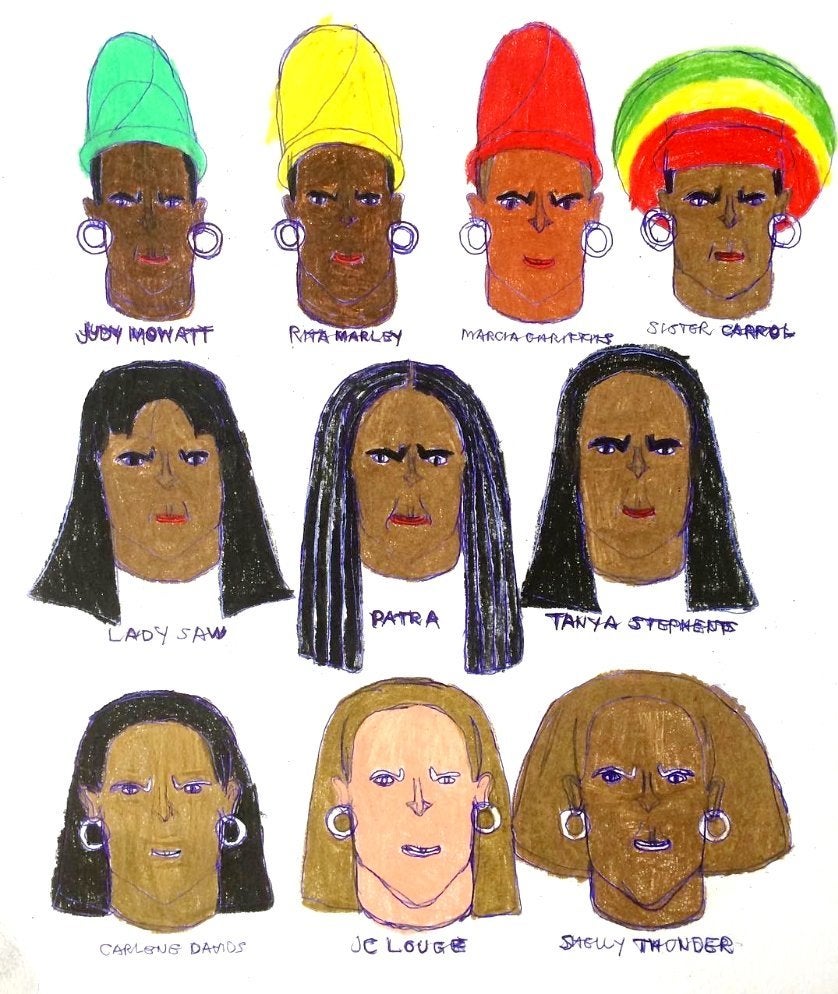 Another featured artist is Kenya Hanley, who Cosmadopoulos explained is generally into "food, reggae and babies" in his work. When he learned of the theme "Designing Women," Hanley began drafting grid images of female reggae musicians like Lady Saw and Tanya Stephens.
"What I find interesting about the artists here is that they all have such a unique perspective," Cosmadopoulos said. "Artists like Kenya can keep within their very specific visions while also sticking to the theme. That's just very true with a lot of our artists here at LAND, they are able to be so consistent.You can always make out the hand of the artist that made them." 
As to whether any aesthetic qualities unify the LAND artists as a whole, Cosmadopoulos thought of one: "I think it's interesting how there's a lot of repetition and series in this population. A lot of our artists like to do the same thing over and over again, this repetitive categorizing of things."
In "Designing Women," the artists of LAND express, in a range of visual languages uniquely their own, how women express themselves, not on paper but through their very being, their self-fashioning, their performances of themselves. You could say, looking through the dynamic representations of femininity featured in the show, that all individuals who identify s women are artists, that getting dressed in the morning is a feat of boldness and imagination. Or you might not. But most certainly the participating artists of LAND Gallery see them as such, and pay tribute to the goddesses of history, pop culture, and everyday life with artworks as innovative and expressive as they come. 
"Designing Women" runs until August 2, 2016 at LAND Gallery in Brooklyn. 
REAL LIFE. REAL NEWS. REAL VOICES.
Help us tell more of the stories that matter from voices that too often remain unheard.
BEFORE YOU GO
PHOTO GALLERY
Outsider Art Fair 2016