 Back in the early part of the 20th century, Eugene O'Neill brought a weight and importance to American theatre which had been sorely lacking. For a time, there was hardly a season without an O'Neill play opening on Broadway -- and not a single one was cheerful.
He was after more than mere seriousness, however. He was after Tragedy: a species of American play with as much Fate, Parricide, Suicide and Incest (somehow, O'Neill seems to demand that these words be capitalized) as anything the Greeks had mustered. Desire Under the Elms is a mix of elements from the myth of Hippolytus and Phaedra, along with other tales which feature a father returning home with a new wife who falls in love with her stepson.
Desire, now onstage at A Noise Within's new theatre in Pasadena, is beautifully stark in the manner of Greeks, and features a truly tectonic performance by ANW veteran William Dennis Hunt as the flinty-souled patriarch Ephraim Cabot, a man cuckolded by his own son on his New England farm.
Hunt makes us both hate and sympathize with Ephraim, and walks the perfect line between realism and stylized myth. When he speaks of his lifelong obsession with the land, and its ever-present rocks, we really see New England in the 1850s -- and the whole American drama of soul-felt materialism. It's one of Hunt's finest efforts.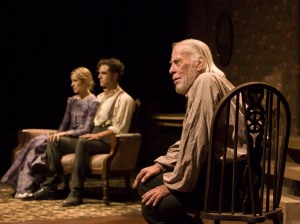 William Dennis Hunt as Ephraim. Photo courtesy of A Noise Within.
Jason Dechert offers a superb Eben Cabot, the tortured son of Ephraim, obsessed with his dead mother -- and like everyone in the play, consumed with a desire to control the farm after Ephraim's death. Monette Magrath makes for a compellingly twisted and mysterious Abbie Putnam, equally hungry for the land, and more than equal to any sexual qualms on the part of Eben. She seduces us with her forthright ambition -- even as she seduces her new stepson. If we have a little trouble believing her transition from gold-digger to lover, well, perhaps so did O'Neill.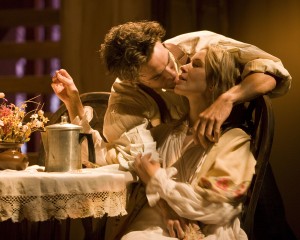 Jason Dechert and Monette Magrath. Photo courtesy of A Noise Within.
Finely wrought incidental music, composed and performed by solo violinist Endre Balogh, comments on the action with slightly warped strains of Americana, and welcome irony. An exquisite addition.
For those unfamiliar, O'Neill always takes a little getting used to. Characters can be more archetypes than "people." Here he openly imitates the straightforward, declarative Greek style -- with its redundancies and its purposeful lack of nuance -- even as he revels in American dialect. Not a single character can resist remarking about how "purty" falls the sunset. ANW has chosen to tone down the dialect to more modern American speech, but a little something is lost in the translation. And as often happens, the set design (John Iacovilli) has abstracted (and thereby lost) O'Neill's very clear instructions about the mythic elms.
Two enormous elms are on each side of the house. They bend their trailing branches down over the roof. They appear to protect and at the same time subdue. There is a sinister maternity in their aspect, a crushing, jealous absorption. They have developed from their intimate contact with the life of man in the house an appalling humaneness. They brood oppressively over the house. They are like exhausted women resting their sagging breasts and hands and hair on its roof, and when it rains their tears trickle down monotonously and rot on the shingles.
Not emphasizing this visual signal of "Fate with a capital F" takes away a little more from the play's effect. One can do plenty of Freudian analysis on the characters -- the troubled young Eben openly seeks a replacement for his mother when he sleeps with his new stepmother. But ultimately, as others have remarked, O'Neill believed that Fate was an unfathomable mystery, as irresistible and threatening as the elms which (should) dominate the stage.
Director Dámaso Rodriguez, who last year brought us the excellent Eccentricities of a Nightingale with clever and creative effects, here chooses a simple, often muted staging -- passing up, for example, lighting tricks to emphasize the ghostly and oppressive presence of Eben's deceased mother -- who figuratively haunts the closed parlor where she was "laid out."
The low-key approach generally satisfies (often thanks to Balogh's violin), though one might prefer a little darker foreshadowing of the tragedy which follows. When Abbie and Eben first kiss, we should be just a tad more appalled. Here's Eben speaking of his mother:
EBEN: She died. (a pause) Sometimes she used to sing fur me. (He bursts into a fit of sobbing.)

ABBIE: (both her arms around him-with wild passion) I'll sing fur ye! I'll die fur ye! (In spite of her overwhelming desire for him, there is a sincere maternal love in her manner and voice -- a horribly frank mixture of lust and mother love.) Don't cry, Eben! I'll take yer Maw's place! I'll be everythin' she was t' ye! Let me kiss ye, Eben! (She pulls his head around. He makes a bewildered pretense of resistance. She is tender.) Don't be afeered! I'll kiss ye pure, Eben-same 's if I was a Maw t' ye-an' ye kin kiss me back 's if yew was my son-my boy-sayin' good-night t' me! Kiss me, Eben.
Yuk, we say, and yet again, yuk. But Rodriguez, bucking the general trend of live theatre, keeps their physical relationship mostly offstage; we don't quite feel the oppressive presence of the mother, and on opening night, the yuk moment never quite achieved its full potential. Greek catharsis, alas, often demands some pretty heavy yuk.
But these are small quibbles on an otherwise splendid production.
Christopher Fairbanks and long-time ANW Resident Artist Stephen Rockwell open the play with just the right tone as the slow, but ever-resentful "other sons" of Ephraim, Simeon and Peter -- who have the good sense to run away from the old man in the first act, to try their luck in the California gold fields. Thank heavens, we say at the end, that at least someone escaped that farm.
It's not easy to find good O'Neill these days, and Desire's deep commentary on the twin furies of American obsession -- sex and real estate -- is surely as relevant as it was when the play opened in 1924. Once again, ANW has brought a classic to life with undeniable class and theatrical power. Highly recommended.
"Desire Under the Elms" plays through Dec. 18. See www.anoisewithin.org for tickets. Note: For some reason, ANW has printed a synopsis in the program. If you aren't already clued in, do not spoil the action by reading ahead: there's no problem understanding the language or the action.
Popular in the Community