She's only been in Washington for a little over two months, but Chicago transplant Desiree Rogers has already been crowned the District's best-dressed woman by Huffington Post readers. Jill Biden came in a very close second to the White House's Social Secretary while DC's first lady Michelle Fenty followed in third. More pictures of Rogers below.
RESULTS: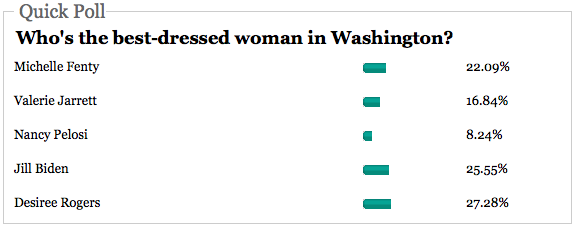 See the original post and slideshow here.
Here's what a few of you had to say about Desiree Rogers and her fellow nominees:
ChaiKat:
Desiree all the way. I love the way she dresses, and I wish I could carry off a short hair do like that.
TiffanyHusseinBanned:
Love Desiree Rogers and MIchelle Fenty.

Both have great style. I want to be like them when I grow up.
EgyptianMysterySchool:
I just couldn't bring myself to vote on a "best dressed" poll (machismo, I know) - but I will say that Michelle Fenty and Desiree Rogers are the two finest women I have ever seen in high powered/ political Washington. Washington version 2009 proves brains and beauty go well together.

Big-ups for D.C.'s first couple being products of Howard U.
paulita:
Ditto on they all look fab! It was hard to choose as well. Nancy Pelosi should be greatly admired for her elegance and grace and aging with class and style a role model for us all.

Dr. Biden is a different kind of beauty who looks beautiful but doesnt look like aging barbie. Ms. Fenty and Ms Rogers are just stunning.

In the end I voted for Ms Fenty solely based on the pictures.

They even look more stunning because in Washington if you wear other than black or grey in a power position you considered overly flashy, so they are doing the muted colors with class!

Maybe First Lady Obama will bring some color to Washington and wash away the grey hee hee
Read more about Desiree Rogers here.
REAL LIFE. REAL NEWS. REAL VOICES.
Help us tell more of the stories that matter from voices that too often remain unheard.