For those of us who have since graduated, back-to-school season can leave us feeling a little left out. But just because we aren't spending our days in a classroom, doesn't mean we can't take some time to give our grown-up workspaces a new look.
Follow the leaders below on how to do it. You're going to want to take notes...
Lesson #1: Everything has a place.
Keep supplies organized with trays, pencil holders and the like, so you can focus on being productive at work and not tackling tabletop clutter.
Lesson #2: Practicality isn't forgotten.
As fun as it is to add all that desk decor, things like printers, bulletin boards and proper lighting need a home as well. Plan your workspace around the essentials -- and leave enough room to move your mouse and put your coffee down.
Lesson #3. A little personalization is always needed.
There's a reason back-to-school shopping is so much fun. Who doesn't love making a desk their own? Incorporate photos, monogramed pieces or writing utensils and other accents that speak to your style.
Lesson #4: Seating is a priority.
With most jobs, there's too much time spent sitting down time to not choose an option that's ergonomically correct. Make sure your feet and arms are fully supported when sitting in a relaxed position and you're able to see your work without having to physically strain. Bonus points if the chair matches the rest of the room's decor.
Lesson #5: Plants are as important as staplers.
Science has shown that keeping a live plant in your work environment can actually help increase productivity. But if you don't have the greenest thumb, go for fake flowers that are yellow. The color boosts your mood and gives you more energy to accomplish tasks.
Are you an architect, designer or blogger and would like to get your work seen on HuffPost Home? Reach out to us at homesubmissions@huffingtonpost.com with the subject line "Project submission." (All PR pitches sent to this address will be ignored.)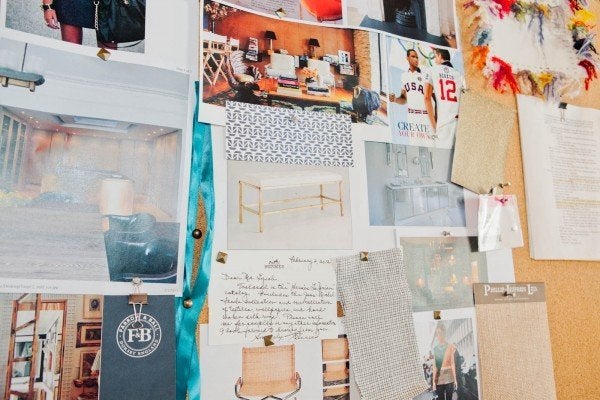 Inside Nate Berkus' Office