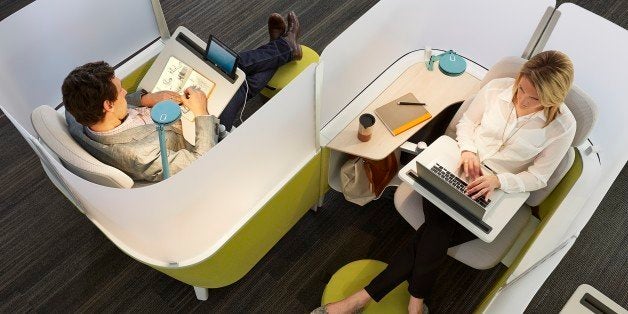 Since happiness and health help workers perform better on the job, shouldn't office workspaces be designed to elevate mood and maintain good health?
Open floor plans, which many offices have adopted to promote collaboration among colleagues, don't exactly foster productivity. Studies have found that ringing phones and other noises distract workers, and the lack of privacy makes them unhappy. Though shared desk spaces and a lack of walls are the norm, companies have been trying to diversify their layouts, adding private workstations, as well as quiet libraries, cafes and other casual meeting spaces.
And when research on office activity (or lack thereof) highlighted the risks of sitting all day, most people's concept of the traditional desk got flipped on its head -- or, in this case, on its feet. Standing desks gave people an alternative to the sedentary workweek, which has been linked to a slower metabolism and greater risk of heart attack. Treadmill desks have become another health-conscious office option, buoyed by research suggesting that they help burn calories and improve productivity.
Today there are tons of health- and ergonomics-focused office and desk designs out there. Here are a few that will change the way you think about your workspace: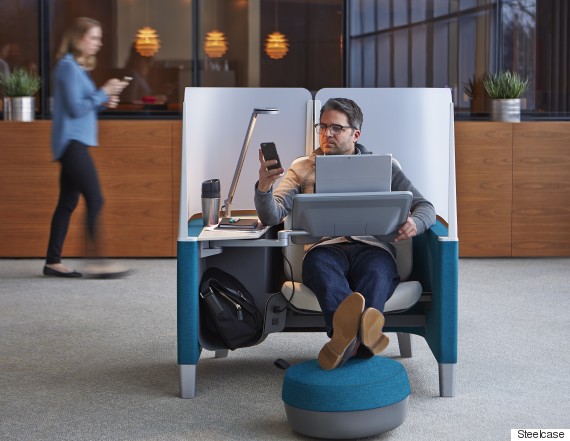 Michigan-based Steelcase, whose past products include ergonomic chairs that accommodate the way their users interact with technology, has created a personal nest-like cubicle, which isolates workers from their colleagues.
Steelcase researchers determined that office workers switch tasks every three minutes, are interrupted every 11 minutes and spend 23 minutes getting back into the right work mode. The Brody WorkLounge unit aims to help employees hone and maintain focus: It has back support, an angled surface to bring laptops to eye level, a light, a footrest and an optional opaque privacy screen to prevent people from being sidetracked by movement in their peripheral vision.
The Brody unit will be available for purchase later this year. A single-person unit starts at $2,700.
2. Stir Kinetic M1 smart desk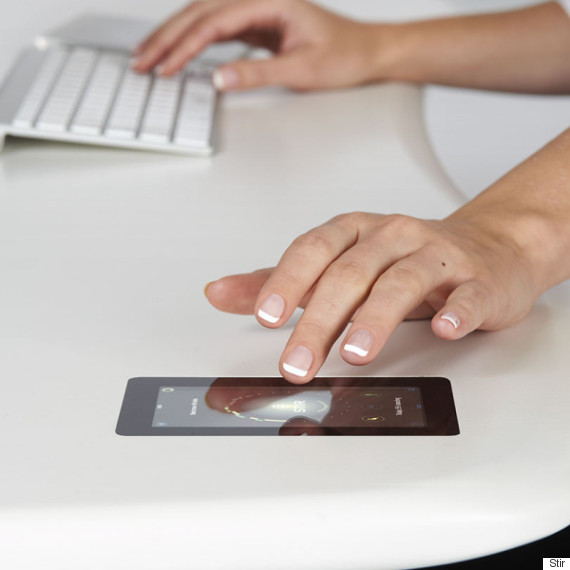 Researchers at Stir have found that users of manually adjustable standing desks can stay sitting for weeks before they change positions. But the Stir Kinetic M1 design takes the standing desk to a whole new level, targeting those who may need a little push to get up from their chairs.
This smart desk emits a small sigh to let you know when it's time stand up, then it automatically adjusts to a new height. It's equipped with a touchscreen that keeps track of how much time you've spent sitting and standing each day, and counts the number of calories you've burned.
3. Public Office Landscape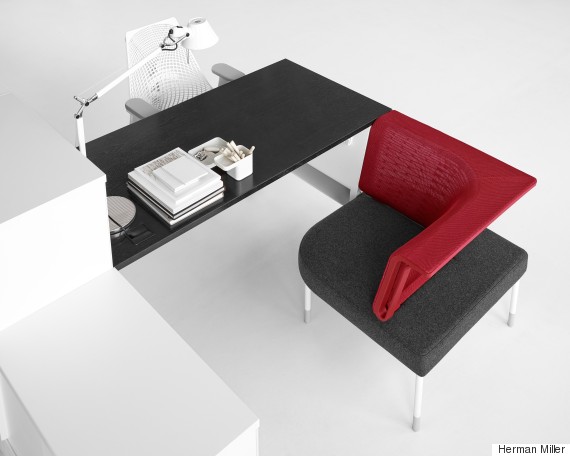 This collaborative work unit from design firm Herman Miller has modular desks, seating and storage, all of which can be re-arranged to suit various needs.
Recognizing that the majority of work interactions still occur near desks, the firm added the option to trick out the desk unit with an ergonomic, cushioned "social chair." The desk-chair arrangement creates what the company calls a "social pod," offering comfy seating for visitors and allowing employees to pivot easily from desk work to teamwork.
The workstation uses recyclable steel parts in its frame, and the seat cushion is recyclable, too.
A unit with a Public desk and cushioned seating starts at around $1,600.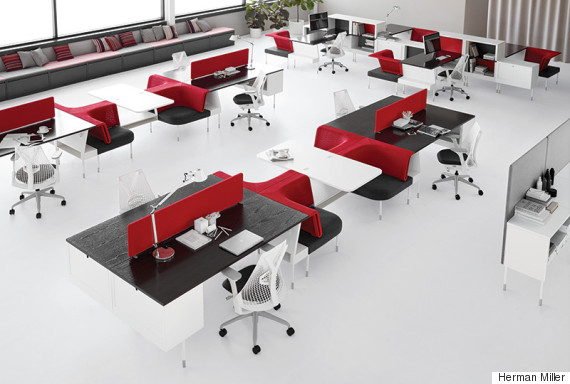 4. Further hub and desk system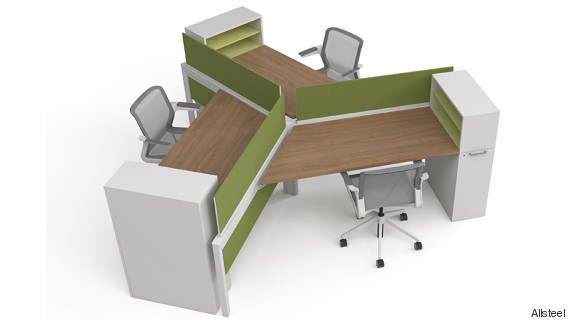 Workplace furniture company Allsteel has designed a configuration of trapezoidal desks centered around a power "hub," a structural support that also serves as a power outlet and data terminal.
Arranging people in a pinwheel-like seating arrangement -- next to but not opposite each other -- is supposed to ease the transition between independent and collaborative work. These desks also come with a privacy screen, for when workers need some alone time.
The power hub starts at around $1,000, and each work surface is roughly $370.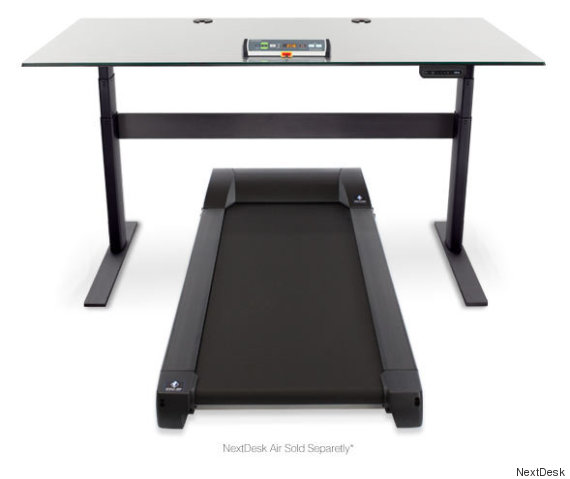 Those looking for a more active workday (and who have enough floor space) can opt for a treadmill desk. The NextDesk Fit offers walking speeds between 0.4 and 4 mph, and connects to Bluetooth to let you track your progress. It senses when you stop moving; and if you get off and walk away while the treadmill belt is still going, it'll pause after 20 seconds.
You'll have to pay $999 to get those daily 10,000 steps in. (Of course, you could also take a break from work to circle a few blocks outside, no desk required.)
6. DIY Ikea standing desk hack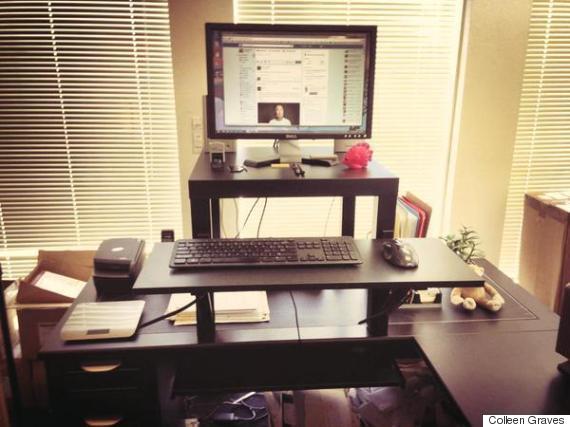 Ikea's official Bekant standing desk sells for $490. But you can actually hack together a standing desk of your own, using various other Ikea products -- and it'll cost you just $22.
Colin Nederkoorn, founder and CEO of Customer.io, came up with the idea. His adjustable creation consists of a Lack Side Table, some Ekby Valter Brackets and an Ekby Viktor shelf. He call it the Standesk 2200. Genius.
Twitter user Colleen Graves (@DuchessofRogue) successfully put together a version of Nederkoorn's desk in the real world. (A photo if it is above.) She told The Huffington Post it was super easy to make and made her feel better while she worked.