April 28, 2014 — In 1971, when Desmond D'Sa was 15, South Africa's apartheid government forcibly relocated his family from its 10-room suburban home to a two-bedroom inner city apartment. The young man was dismayed to find his new neighborhood in South Durban had no parks and sat amid large oil refineries, chemical tank farms and paper mills. Gang violence was rampant.
But D'Sa didn't join a gang. Instead, he began to organize his new community, rallying his neighbors to build a sports field to give young people something positive to do among all the blight.
Now 57, D'Sa is still working on behalf of his community. For his indefatigable efforts, he's been awarded this year's $175,000 Goldman Environmental Prize for Africa. The award highlights his community's 2011 victory in shutting down the Bulbul Drive landfill — one of the area's largest for hazardous waste.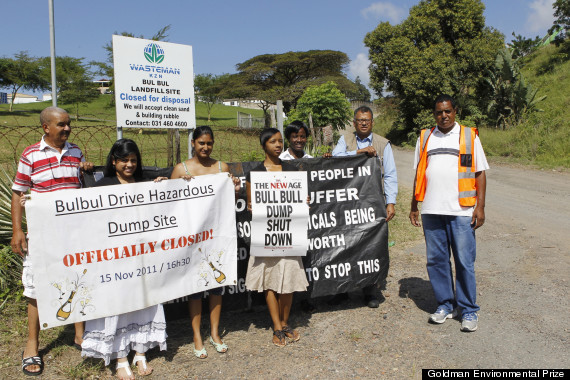 Desmond D'Sa and his team celebrate their victory at the site of the former Bulbul Drive landfill. Photo courtesy of The Goldman Environmental Prize.
"He really stood out for his passionate activism and the way he's organized his community to achieve a really important victory," says David Gordon, executive director of the Goldman Prize, which was founded by the San Francisco philanthropists Richard and Rhoda Goldman in 1990 to recognize grassroots environmental activism.
South Durban is home to almost 70 percent of South Africa's industry, including more than 300 oil and gas refineries, paper mills, agrochemical plants and hazardous waste landfills such as the Bulbul Drive dump.
For more than two decades, Wasteman Holdings, a South African waste management company, dumped toxic waste from shipyards, factory farms, medical facilities, and oil and chemical factories in the Bulbul Drive landfill, contaminating soil, water and air. The community spent nearly 15 years fighting it and turning an application for expansion in 2009 to a closure in 2011.
Still, the shutdown is just the first step. The landfill's leachate — liquid that runs off the waste — is so toxic that other disposal sites won't take it, so the government has instructed Wasteman to build an onsite plant, to pretreat it before shipping it elsewhere.
Those who know D'Sa say he won't rest until the company follows through on this mandate.
"He's willing to put in long, long hours to make things change in a positive direction," says Thomas Robins, a professor of environmental health sciences at the University of Michigan who has worked with D'Sa.
D'Sa first realized the impact of local pollution when working at Sasol, one of the South Durban chemical plants, in the 1990s. "People were sick, but we didn't cotton on to all these things," he says. At the factory, he read the chemicals' safety sheets and realized the danger to workers.
He also noticed what seemed like a high prevalence of asthma and childhood leukemia in his neighborhood. "In the state project where I lived, 10 out 12 families had a family member who had asthma," he says. "I realized something was amiss here."
When he went to the two large oil refineries in the neighborhood, Engen (PETRONAS) and SAPREF (Shell and BP) with his concerns, he says, "the response I got was that people were smoking cigarettes and that was causing the asthma and cancer."
D'Sa didn't accept the explanation and continued to call attention to pollution and health issues in the area. In 1995, he was protesting a ribbon-cutting ceremony by newly elected Nelson Mandela at the Engen refinery. Mandela stopped to talk to D'Sa and his fellow protesters. What they told him compelled the leader to assign a senior staff member to help the protestors negotiate a good neighbor agreement.
"He was the first president to listen to community groups, take heed and act on the information presented to him," D'Sa says. "He put people first."
Mandela also "made us understand that you have to have facts and figures because that's what counts at the end of the day," he says. So, D'Sa co-founded the South Durban Community Environmental Alliance in 1996 and set out to provide the proof — the facts and figures — about what was really going on with the air pollution and illnesses in the area.
Partnering with the California-based nonprofit Global Community Monitor, D'Sa's alliance helped train local residents to take air samples. The samples showed levels of benzene, a confirmed carcinogen, at levels eight times higher than what is considered safe in United States, but still under the South African standard at the time.
Two landmark studies conducted in the early 2000s by Robins and colleagues at the Nelson Mandela School of Medicine at the University of KwaZulu-Natal supplied more information about the medical threats D'Sa had perceived. Despite the refineries' turning off several sources of pollution during the study period, Robins' team still found incidence of asthma in 52 percent of the children, including 11 percent who had moderate to severe asthma. Robins also looked at cancers, heart disease and kidney disease among the population but is still analyzing those data.
These studies and the community air samples attracted sustained press attention, prompting the South African parliament to hold a national hearing. D'Sa and fellow community organizer Bobby Peek, who won the Goldman Prize in 1998, testified. The outcome was a new law in 2004, signed by Thabo Mbeki, Mandela's successor, that established national air quality and emissions standards for South Africa.
Amid the victories, D'Sa has paid a high price for his work. In 2011 his home was firebombed, sending him and his wife and daughter to the hospital.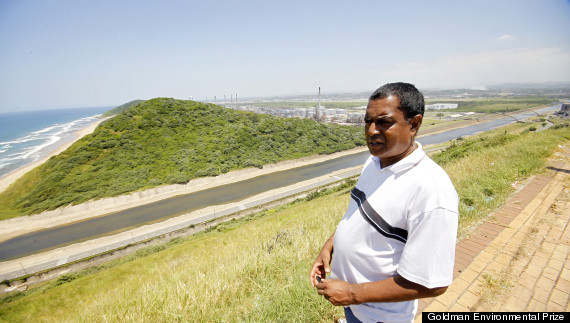 D'Sa surveys the landscape that will be affected by the proposed Port of Durban expansion. Photo courtesy of The Goldman Environmental Prize.
"We face dangers all the time because we stand up for justice and truth and for people and species who can't speak for themselves," he says. "But that will not deter me from doing what's right. I'm not going to be afraid."
Today D'Sa is fighting a proposal to dramatically expand the port of Durban, also a neighbor to his beleaguered community. Already the largest port on the African continent, the expansion would displace thousands of South Durban residents and exacerbate waste, pollution and traffic in the neighborhood.
It's a foreboding echo of history, says Global Community Monitor executive director Denny Larson, as corporate and other forces legally and forcibly evict people from land where they've been living for a long time. It would be the largest removal of residents — many subsistence fisherfolk — since apartheid.
South Africa's current government isn't following Mandela's policy of people first, D'Sa says. "I want to ensure the legacy of Mandela continues to resonate across South Africa, particularly in South Durban," he says. "I will continue to stand up for those principles."
Before You Go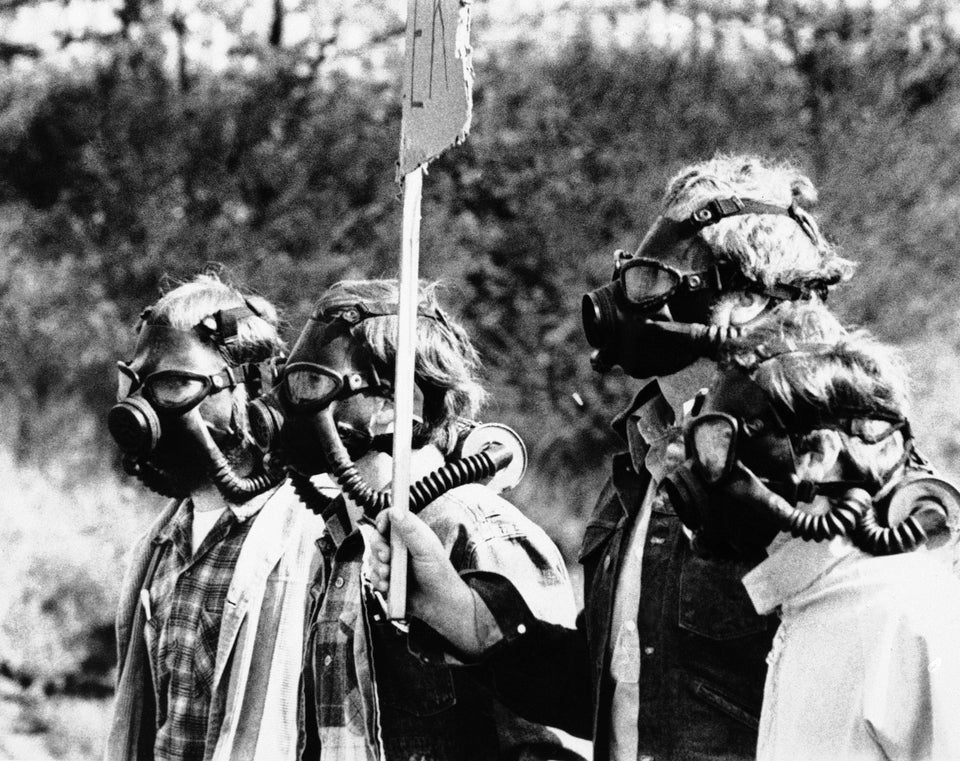 Evolution of Green Activism
Popular in the Community