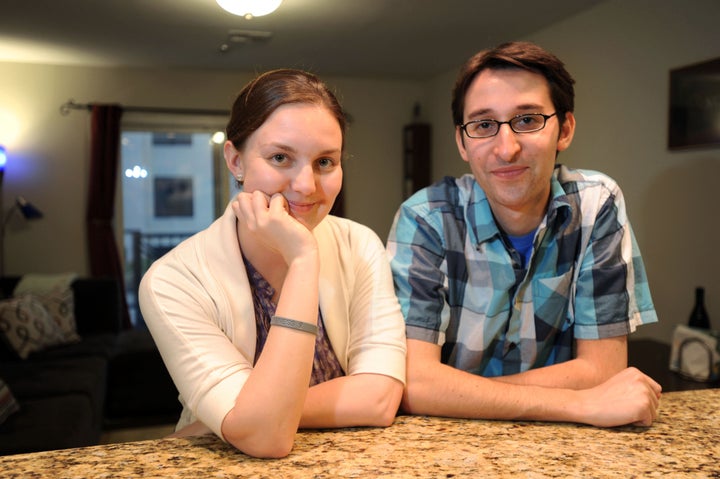 NEW YORK -- Economic timing and the vagaries of the job market overshadow Caroline Cutter and Brad Miller's relationship.
Cutter, 28, graduated last year from Montclair State University in New Jersey with a degree in art education and struggles to manage more than $50,000 of student loan debt. Contending with the fallout of one of the worst financial downturns in generations, she has yet to find a full-time job.
Miller, 27, graduated in 2006 from the Stevens Institute of Technology in New Jersey, two years before the crisis erupted. He works as a civil engineer. He makes about $65,000 a year.
Cutter and Miller finish each other's sentences while talking about the wedding they're planning for next month, their budget a constant reminder of their financial challenges. Current wedding theme? Do-it-yourself.
While they know they could elope to save money, neither of them wants to sacrifice their dream of a formal ceremony and reception. So that means homemade invitations and place cards, lanterns instead of flower arrangements, a dress on sale, a pared down guest list and a wedding date on the cheapest night their venue could offer them.
But in the end, Miller and Cutter say, the wedding is just a party. It's the rest of their lives that worry them.
"When I was in college, I always thought that as soon as I graduate, I'm going to get a job, work a few years, then I can get job security, go on maternity leave, have kids and everything will be great," says Cutter, who wants to be a teacher but works 20 hours a week as receptionist, instead. "I'm scared, but I'm just trying to deal with it. I have a part-time job and I'm just trying to get by."
Miller interrupts: "Her salary just pays even with her debt." He faces his fiancee and with a gentle nudge reminds her of how rough things really are. "If I wasn't paying anything for you, you'd be destitute."
Historically, college graduates weather periods of economic recession better than their less-credentialed counterparts. But one of the starkest findings of a new study about recent graduates of four-year colleges are the strong doubts they express about being able to achieve basic tenets of the American Dream -- an affordable education, a job, a house.
"There are several million people graduating into this very bad recession and having a difficult time. This is just one more way of saying that young people, as they go into their careers, are going to be less and less moored to the idea of upward mobility as inevitable," said Carl E. Van Horn, a labor economist at Rutgers University and one of the authors of the recent report, "Unfulfilled Expectations: Recent College Graduates Struggle in a Troubled Economy."
The report surveyed 571 graduates from four-year colleges and universities. Half said they were working jobs that don't require a college degree. Miller, who participated in the study, fared among the best of his peer group. But even he has his doubts.
"There's no way people our age could ever save for a down payment on a mortgage. As far as I can see, I never will," Miller says. "Hopefully, one day."
He and Cutter share an apartment in Hoboken, N.J., with a roommate in order to save money. They have no plans to alter their living arrangement after they marry.
Both grew up in middle-class homes in neighboring towns in New Jersey. Cutter's father owns his own business; Miller's parents are both teachers. Like the majority of young graduates battered by the rough tides of the Great Recession, neither believes they will be as financially successful as their parents.
"The dismal sense of college graduates' financial future is yet another sign of the corrosive effect of the Great Recession," says Cliff Zukin, a professor of public policy at Rutgers, who co-authored the study along with Jessica Godofsky and Van Horn. "Even young graduates of four year colleges and universities, who are typically optimistic about their futures, are expressing doubt in another cornerstone of the American dream -- that each generation can enjoy more prosperity than the one that came before it."
In addition to the study's findings, two recent polls indicate a waning sense among older and younger Americans that life will necessarily improve with each generation.

According to a poll Gallup released in May, for the first time in the nearly 30 years since the question has routinely been asked, a majority of Americans now believe that today's youth will unlikely achieve the same standard of living as the previous generation.
An AP-Viacom poll released in March indicated that among 18 to 24-year-olds, four in 10 were skeptical about whether they would be able to afford the same amenities they relished as children.
Jennie Houlihan, who grew up in Hastings, Minn., and participated in the study, assumed as a child that a college degree followed by a steady career was a given.
Houlihan, 29, graduated in 2008 with a bachelor's degree from Metropolitan State University in St. Paul, Minn., and had hoped to find a salaried position in human resources. But she's worked for the state ever since, first as a janitor and most recently as the supervisor of a cleaning crew.
She lives paycheck to paycheck and relies on credit cards to afford basic monthly expenses. In recent years, Houlihan's parents have also fallen on hard times. Her mother works at Walmart. Her father is disabled and unemployed.
Nearly a third of the recent graduates included in the survey either took a job that paid less than expected, work in a job that's below their level of education or accepted a job outside their area of interest. Houlihan's current job, which pays $37,000, qualifies her for all three categories.
Despite lowering her expectations, Houlihan is learning to roll with the punches and says she's grateful to have a job. Yet, she feels short-changed.
She never expected to pay $30,000 for a college degree only to have a job totally unrelated to what she once wanted. She grapples with the difficult realities of her current job and the gnawing fear that this could be all there is.
"This is definitely not the American Dream. Life at this point was to be married and be well on our way into our jobs and talking about family planning," says Houlihan, who recently got engaged. She and her fiancé are trying to keep their wedding expenses between $3,000 and $5,000.
"When I was growing up, you'd see a lot of families with nice houses, where both parents had good jobs," says Houlihan. "The rules have changed."
Workers of every generation have suffered since the economy's crash. More than 8.8 million private sector jobs were lost since the recession began. But the effects of a weak labor market on a generation just entering the labor force can be uniquely devastating.
"In this recession you have an oversupply of people, in general, looking for work. This has a tendency to push people out of the equation at the bottom of the chain. Now we see people who just get a college degree that are in worse shape than the people who graduated just a few years before," says Van Horn, the economist. "There's going to be some casualties -- a group of people who got harmed, in some ways irreparably, by this recession and they just don't have as successful careers."
Even graduating before the crisis fully emerged, in 2006, isn't a sure bet that such problems can be avoided.
Five years ago, Hilary Wentworth, 27, graduated from the University of California at Santa Barbara. In 2009, she completed a master's degree in European comparative politics at the London School of Economics and has been on the hunt for a full-time job ever since.
"It's been brutal," says Wentworth, whose resume includes competitive internships at NATO and an entry-level position at the RAND Corporation. Many employers now consider her over-qualified for even the most basic administrative role.
"There are so many thousands of interns and those interns take most of the entry-level jobs," Wentworth says. "Instead of having places for recent graduates to go, you have an unpaid workforce made up of an endless cycle of incoming free labor."
Wentworth grew up in Telluride, Colorado. Her father sells real estate; her mother works as an interior decorator. Thanks to her parents, Wentworth finished school debt-free. They continue to subsidize her rent and basic utilities. Wentworth doubts that she'll be able to afford her parents' upper middle-class lifestyle herself.
Of those included in the Rutgers survey, nearly half of recent graduates say they still rely on their parents for financial help -- to subsidize everything from monthly rent to cell phone and cable bills. Only 17 percent of the study's respondents said they expect to do better than their parents.
"I didn't go into a field that makes a lot of money, but I certainly expected that I'd at least get a job," says Wentworth, discouraged. With a lease on an apartment that expires at summer's end, she has given herself until the end of August to find a full-time job in Washington, D.C.
"I didn't expect to be unemployable after getting a master's degree two years ago," she says. "It's been a shock."
The economy's realities have, of course, meant different things for Miller and Cutter. Miller has successfully weathered the recession's impact while Cutter still struggles. Cutter feels a particular sense of shame about her lack of accomplishment since graduating from college.
When the two go out with friends and the conversation turns to employment, Cutter dislikes admitting she only works part-time in a job that a high school graduate is qualified to do.
Miller, meanwhile, has to navigate around such moments. He also doesn't know quite what to say when they occur. His friends sometimes ask him, "What does your fiancée do?"
Or, he says, they'll say to him: "Oh, you've got to find somebody that does something that makes a decent living."
But Miller is committed to staying with Cutter for the long term and looks forward to their wedding. Her debts and uncertainties are things he sees as his now, too.
REAL LIFE. REAL NEWS. REAL VOICES.
Help us tell more of the stories that matter from voices that too often remain unheard.