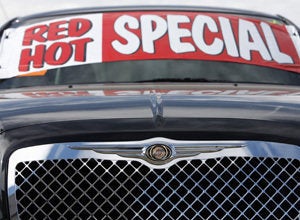 An Oak Lawn car dealership has started a new and unusual promotion: Buy one 2008 Chrysler Pacifica and get a second car, a 2008 PT Cruiser, for $1.
Frank Mancari started the deal on Saturday as a way to get people calling, booking appointments and visiting his Oak Lawn car lot at a time when many car dealerships are struggling to draw in customers.
"It's a once in a lifetime opportunity," Mancari said today, with an enthusiasm only a car salesman can muster. "There's no secret: the industry is slow right now. We're trying to generate activity with a great deal."