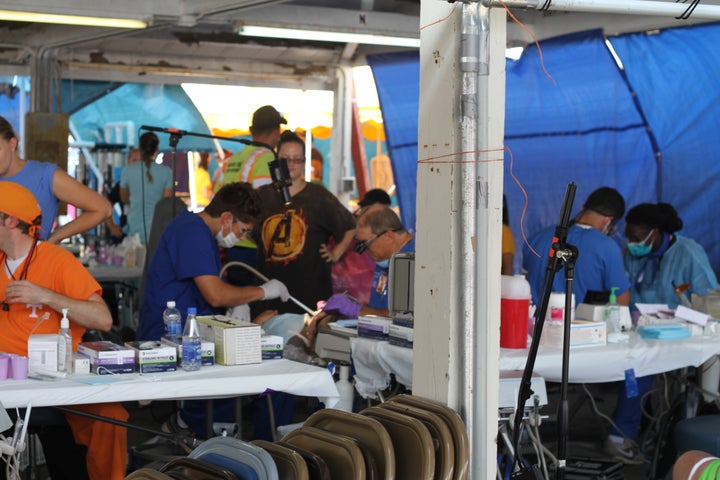 Imagine going online to make an appointment with your dentist and finding this message, in bold letters, at the top of the website:
The patient parking lot will open no later than midnight.
Numbered patient admission tickets will be given out beginning at 3 AM, one ticket per patient.
Clinic doors will open at 6 AM. Patients will be admitted in numerical order by ticket # and a ticket is required for admission.
Services are provided on a first-come, first-serve basis.
If you have good health insurance and decent dental benefits, you probably can't imagine that anyone in the U.S. needing care would ever encounter a message like that. After all, we have the best health care system in the world, right?
The well-to-do among us, who've always been fortunate to get the dental and medical care we need right away and not have to worry about it being paid for, might answer yes. And it likely would come as a shock to most of us who have adequate insurance that anyone in this country would find it necessary to get in line at midnight and wait for hours, outside in a parking lot, regardless of the weather, to get a ticket that might—but only just might—get them inside to see a dentist. In the richest country in the world, that would have to be fake news, right?
Not if you're among the tens of thousands of men, women and children who have come to rely on popup medical and dental clinics operated by the Remote Area Medical (RAM), an organization that was formed 32 years ago to fly American doctors and dentists to remote villages in third-world countries.
As I write this, RAM is planning its 870th clinic, not in Haiti or a refugee camp in North Africa but in Jonesville, Virginia, a small town in the mountainous southwestern tip of the state. Almost all of RAM's clinics are now in the United States, and not just in small towns in Appalachia. The 875th RAM clinic will be in Baltimore. The 883rd will be in Houston.
Jonesville is just 45 miles from Wise, Virginia, the site of RAM's 869th clinic in late July, which New York Times columnist Nick Kristof visited and wrote about. I was there, too, 10 years and two days after my first, and life-changing, encounter with a RAM mobile clinic.
What I learned then, and what is still true today, is that dental care is the number one reason people come to RAM's clinics. RAM founder Stan Brock told me that regardless of location, about seven of every 10 people who stand in those long lines for hours before sunrise are there because of rotten teeth. That's not surprising when you consider that 130 million Americans—42 percent of us—have no dental coverage. And that's after the enactment of the Affordable Care Act.
"The Affordable Care Act, very well-intentioned, was a step in the right direction, but it excluded dental and vision care," Brock told me while I was at the Wise clinic, which is held annually at the Wise County fairgrounds. He went on to note that the bills that would have repealed and replaced the ACA also excluded dental care. (And vision care, the number two reason people visit RAM clinics.)
"What seems to be a little-known fact about dental care," said Brock, "is that dental disease leads to diabetes. Dental disease leads to heart disease. Dental disease in this country leads to death. It's so counter-productive not to have something as important as dental care as part of the country's health care policies. The loss in productivity because of people who can't afford to go to the dentist, and they're sidelined with abscesses and pain and everything, just doesn't make any sense at all."
As I was interviewing Brock, volunteer dentists were treating a seemingly endless line of people waiting to get decayed teeth either filled or pulled. They were working at more than 80 dental chairs that had been set up on the fairgrounds in long rows under a huge, open-sided tent.
Among those waiting to get several teeth filled was Ryan Marsillett of nearby Coeburn, Virginia.
"I'll be 50 in November and I want to keep the teeth I got left," said Marsillett. "I got six gone."
Like many others at Wise that day, Marsillett, who said he works seven days a week mowing yards and doing construction for his landlord to put food on the table and pay the rent, told me he had never had either dental or medical insurance.
"I can't afford it," he said. "It's hard to make ends meet and be able to get the medical care and dental that you need."
Marsillett did get the fillings he needed that afternoon. Others were not so fortunate. At many RAM events, the demand for dental care is greater than the organization and its volunteers can handle. Even if you've been standing in line since midnight, when the tickets run out, that's it. Brock told me what keeps him up at night is knowing that many people, many in desperate need, will be turned away. In the United States of America.
Popular in the Community