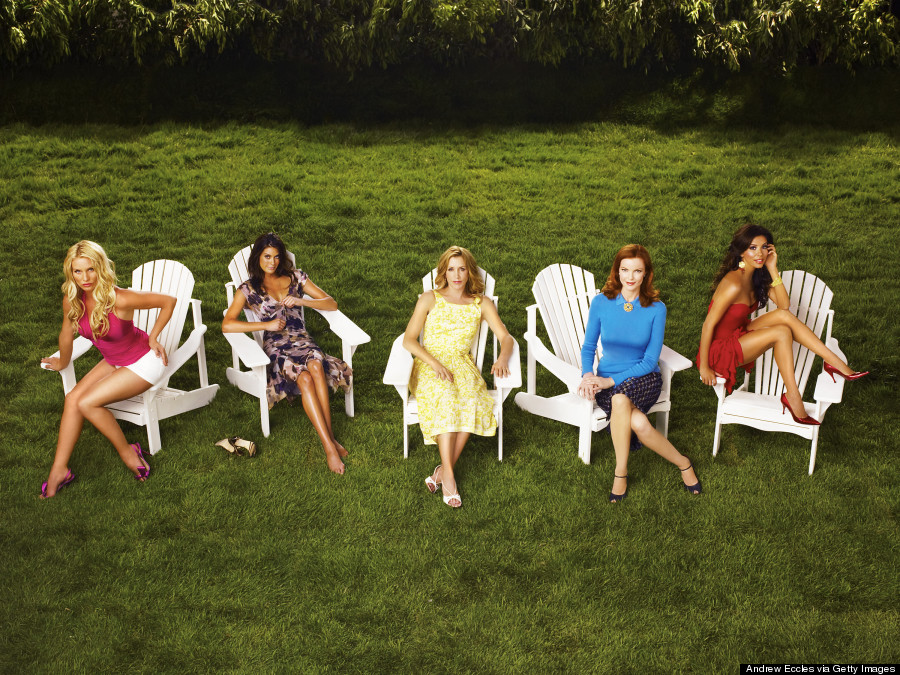 This time 10 years ago, five suburban women became the centerpiece of a major television comeback story. The show was "Desperate Housewives," and its mothership, ABC, had been sinking rapidly in the years before. After the prime-time iteration of "Who Wants to be a Millionaire?" ended in 2002, the network had few, if any, banner shows to tout. Flagship dramas "The Practice" and "NYPD Blue" suffered sagging ratings, and a trove of unremarkable sitcoms ("8 Simple Rules," "My Wife and Kids," "George Lopez") did little to bolster any ascent. The reality swell was settling in ("The Bachelor," "The Bachelorette," "Extreme Makeover," "Extreme Makeover: Home Edition"), but without a behemoth like "Survivor" or "American Idol," the network didn't have much to keep it afloat. The nadir came with the 2003-04 season, when ABC was toppled in the ratings by NBC, CBS and Fox.
The network was gasping for air as the quadruple threat of "Desperate Housewives," "Lost," "Grey's Anatomy" and "Boston Legal" took over in fall 2004 and spring 2005. When "Lost" premiered on Sept. 22, its reported $14 million pilot was one of the costliest in TV history. The 18.7 million viewers who tuned in also lent the network its strongest numbers since "Millionaire" in 2000. But one week later, another series stampeded over Oceanic Flight 815's fortune. Even though "Lost" has secured a firmer legacy in the television canon, it was "Desperate Housewives" that was the season's defining breakout. Premiering to a remarkable 21.3 million viewers on Oct. 3, the show boasted ABC's most popular pilot since the Michael J. Fox-fronted "Spin City" premiered in 1996. A pop-culture moment was born.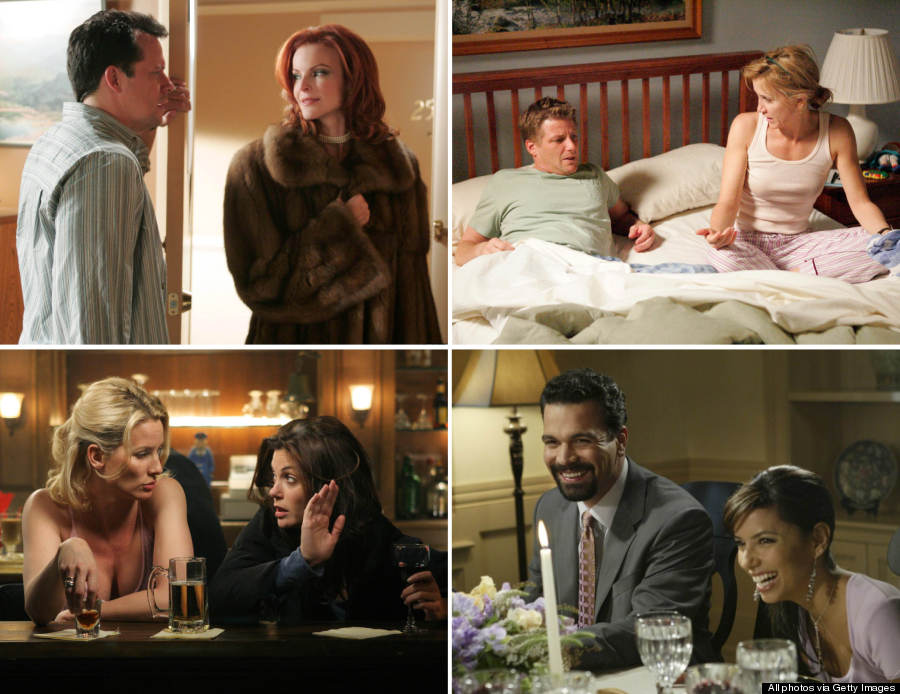 Pictured clockwise from top left: Steven Culp and Marcia Cross, Doug Savant and Felicity Huffman, Eva Longoria and Ricardo Antonio Chavira, Teri Hatcher and Nicollette Sheridan.
That massive audience also came with glowing reviews. One step ahead of the dramedy trend that would proliferate shortly thereafter, "Desperate Housewives" was a hybrid of "Sex and the City"-style comedy and "Twin Peaks"-esque mystery, with a wink at the "Stepford Wives" influences it upended. The main cast comprised a cadre of moderately familiar faces: Teri Hatcher ("Lois & Clark") as unlucky-in-love single mother Susan Meyer, Marcia Cross ("Melrose Place") as prim homemaker Bree Van de Kamp, Felicity Huffman ("Sports Night") as frazzled former career woman Lynette Scavo, Eva Longoria ("The Young and the Restless") as self-absorbed adulteress Gabrielle Solis and Nicollette Sheridan ("Knots Landing") as real-estate vixen Edie Britt. By avoiding the top-tier star market, these actresses weren't necessarily required to carry the show in order to garner ratings; its premise would do that. Nonetheless, they became television dignitaries overnight.
And for good reason. When the curtain rose on Wisteria Lane, it instantly secured must-see status. Here was a show whose pilot opened with a suicide and closed with menacing words scrawled across a blackmail letter. "Desperate Housewives" masked smart episodic drama in a middlebrow whodunit -- and tossed in enough playful humor to make it a farce.
Watching a pack of women shed their suburban facades behind closed doors week after week felt novel, largely because the comedic undertones set it apart from ennui-laden cinematic counterparts like "American Beauty" and "The Ice Storm." Every "Housewives" subplot carried nearly the same weight as the mystery surrounding Mary Alice Young's (Brenda Strong) suicide, from Lynette battling a PTA mother over a politically correct "Little Red Riding Hood" production to Susan and Edie battling each other over their infatuations with a new neighbor, Mike Delfino (James Denton). In fact, it was those infatuations that gave way to what is perhaps the season's most memorable scene outside of the pilot: Susan smashing her head after trying to convince Mike she ventured to a cowboy bar for the mechanical bull instead of his purported entanglement with another woman.
That episode, "Anything You Can Do," juxtaposed with the one that follows, "Guilty," compounds the show's ability to transition between romantic high jinks and affecting personal drama. In "Guilty," Susan falls through Mike's floorboards after snooping in his cabinets and finding a gun and a pile of cash; Bree, after telling her family they must deal with Andrew, her son, having run over Carlos' mother, informs them, "Everybody should go wash up. We're having pancakes for breakfast"; Gabi contends with her young paramour showing up at the hospital to pray for Carlos' mother instead of strip her clothes off; and Mary Alice hands Lynette a gun while Paul Simon's lively "The 59th Street Bridge Song (Feelin' Groovy)" plays, right before Lynette realizes she's hooked on her kids' ADD meds and has a breakdown.
"Desperate Housewives" tested our threshold for what seems like every character flaw imaginable: adultery, bribery, pill-popping, manipulation, marital breakdowns, seduction, prostitution, murder, nanny-poaching. These ladies didn't always adore their kids and they didn't always stay faithful to their families. Half a decade before Tony Soprano was paralleled with Don Draper and Walter White to applaud the male-centric antihero trope, a group of women were, in a refreshing twist, the ones who filled the libertine roles. "Housewives" captured the strong, scheming woman outside the limitlessness of fantasy (Kate Mulgrew in "Star Trek: Voyager," Lucy Lawless in "Xena: Warrior Princess") or the concerted feminism of certain blithe laugh-track sitcoms ("The Mary Tyler Moore Show," "Murphy Brown"). In its own subversive way, "Desperate Housewives" seemed to say that as long as women are expected to fulfill categorical roles, they would be pushed to all lengths to defeat those stereotypes.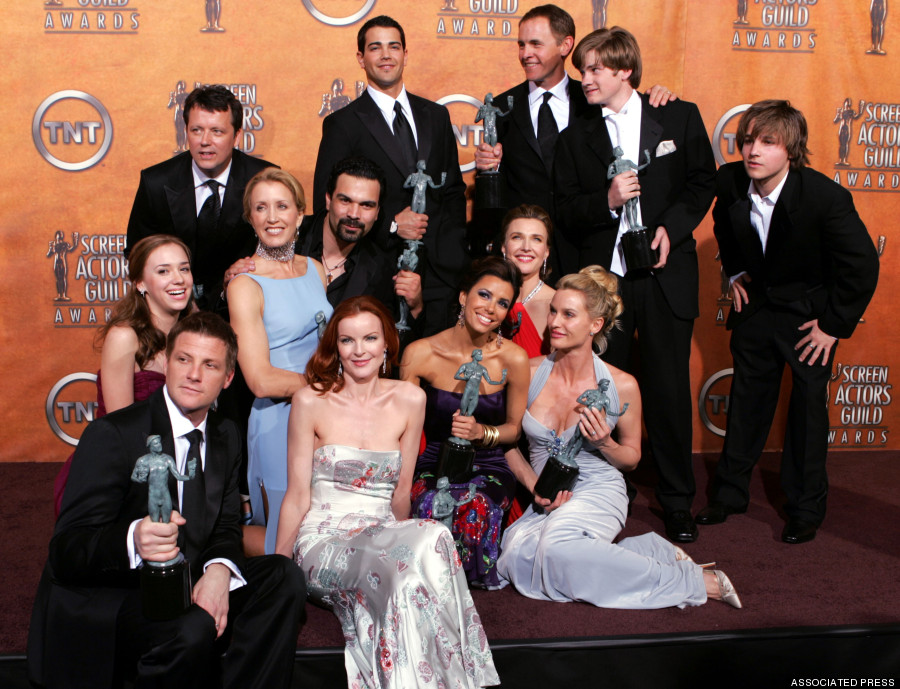 The cast won the Screen Actors Guild Award for Outstanding Performance by an Ensemble in a Comedy Series in 2005, pictured here, and 2006.
The series also helped to spawn the proliferation of three things: must-see Sunday network television, dramedy and Bravo's illustrious "Real Housewives" franchise.
Fox seemed to understand the potential of Sunday nights as a home for signature shows, but NBC, CBS and ABC for years peppered their lineups with movies and unscripted fare. By the start of the 2000s, HBO -- which, coincidentally, turned down creator Marc Cherry's spec script during the "Desperate Housewives" development process -- had staked claim on Sundays: "Oz," "Sex and the City," "The Sopranos," "Six Feet Under," "The Wire" and other darlings earned the network's Sunday night placement. Others were slowly catching on, but it was the 2004-05 season, when "Desperate Housewives" became the year's fourth most-watched program and ushered in sizable lead-in audiences for, first, "Boston Legal" and, later, "Grey's Anatomy," which transitioned Sunday toward the entertainment goliath it is today.
"Housewives" also marked the rise of fuzzy distinctions between comedy and drama on the small screen, becoming notable for raising questions regarding what category placement ABC would select for the Emmys. (Comedy prevailed, and "Housewives" earned 15 nominations that year, including wins for Huffman, recurring guest star Kathryn Joosten and Charles McDougall's pilot direction.) According to Cherry, other networks passed on the show because it wasn't funny enough and therefore not marketable as distinct genre fare. "Housewives" isn't solely responsible for today's television landscape, but after it became a smash, it seemed everyone capitalized on dramedy's ability to appeal to numerous demographics, particularly with women at the center. In that sense, "Weeds," "Pushing Daisies," "Ugly Betty," "Glee" and "United States of Tara" could be cited as descendants of the "Desperate Housewives" phenomenon -- and that's to say nothing of the many shows currently on the air following similar models.
What's more, the success story helped to birth Bravo's "Real Housewives" franchise in both namesake and aesthetics: Andy Cohen and company took the red apples synonymous with Wisteria Lane, traded them for oranges and Orange County, and voila -- years later, Vicki Gunvalson and her cohorts are still tabloid fixtures. Along with certain E! and MTV stars, "Real Housewives" helped to redefine reality television as the aughts folded into the 2010s.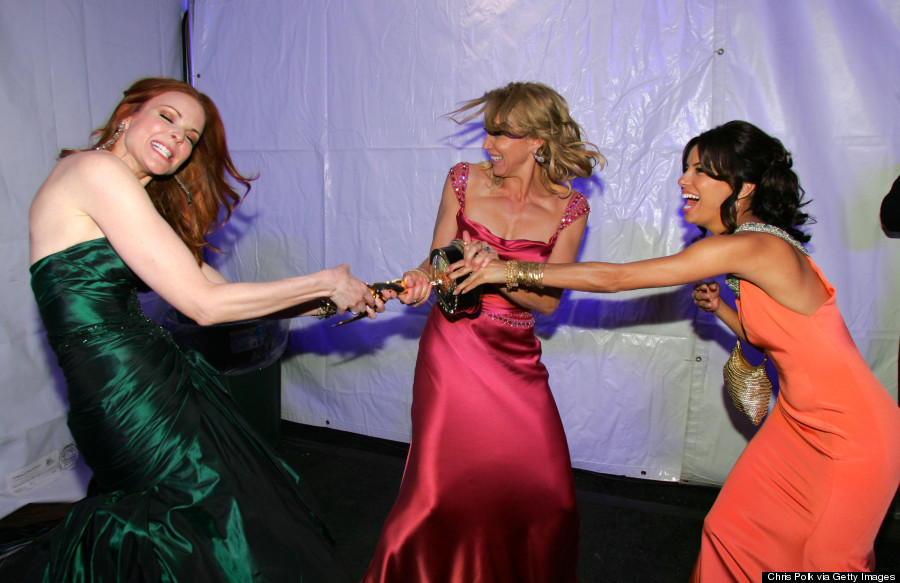 Cross, Huffman and Longoria battle over Huffman's Emmy backstage at the 2005 awards.
The fact that "Desperate Housewives" didn't maintain the same quality throughout the rest of its eight-season tenure yet still finds good favor a decade later is a testament to the strength of its inaugural season. As is the case with many female-fronted casts ("The Golden Girls," "Sex and the City," "Designing Women," "Charmed"), the press jumped all over stories of on-set brawls, melodramatic photo shoots and co-stars' resentments. But if anything, the show stalled because its premise couldn't sustain itself across numerous seasons. Cherry and the writers wrapped up the Mary Alice mystery at the end of Season 1, meaning they had to introduce a new hook for Season 2. That gave way to an overwrought plot that involved Alfre Woodard keeping her mentally challenged son chained up in her basement.
The pretense, so inventive during Season 1's 23 episodes, doesn't work over the course of multiple years. One neighborhood can't foster that many mysteries without any added mythology, so while "Lost" twists stoked intrigue as the show grew more complicated, the secrets on "Desperate Housewives" lacked a certain "Twin Peaks"-type lore needed to push them forward as new characters took up residence. Cherry's limited involvement with Season 2, the 2007-08 Writers Guild strike (which suspended progress on television shows for three months) and Sheridan's wrongful-termination lawsuit against Cherry didn't help either.
A revolving door of fresh Wisteria Lane inhabitants included, in addition to Woodard, Dana Delany, Drea de Matteo, Vanessa L. Williams, Kyle MacLachlan, Kevin Rahm and John Slattery, many of whom came and went. The series felt directionless at times. With Cherry back and different producers on board, Season 3 improved on the show's sophomore slump and "Housewives" remained a Top 10 program for five of its eight seasons, even though it never reclaimed that first-year reverence. (For another zenith from the series, see Laurie Metcalf's stellar four-episode arc from Season 3, which culminates in the supermarket hostage crisis in 2006's "Bang." It's one of the show's finest enactments of the housewife-gone-manic motif.)
Despite the show's inconsistencies, I've spent the past few weeks rewatching the start of "Desperate Housewives," and I can confirm that it is still lovely, superb television. I'd forgotten the many layers of Mary Alice and her family's mystery; it's just as captivating as the first season of "Lost." But I hadn't forgotten the great joys the supporting cast provided, from Doug Savant as Tom Scavo to Joosten's Karen McCluskey and Christine Estabrook as the deceptive Martha Huber. "Housewives" might have the guise of a silly soap, but the scripts are clever, the acting is consistent, and the series offered, in its earliest phase especially, a program that bore mild resemblance to the water-cooler speculating we'd do for the rest of "Lost" and, later, with shows like "Breaking Bad" and "True Detective." It had a campy fun all the others didn't, and that's something that hasn't quite been replicated since.
Popular in the Community