Thousands of civilians remained trapped in eastern Aleppo on Wednesday, fighting for their lives as pro-government forces moved to regain control from rebel groups.
Rupert Colville, a spokesman for the Office of the United Nations High Commissioner for Human Rights, warned that social media posts that purportedly show terror in Aleppo should be assessed carefully and confirmed. There is, however, no question that violence and uncertainty have taken over the city: Tens of thousands of people are dead or unable to get medical attention.
The ceasefire that Turkey and Russia negotiated late Tuesday appeared to have fallen apart on Wednesday. Shelling and air strikes resumed and the planned evacuation of civilians was put on hold because Iran, a Syrian ally, imposed its own conditions on the deal.
"There is intense shelling," Aleppo activist Monther Etaky said. "We are just waiting for the confirmation of the deal to evacuate out of the city."
The Huffington Post spoke directly with several people who are either currently in the city or have been in contact with friends and family who are there.
"It doesn't matter if we are underground or on the ground, they are shelling nonstop," said Rami Zien, 25, an engineer and activist in the city. The Syrian regime is currently allowing women and children to evacuate, he said, but many are still waiting. The men are being detained.
"I woke up, rubble was on my face, doors were wrecked," Zien said. "You will be immediately executed if you have anything related to the rebels. There is no evacuation for rebels or their families, they say they won't stop until the last one of us gets killed."
He said he believes it's inevitable that he will be killed, even though he is not a rebel.
"I'm not a fighter but I'm a guy, I speak English and I speak the truth. Therefore I will be immediately executed," he said. "[The regime will] say I am related to rebels or am a rebel."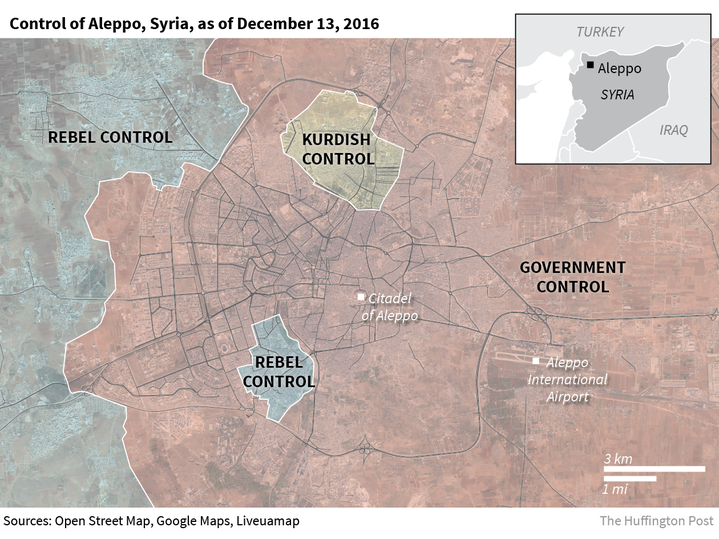 A mix of bombardments and summary executions have killed civilians in recent days, United Nations Secretary General Ban Ki-Moon said Tuesday.
At least two families appear to have been targeted in the killings, Colville said.
"One was split between two different areas, which makes you start to think there is nothing accidental about this," he said. "These may well be planned, targeted killings aiming at particular people."
"People are dead all over the ground everywhere," said Rami Adham, a Syrian humanitarian worker living in Finland who said he spoke to several friends trapped in Aleppo on Tuesday. "Nobody has the chance to even pull those dead people from the streets to even bury them. It's a mass genocide."
And any remaining medical infrastructure in the eastern part of the city has reportedly fallen apart.
"We have evacuated the hospital last night," said Ahmed Abo Khaled, director of Aleppo's Hayat Medical Center. "The hospital is now taken over by the government forces. The patients have been taken to another safe medical location. With each passing day, the situation is worse than the last."
"We are in desperate need for blood but everyone's too injured to donate."
Dozens of patients continue to arrive at the Syrian American Medical Society's medical center even though its supplies are dwindling and it isn't staffed efficiently, said Abu Luai'i, a nurse working there.
"Our cars and equipments are buried under rubble," she said. "The level of injuries are grave, from fractures to neurological injuries to abdominal injuries. The ambulances just keep bringing in more and more wounded. The rooms are filled. There are a few doctors around but the wounded are just sitting in surgical rooms waiting for help. We are in desperate need for blood but everyone's too injured to donate."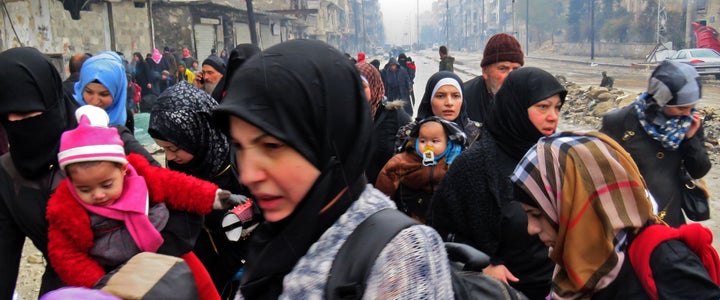 Several thousand people have managed to flee to western parts of the city, according to Raph El Hage, a spokesman for the International Committee of the Red Cross.
"Some of them are dying on the way [out], some are unable to leave," he said. "The few fortunate ones who are able to leave to safer areas have a lot of needs."
But tens of thousands are still stuck, he added.
The most pressing problem is trying to find shelter for these people, Mahmoud El-Khateeb, a 31-year-old activist, told HuffPost Arabi.
"Many families got separated as they rushed to escape the bombing," he said.
Completely leaving Aleppo is nearly impossible, even for people in neighborhoods that haven't been surrounded yet. The roads leading out of the city are closed, said Abo Mohamed, a Syrian refugee resettled in New Jersey who still has family in Aleppo.
The international community shared its outrage yet again on Tuesday.
"These appear to be war crimes and should be brought onto international tribunals for investigation as war crimes," said Geoffrey Mock, spokesman for Amnesty International.
France and the United Kingdom requested an emergency U.N. Security Council meeting Tuesday.
"We do not have accurate data of the number of people that remain because all of the the health entities capable of counting the living or the dead have effectively dissolved in the chaos," Ban Ki-Moon said during the session.
"It is past time for you to act," he told the Security Council. "The current battle needs to be followed by an immediate end to violence by all sides."
HuffPost Arabi's Fady Zeidan contributed reporting.
Related
Before You Go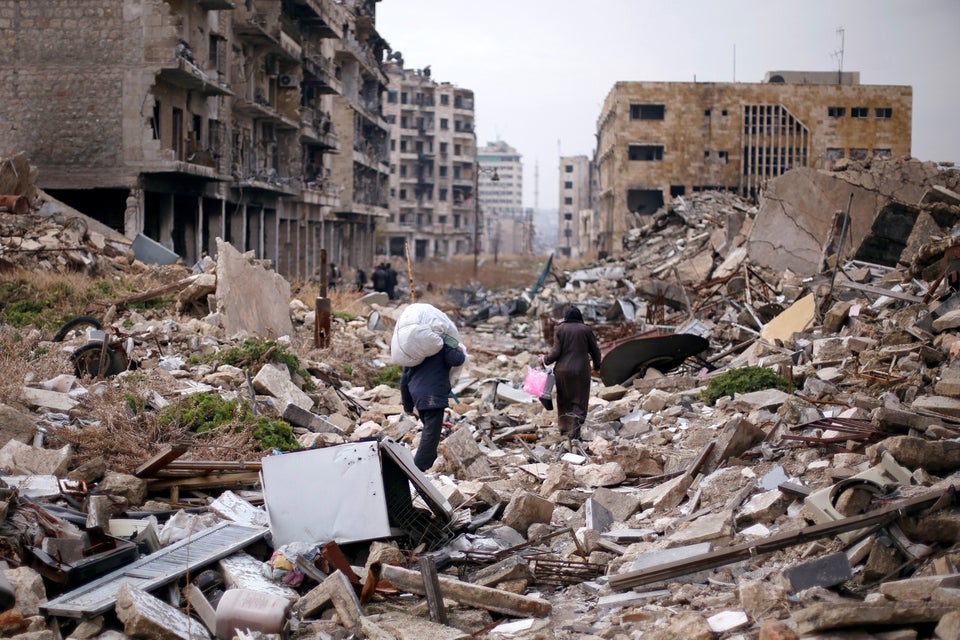 Syrian Regime Closes In On Aleppo
Popular in the Community