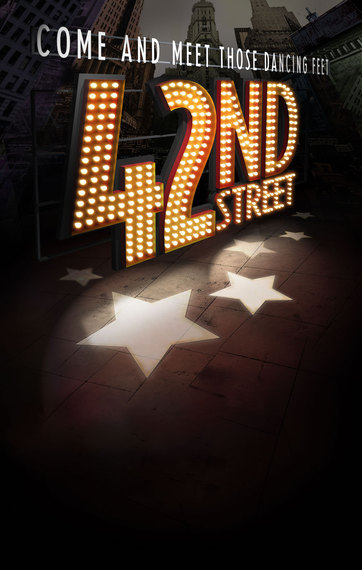 All Photos courtesy of Sergerstrom Arts
The Depression was, well, depressing. That's why so much entertainment of the time, especially the full-blown productions of Busby Berkeley, were over-blown homages to wealth, prosperity, to hope and happiness and all things opposite the depressing times.
Bradford Ropes wrote a novel about a young girl from Allentown, PA that heads for the New York and Broadway right smack in the middle of the last ditch effort of the domineering director Julian Marsh's attempt to launch a hit at the height of the Great Depression.
The novel, "42nd Street," was made in to a movie in 1933 and was a far cry from the original which was filled with sex, drugs and all sorts of debauchery. Yet, the movie got to be far more risqué than others soon to follow because of the PCA code passed in 1930 but wasn't enforced vigorously until 1934. The code saw the end of strong women, overt sexuality, even open homosexuality and illegal drug use in films. The code was a Roman Catholic creation but both "42nd St." the novel, movie and the play managed to escape it.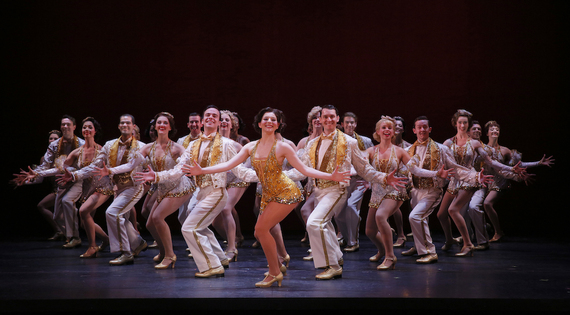 The Broadway play came around in 1980 produced by David Merrick, directed by Gower Champion (who was not well at the time) and orchestrated by Philip J. Lang. It won a Tony and would be Champion's last play and Merrick's last success. It then had a Tony-winning revival in 2001 under Michael Stewart and Mark Bramble. It is currently touring stopping at the Segerstrom Arts Centerin Costa Mesa, CA until November 22nd and continuing across the country throughout 2016.
The revival's co-author Mark Bramble has again revised the play and is directing this backstage tale to Randy Skinner's choreography of a young chorus girl that gets a big break when the star can't go on. In an odd case of life imitating art, Catherine Zeta Jones went on in the lead role of the play in London and was so good she ended up being cast as the lead way back when. Bramble and Skinner were behind the Tony winning 2001 revival and this production has all the verve and energy of any incarnation.
Boundless energy, in fact, more energy than mortals can possible imagine. I do not know how Caitlin Ehlinger as wide-eyed hopeful Peggy Sawyer or Blake Stadnik's Billy Lawlor deliver the non-stop no-holds-barred tap number after tap number, but they do and with effortless style and infectious energy that makes the smiles real on both dancers and audience members alike. Matthew J. Taylor's Julian Marsh is the perfect caricature of a what a desperate but proud Broadway producer would be, and it is he that gets to deliver the iconic plea to Ehilnger to "Come along and listen to the lullaby of Broadway..."
That's just one of four iconic songs in this production, from the campy "Shuffle Off to Buffalo" to "I Only Have Eyes For You" and of course, the title "42nd Street" the Broadway hits and big production numbers are non stop.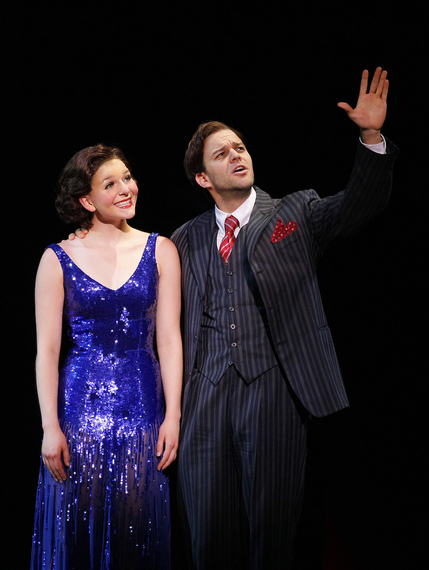 And while the entire cast, and it's big, does everything it can to make the audience feel as though they are sitting in the middle of a Busby Berkeley film, some songs like "There's A Sunny Side to Ev'vry Situation" about the benefits of being poor were ringing very true for the modern day audience in Orange County, CA. As the campy tramps sang "We're In the Money" (yes, Daniel, the WB frog did sing that in part of his medley....) the spirit of hitting it rich, of rich being a job, a chance, a shot and not just finances did not fall on deaf ears.
The fact is, after seeing "Annie" at the Pantages a few weeks back and now this, both musicals set in or near the Depression, it's easy to see that The Great Recession of 2008 was actually a Depression for many, and many still are depressed. As politicians fight over $10 or $15 minimum wage, rents skyrocket and incomes fail to grow with the times, it's very easy to relate to the sentiments shared in the play; the need for a job, how we all need to pull together to make things work and how we must never lose hope.
So the play fills itself with two hours plus of sheer escapism, no intricate dialogues, no complicated love stories to follow just dreams, jobs, singing and a whole lot of dancing. Huge dance numbers and yes, it did bring me back to the front of our TV that had tubes in it, Black and White even, sitting there watching late night TV with my mom when I was eight or so, in 1970, watching old Busby Berkeley films with hundreds of dancing girls and swimmers and dancing men...."42nd Street" takes the audience on the same escape route so many during the Great Depression used, and it's a fun one.
The rest of the cast is wonderful, with Britte Steele's Maggie being the gal everyone loves and Kaitlyn Lawrence just enough diva to pull off Dorothy Brock, the aging star using the play to revive her career who ends up realizing love beats Broadway.
Yes, it's a time of simple story lines, big dance numbers, lots of feathers, sequins and tap shoes. But it's "42nd Street," and that's exactly what it's supposed to be. This company delivers all the thrills of the original and provides a night of theatre that is time capsule-esque. For a few hours it's all about the show, about a hit, about getting the steps right and making sure you and your friends have jobs, it's about all the dancing feet, yes, on the avenue they're taking you to, 42nd. Street. It's about forgetting how bad things can be, or are, and just dancing for the sheer joy of it.
While the musical is dated, it remains timeless and while it's set in the Depression seems too relevant. But no matter, it's impossible to leave and not find yourself tapping way in the hall, the car or the sidewalk. And that's a good thing.
To hear this or other interviews get the FREE Karel Cast App, subscribe in Spreaker to the Podcast or simply go to the most incredible website on all the planet, save this one, ReallyKarel
Calling all HuffPost superfans!
Sign up for membership to become a founding member and help shape HuffPost's next chapter