Sighișoara, Transylvania: a true gem of a Saxon hilltop citadel from the Middle Ages.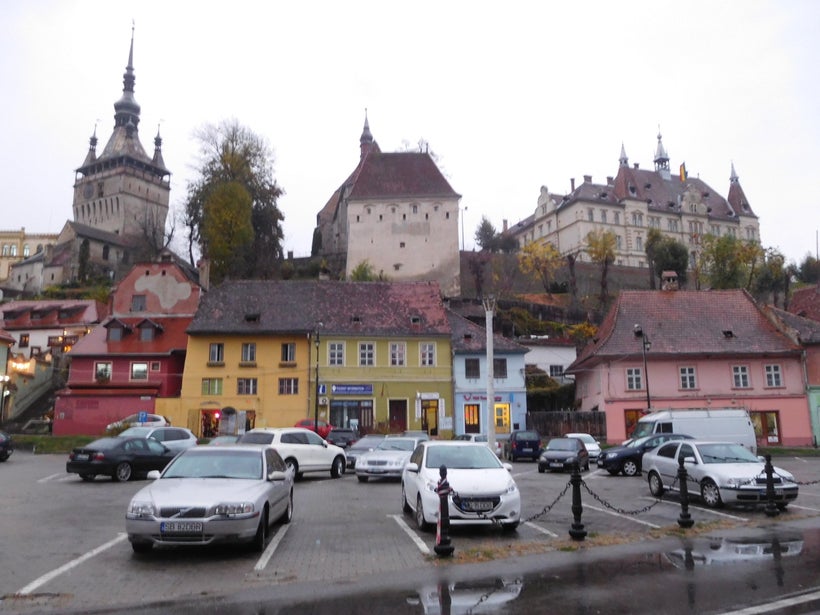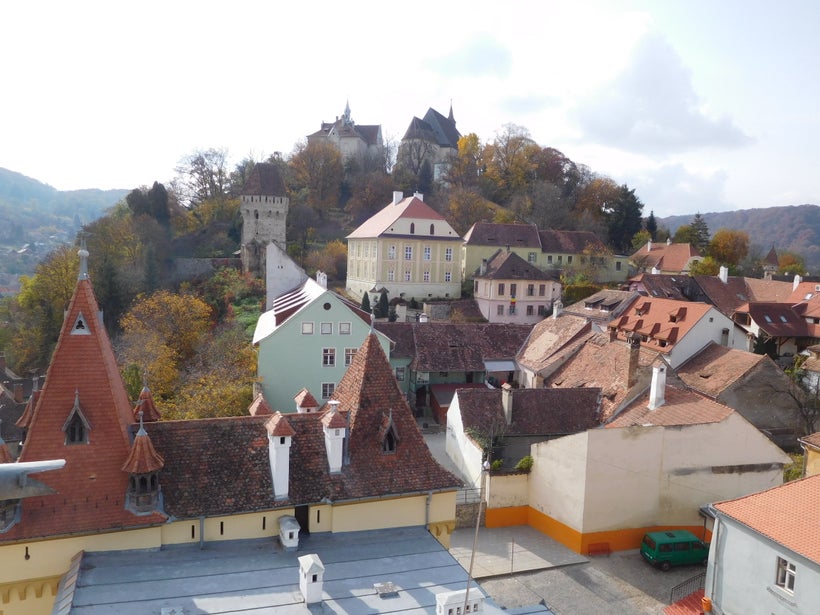 Just off its main square, in front of its giant, highly ornate clock tower: a freshly yellow-painted town house over 500 years old.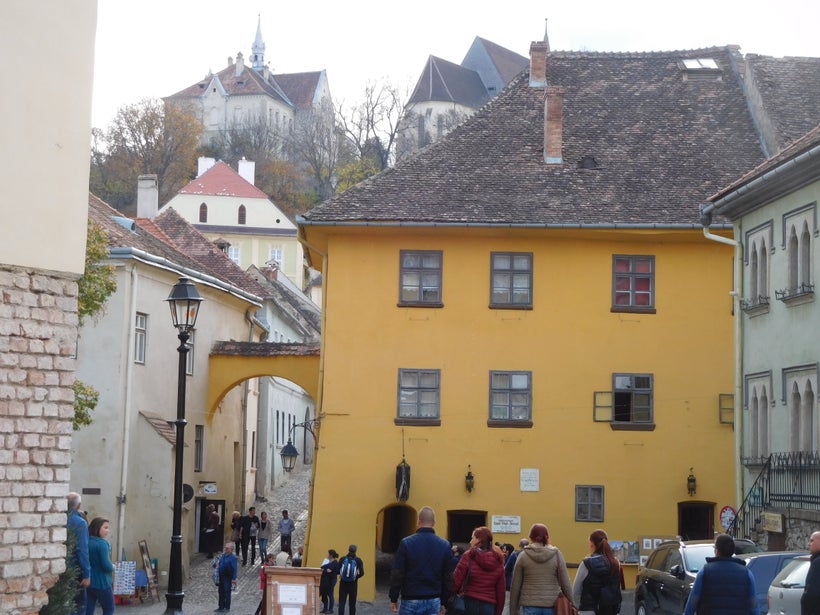 Here, at 5 Cositarilor (Tinmakers') Street, on the second floor (third for American usage), in a largish room, a little bundle of fun came into the world some time in 1431 – that's the generally accepted year; a son and heir to Wallachian Prince Vlad II Dracul.
Vlad III Dracula, aka Vlad Țepeș, Vlad the Impaler, later to become the purported inspiration for Bram Stoker's gothic horror novel Dracula, only spent the first three or so years of his life here – if indeed this is where he was born.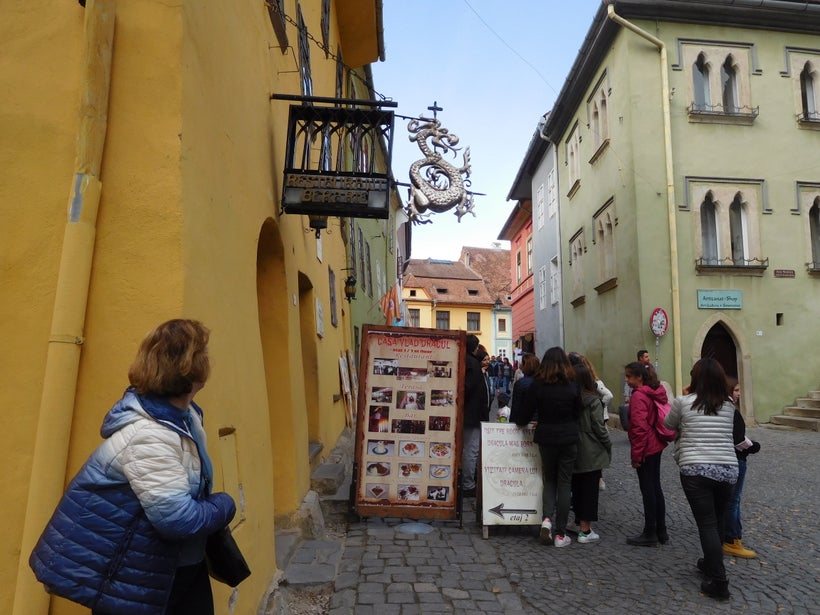 After that there's no further known connection to the town, but that's enough for Sighișoara to jump aboard the Dracula Gravy Train, full steam ahead. There are plaques on the wall and a silver dragon, Vlad's emblem, hanging over the doorway of what is now a restaurant, Casa Vlad Dracul.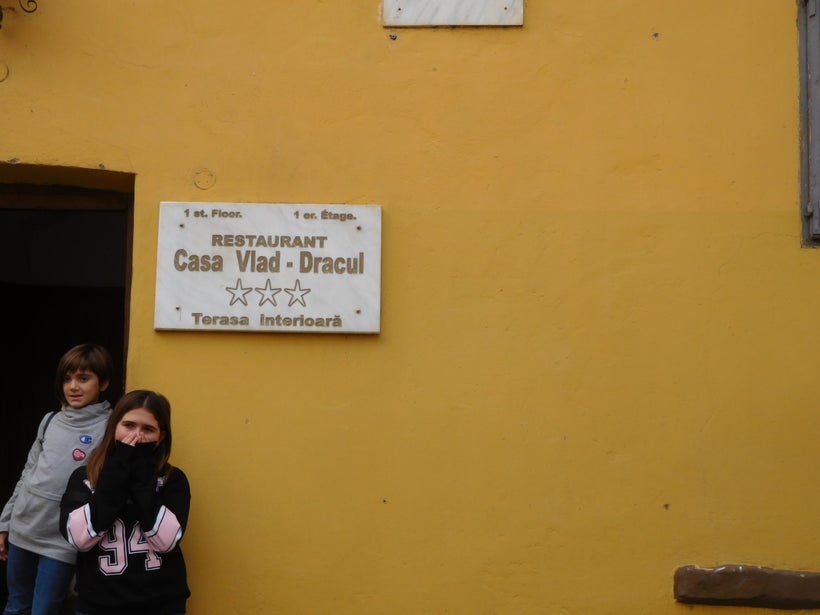 To be fair, the plaque only claims that Vlad II lived here from 1431 to 1435, not that Vlad III was born here.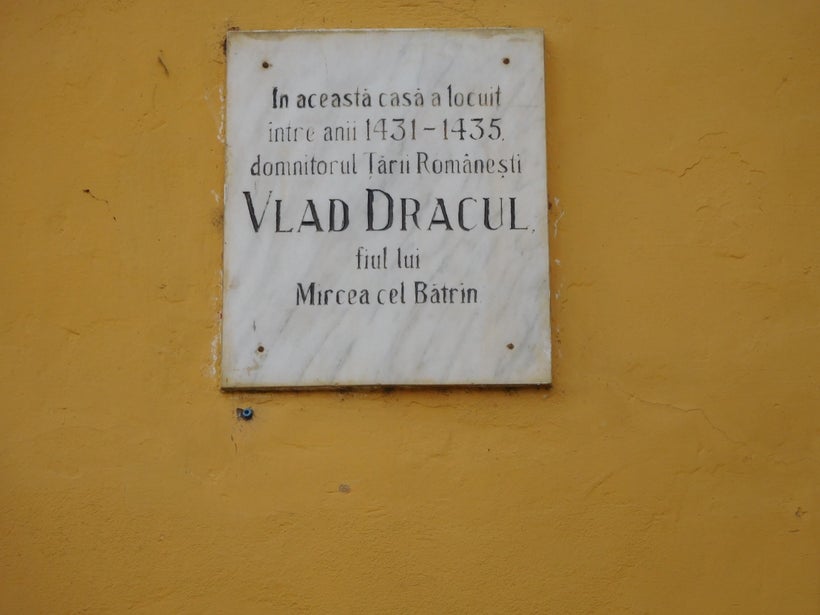 But don't mind that. For five lei ($1.29), you can still visit his birth site.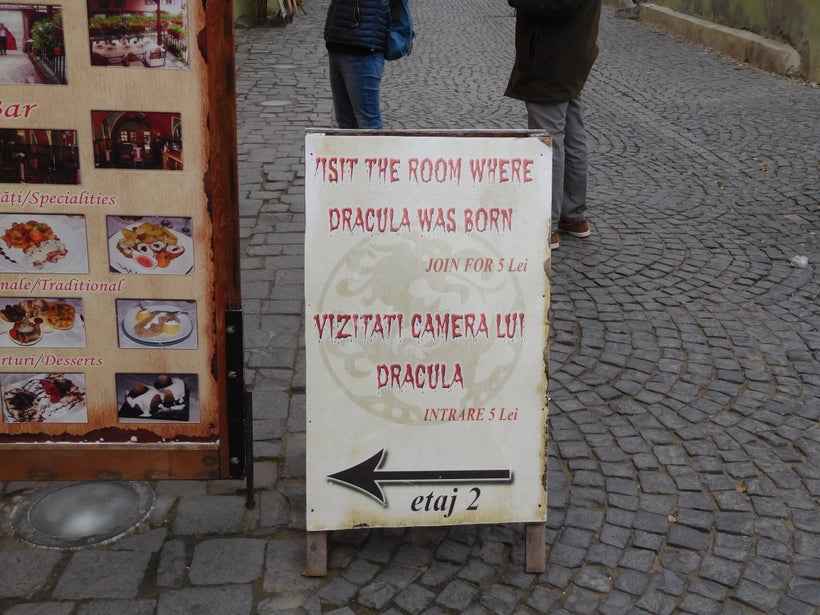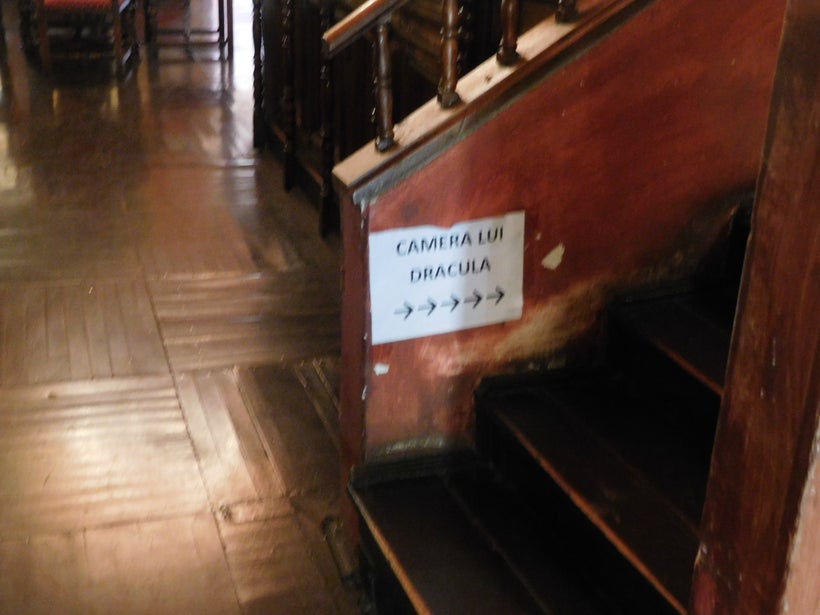 What greets your senses as you enter is spooky music and sounds, the glow of red lights, and a real live man in a coffin.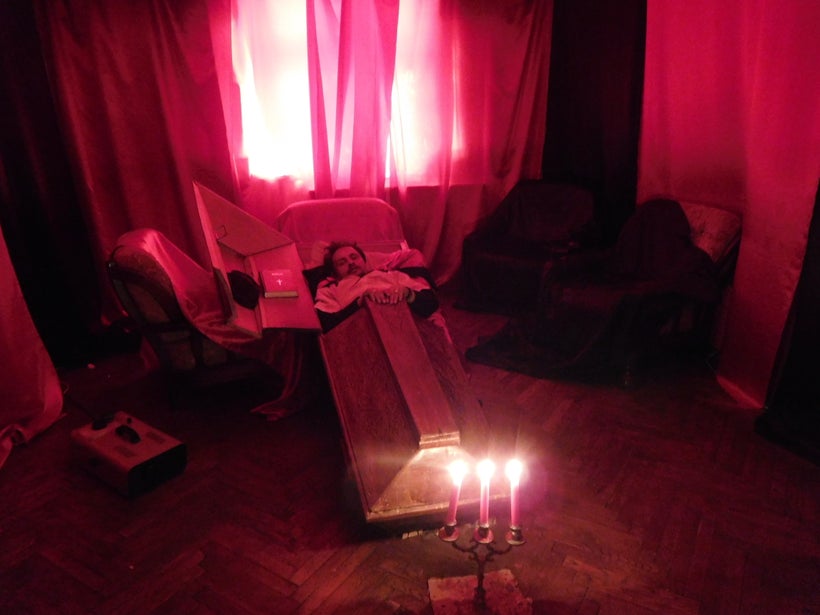 Every now and then he sits up, stretches out his arms and says 'Ah,' as if requested by a doctor to stick out his tongue. Then he plops back again.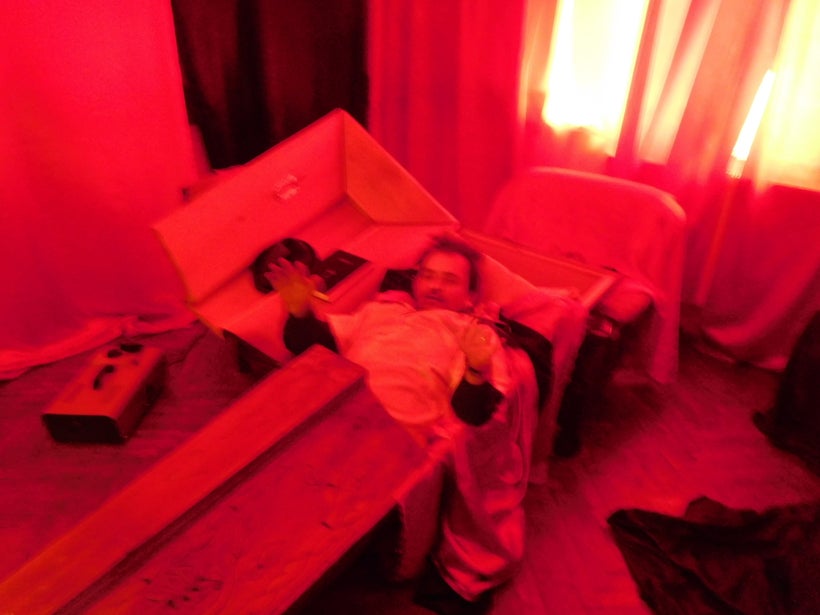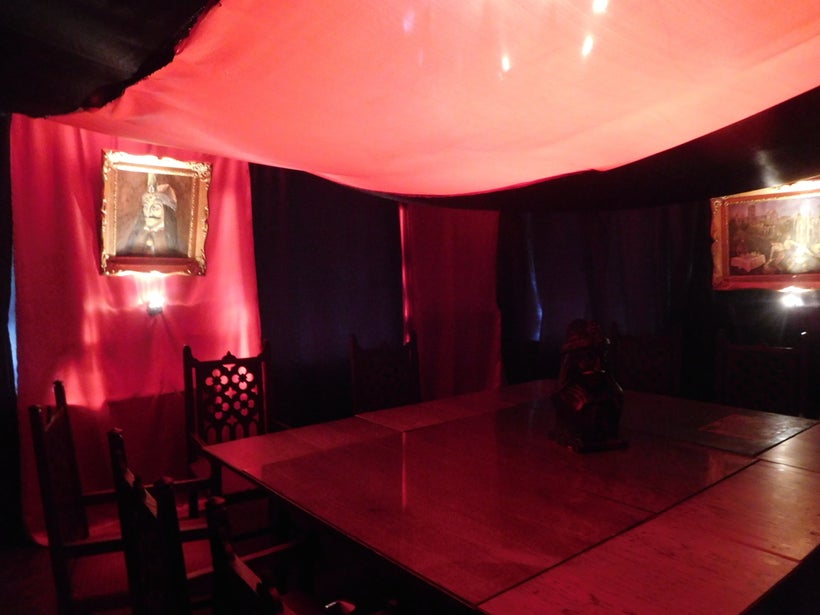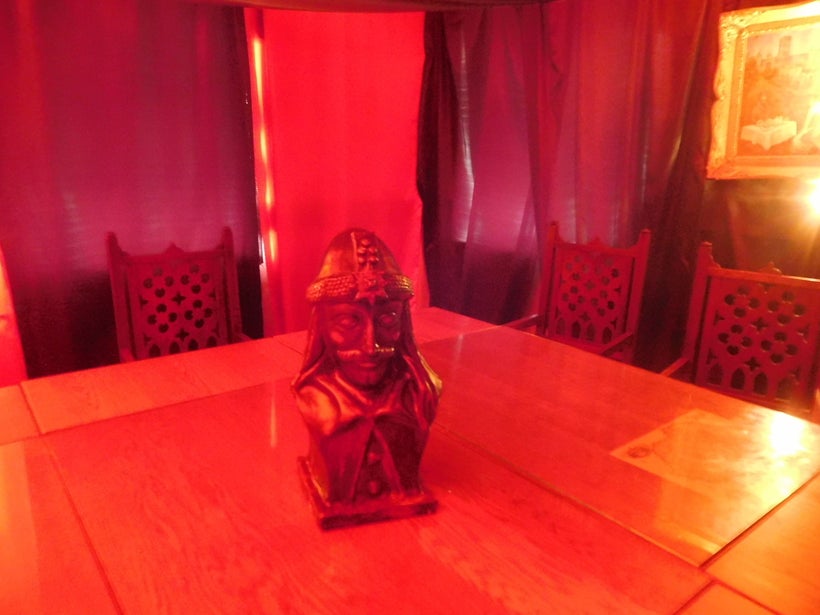 Elsewhere, there are spiders' webs on the ceiling, and walls covered with artists' representations of Vlad (I assume The Impaler) presiding over Sighișoara, and such fun activities as impalements.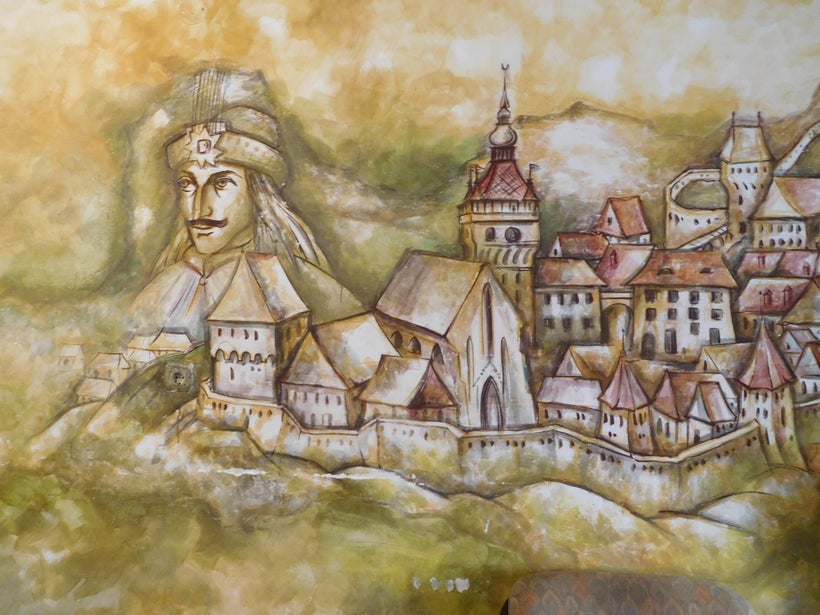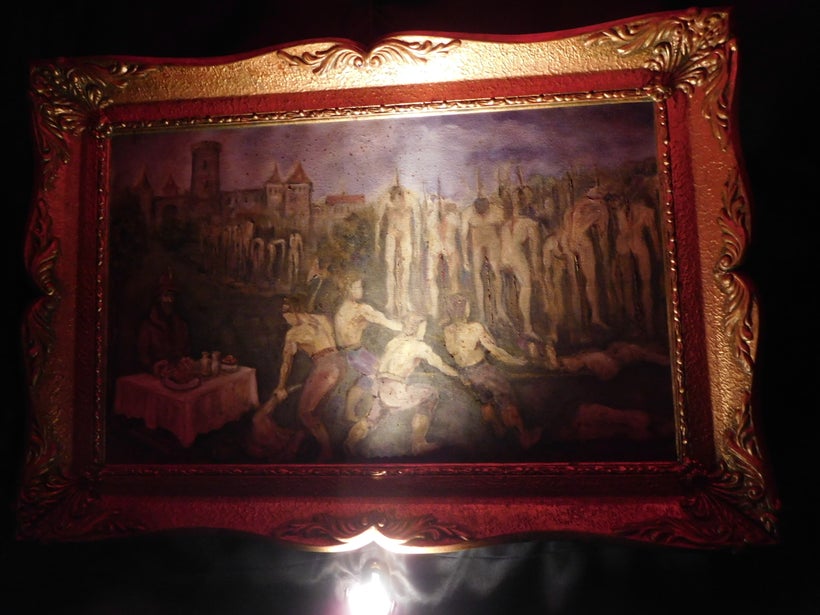 The kitsch doesn't end there. The whole town is full of ghoulish images on posters, T-shirts, a bust or so, and a witch-like mannequin.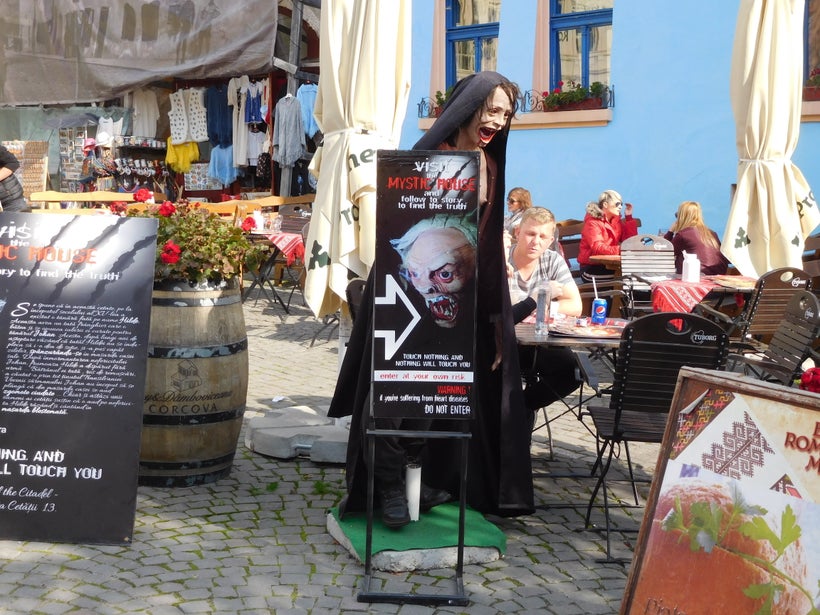 Now, let's face it, Vlad the Impaler was famous, or infamous, in his own right aeons before Dracula was a glint in Stoker's imagination's eye - or a whiff of garlic up his nostrils.
But I suppose commercialisation is inevitable. It must be unbearable here in summer with coachload after coachload of high-season tourists.
Back in Casa Vlad Dracul you can dine on Dracula Dishes.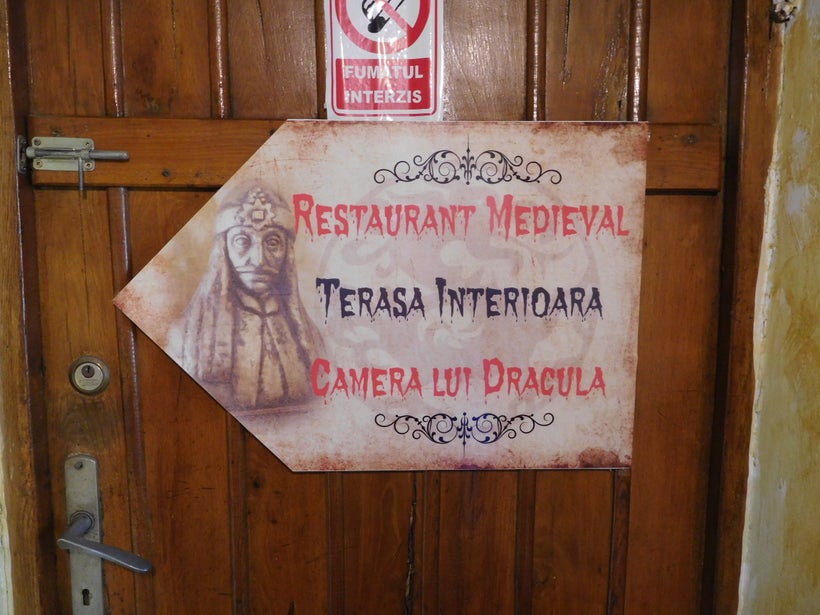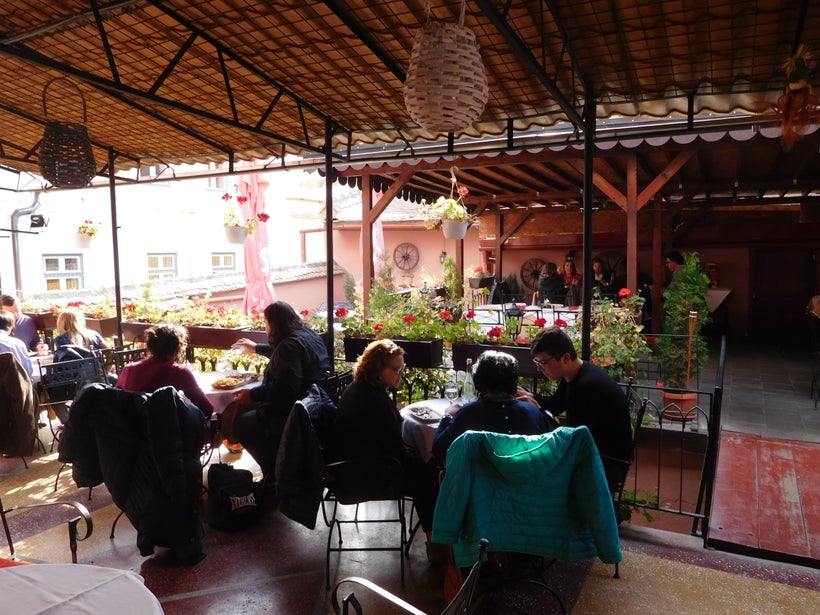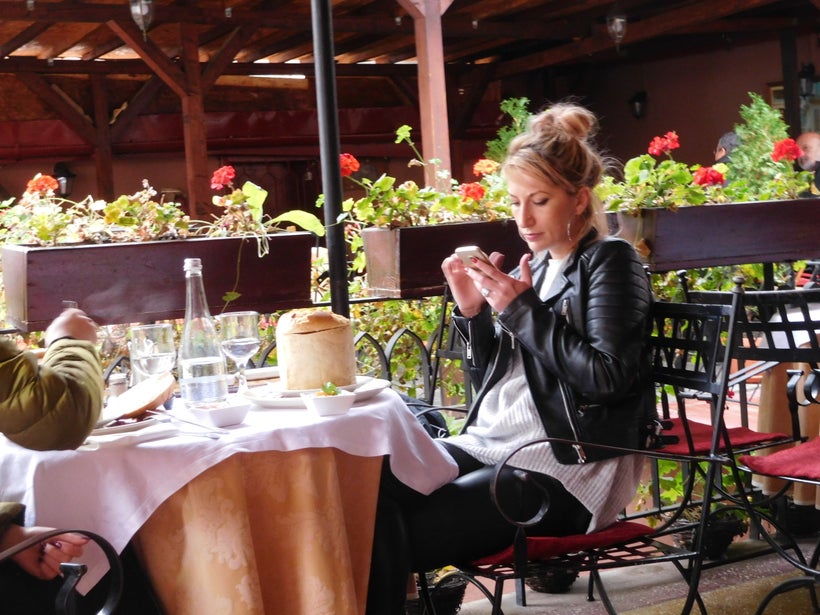 Dracula Stew with Polenta looks very bloody. They must use a whole bottle of ketchup on that one. OK, enough of my kvetch-up! Roll-Chicken with Dracula Sauce and potatoes filled with butter looks less gory. What's more, you can get them in four languages – Romanian, German, English and French.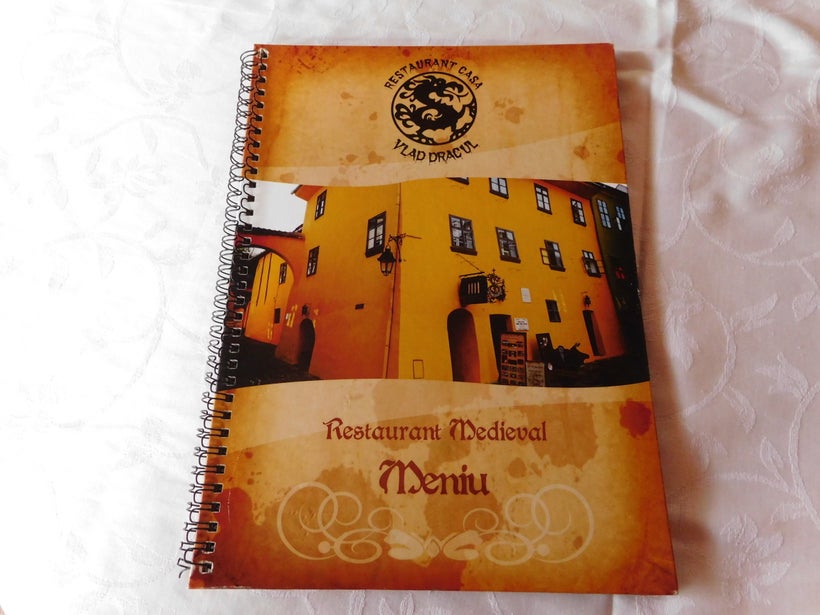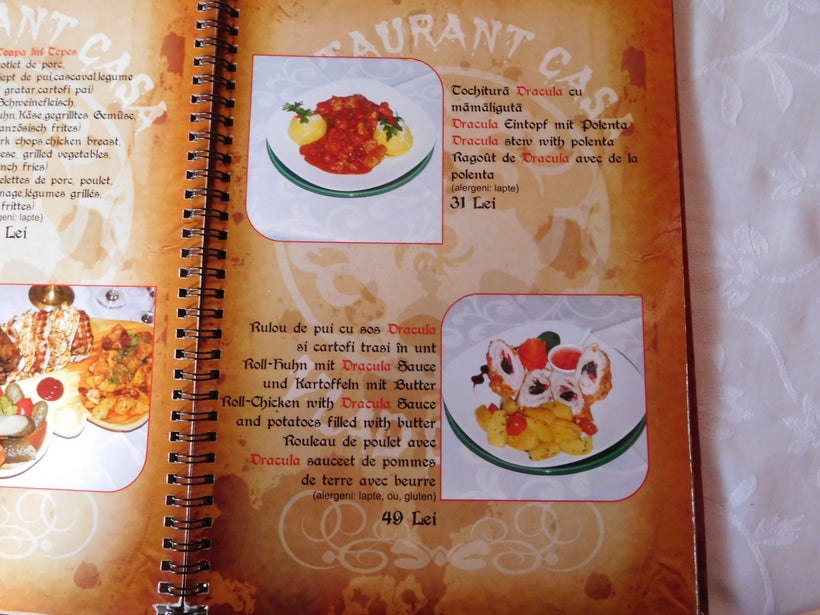 If you want to go for broke, you can get the Dracula-Dinner for two for 89 lei ($23): pork chop, chicken breast, chicken legs, minced meat rolls, sausages, peasant potatoes, pickles. It doesn't look too bloody, either, with just some red peppers and tomatoes and a bit of ketchup, but to make up for that they call it Impaler's Dinner in Romanian.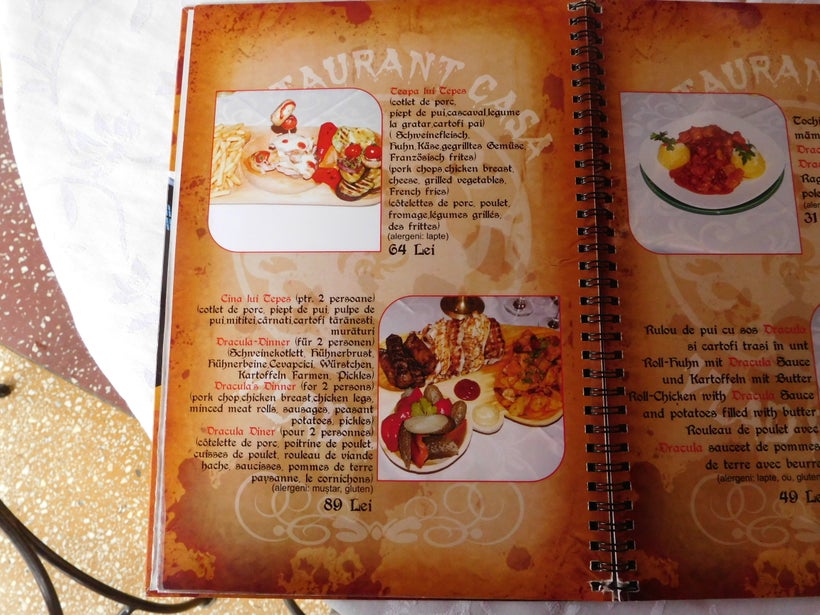 The Dracula dessert consists of red fruit, ice cream, fruit sauce, whipped cream. Or you can get Dracula thin pancakes with plenty of red berries. And to think they could gave conjured up impaled profiteroles, and didn't!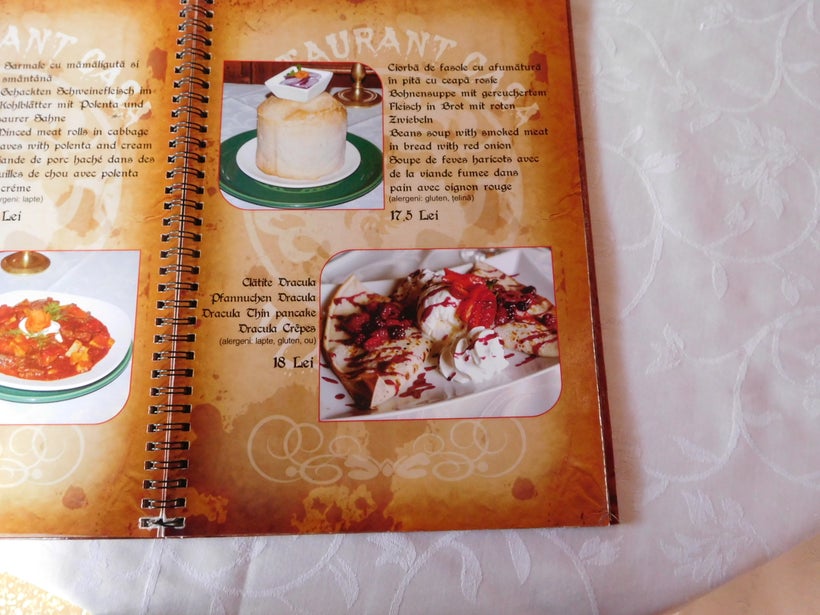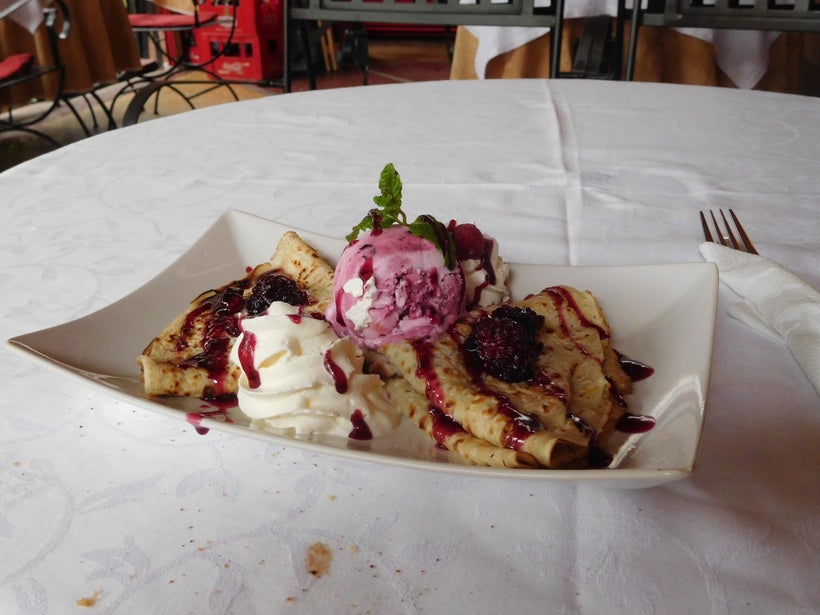 If you're going full bat-shit crazy for Dracula kitsch, the bar will offer you a ghoul's head in a bowl and plenty of alcohol.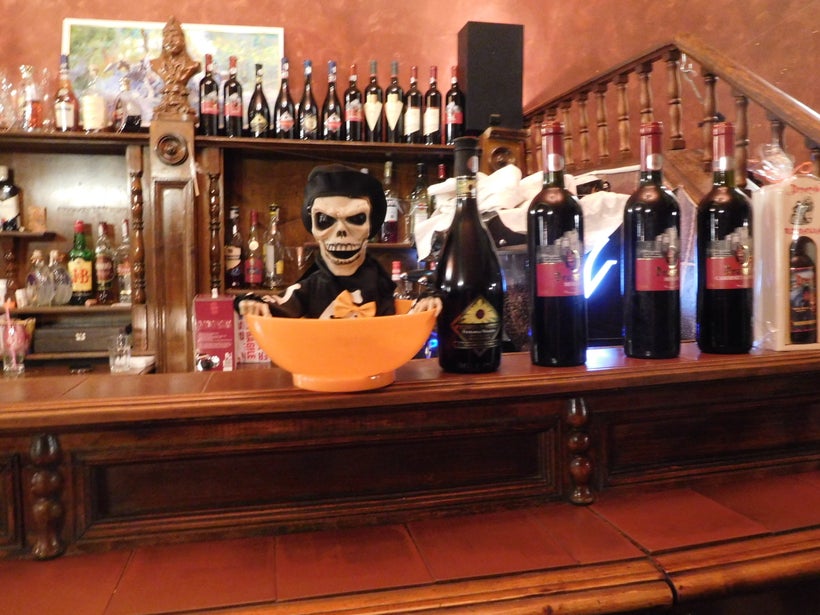 But you won't get a drop of true blood. Now, that's about as absurd as 'the Australian pub with no beer!'
Oh it's-a lonesome away from your vampire kindred,
As you bat-flap along, all exhausted and winded,
But there's-a nothing so lonesome, morbid or crud
Than to stand in the bar of a pub with no blood.
And after all that, some argue that Vlad, for all his impaling, wasn't even born in his so-called birth-house. They say it belonged to his father alright, but that Vlad's Dad and his wife were travelling at the time of the supposed birth and that a baptism document in Nuremburg shows he was really born there. Go figure!
On a personal level it's 'Houston, we have a problem!' I no longer see myself when I look into the mirror to shave – no reflection, no nothing, just an empty mirror. My neck's also feeling a bit tender. I did leave the window slightly open overnight. You don't think I've been…. Aaaagggh! OK, enough of that, too!
As for ghoulish representations, there are quite a few just-marrying couples parading through the streets and posing for their wedding pictures in front of the historic monuments.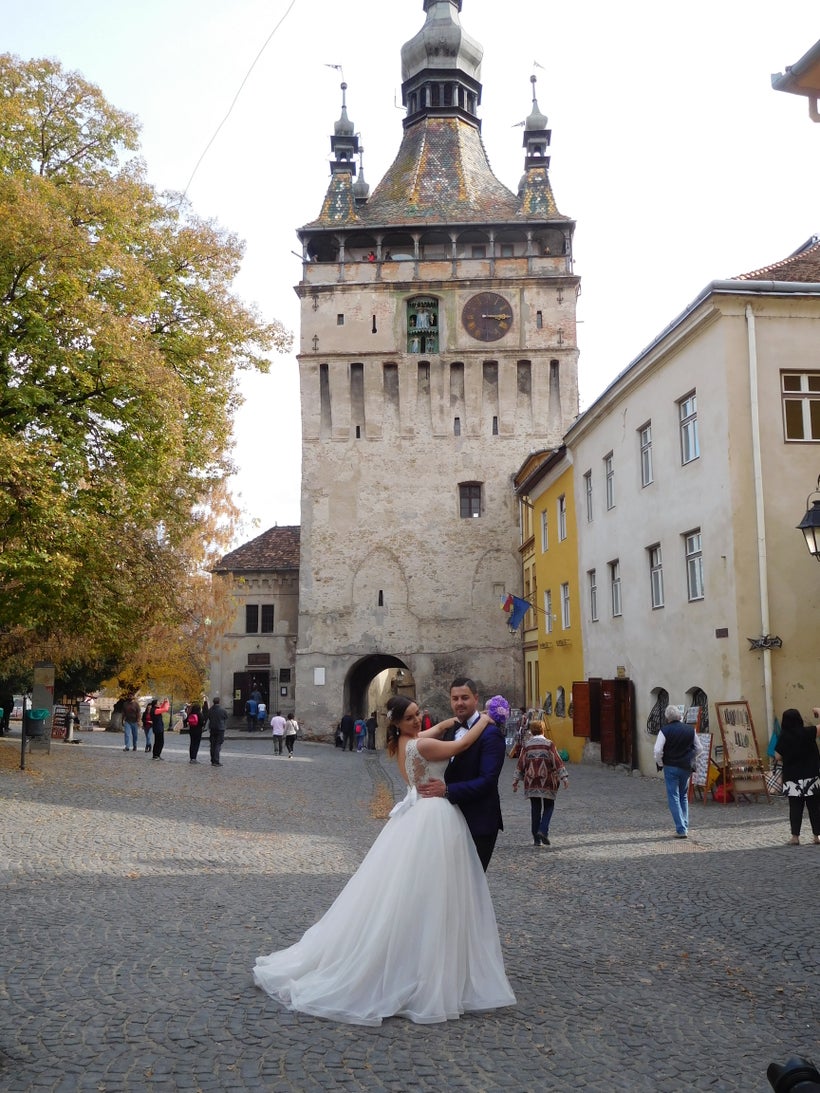 With their highly orchestrated freeze-frame poses, which they seem to be able to hold forever, and the brides' dragging their snow-white wedding dresses across the less-than-squeaky-clean cobble stones, it's quite a sight.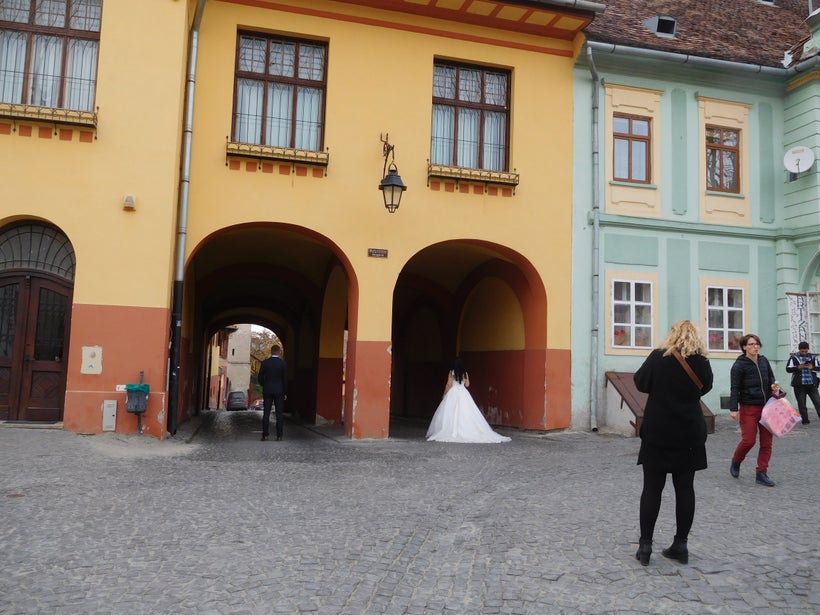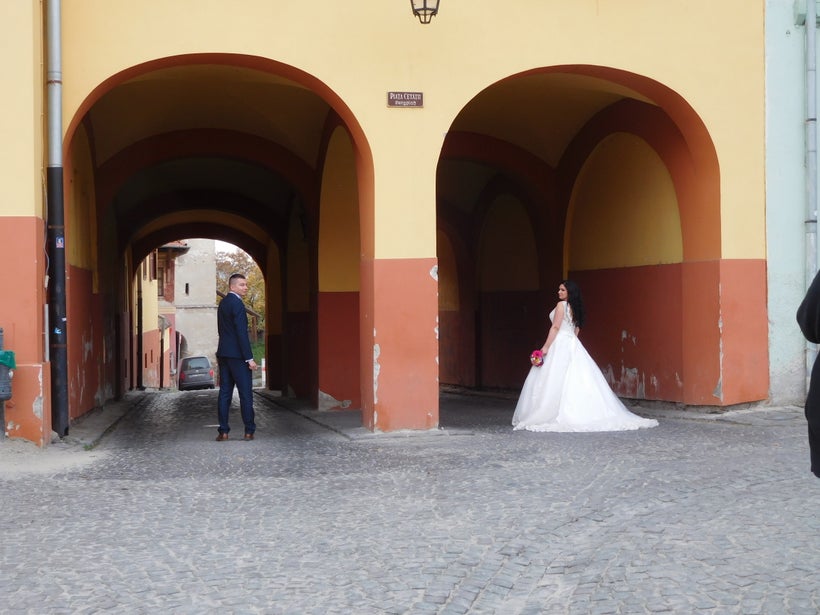 Some pretty grimy Roma kids are also joining in the fun, milling around and begging.
Thus, at the place where it all may have begun, we come to the end of our Dracula tour.
Being me and doing everything in reverse, back to front, upside down, I arrive in Cluj, Stoker's Klausenburg, as my last stop in Romania, whereas Jonathan Harker got here as his first stop in Transylvania on his way to meet Count Dracula.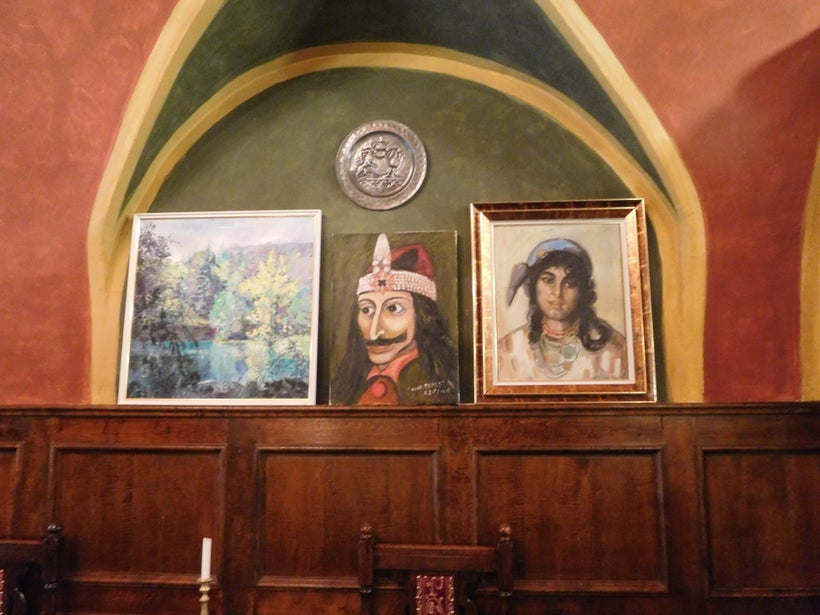 From here he moved on north by slow train to Bistritz. It should have left at 7:30 a.m. but was an hour late, causing him to remark: 'It seems to me that the further east you go the more unpunctual are the trains. What ought they to be in China?'
Yours Truly arrives by slow bus from Sighișoara, which leaves at 9:00 a.m. instead of 7:45 a.m., and arrives at 12:30 p.m. instead of 10:30 a.m. As I'm moving from east to west, I could remark: 'It seems to me that the further west you go the more unpunctual are the buses. What ought they to be in the U.S.A.?'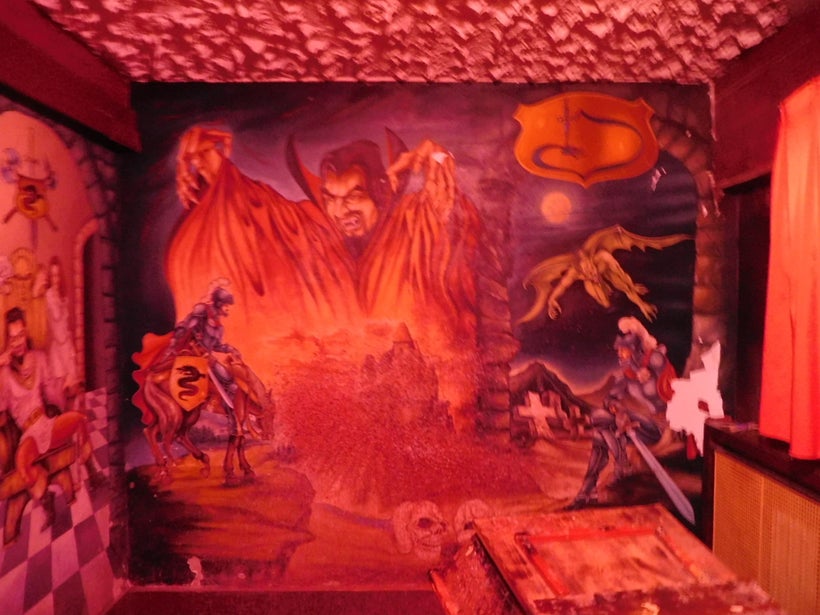 And now to the death of the legend, death of the man. We know Stoker had un-dead Dracula meet his end near the Borgo Pass, in a wild and stark location that is impossible to identify, his head cut off and his heart run through with a stake.
But Vlad III's death is more clouded in mystery, at least topographically. It's assumed that after sitting on and being kicked off the throne of Wallachia several times, he met his end fighting an Ottoman-backed rival, Basarab Laiotă, and his Turkish allies in late 1476 or early 1477.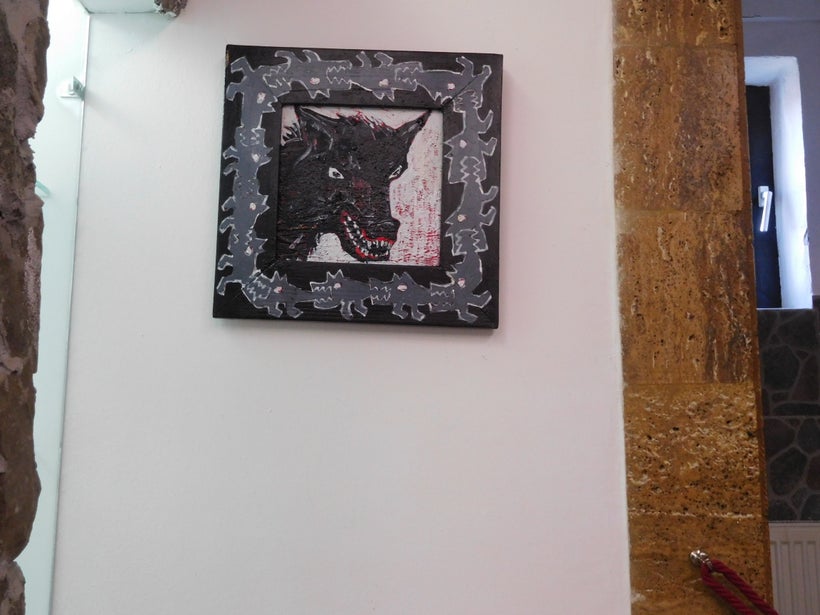 The Milanese ambassador to Buda at the time, Leonardo Botta, reported that the Ottomans cut his corpse into pieces, and Hungarian court historian Antonio Bonfini wrote that his head was sent to Sultan Mehmed II in Constantinople.
Some say his body was buried in Snagov Monastery, but excavations in 1933 found no tomb below Vlad's supposed unmarked tombstone, only the bones and jaws of horses.
Thus you have as much chance of coming across Vlad's remains as Dracula's.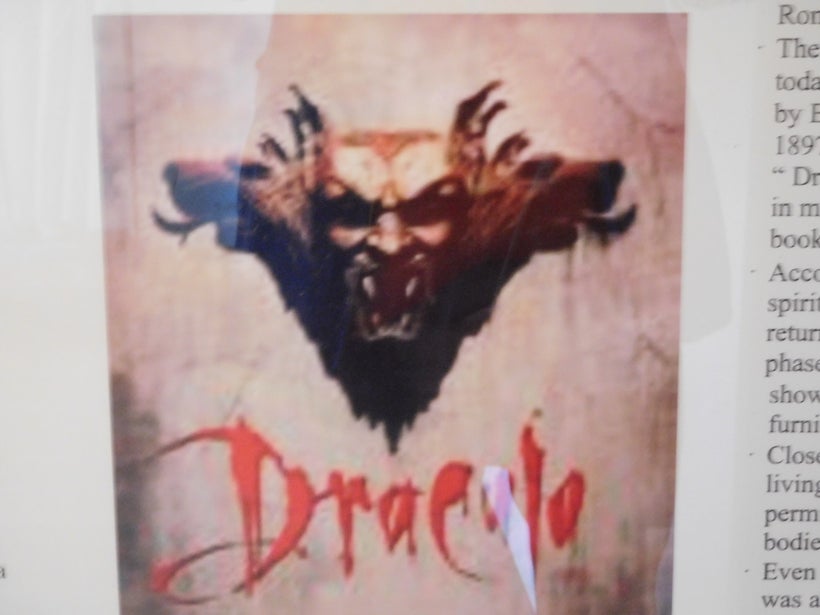 [Upcoming blog: Up the Danube without a paddle - River boating on the Looney Front]
By the same author: Swimming With Fidel: The Toils Of An Accidental Journalist. Available on Kindle, with free excerpts at https://www.amazon.com/Swimming-Fidel-Toils-Accidental-Journalist-ebook/dp/B00IMNWV2W and in print version on Amazon in the U.S at https://www.amazon.com/Swimming-Fidel-Toils-Accidental-Journalist/dp/1496080319/ref=tmm_pap_swatch_0?_encoding=UTF8&qid=&sr=
And: Bussing The Amazon: On The Road With The Accidental Journalist; available with free excerpts on Kindle and in print version at https://www.amazon.com/Bussing-Amazon-Road-Accidental-Journalist-ebook/dp/B00KNCGD9M
REAL LIFE. REAL NEWS. REAL VOICES.
Help us tell more of the stories that matter from voices that too often remain unheard.
This post was published on the now-closed HuffPost Contributor platform. Contributors control their own work and posted freely to our site. If you need to flag this entry as abusive,
send us an email
.