At last, long last, a real, real, real Castle Dracula! Poenari.
It combines both the stark, haunting topography of Bram Stoker's imagined House of Vampire Horrors and the strong historical connection with Count Dracula's spiritual inspiration, Vlad Țepeș, Vlad the Impaler.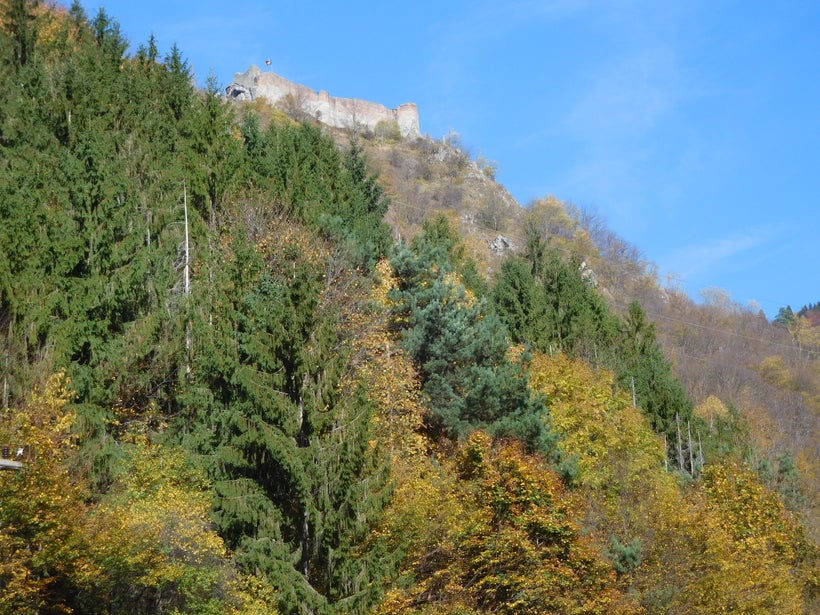 Go west from Braşov, then south through the early morning mists – and by the way, didn't Dracula sometimes travel in the form of mist? Foxes cross in front of you as a brilliant autumnal sun dispels mists-cum-Dracula, revealing a massive jagged rampart of soaring snow-streaked crags – the Făgăraș Mountains, reaching a height of over 8,000 feet.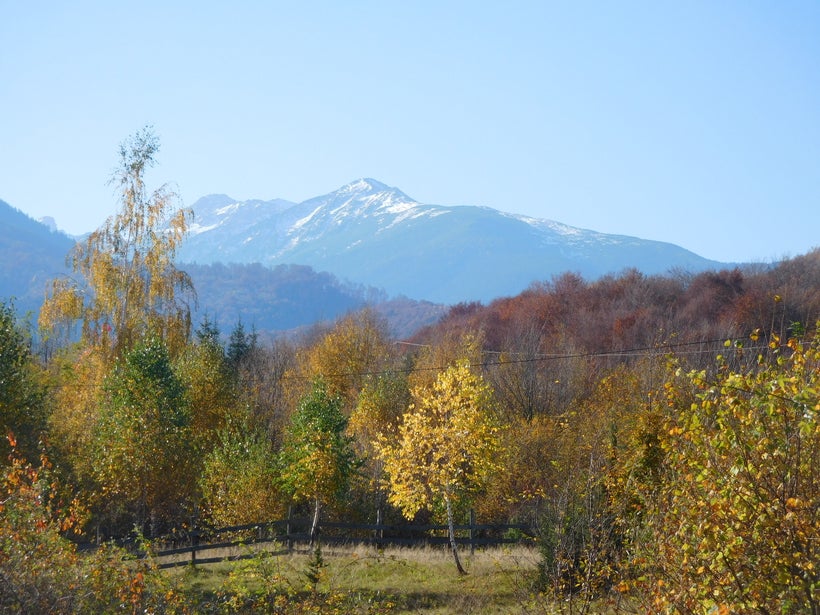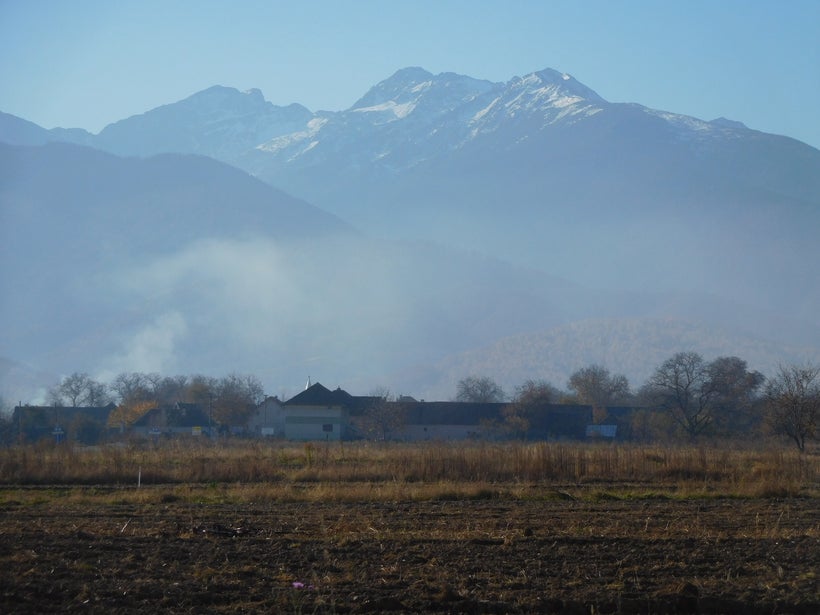 Switchback up the precipitous but forested ravines along the Transfăgărășan highway, which closes each year from November until spring because of snows, pass Bâlea, a glacier lake at an altitude of 6,673 feet, zig-zag on to the Vidraru hydroelectric dam and lake, descend from Transylvania into Wallachia into more widely forested yet still appropriately stark country – and there you have it!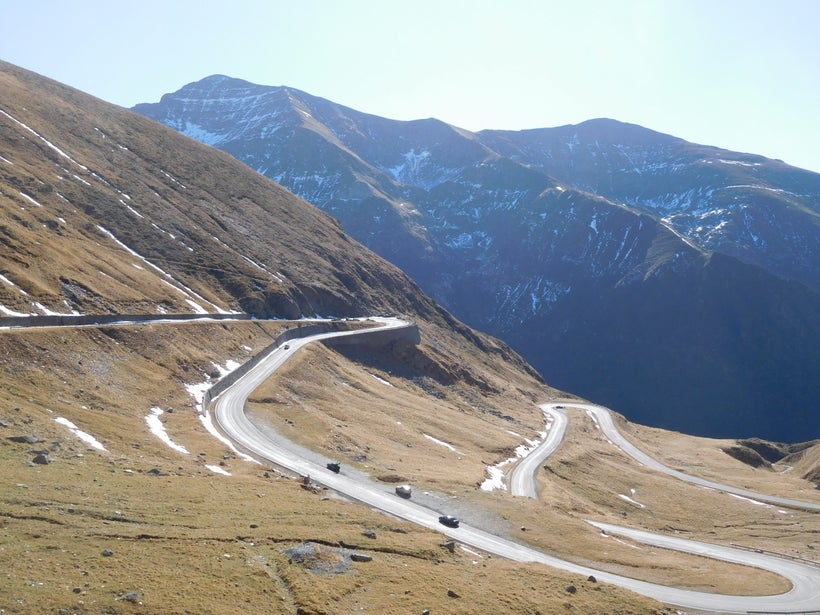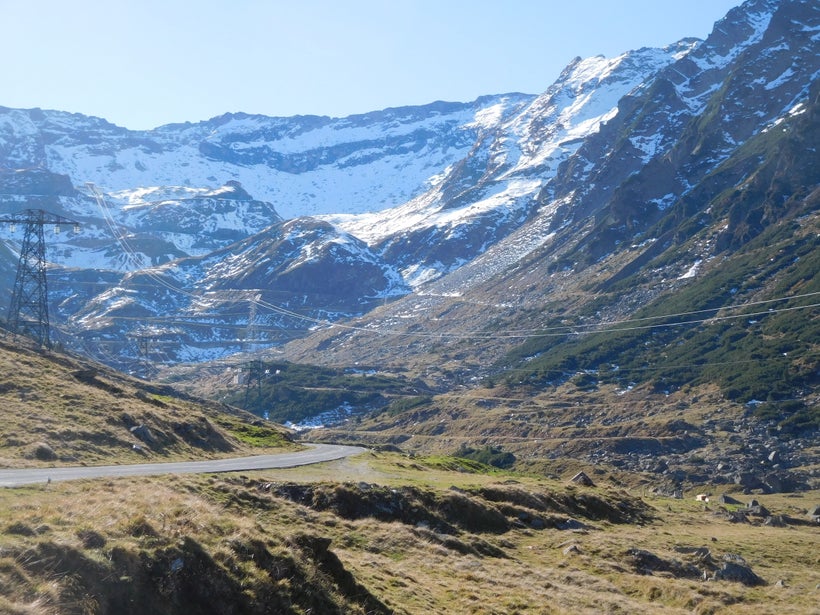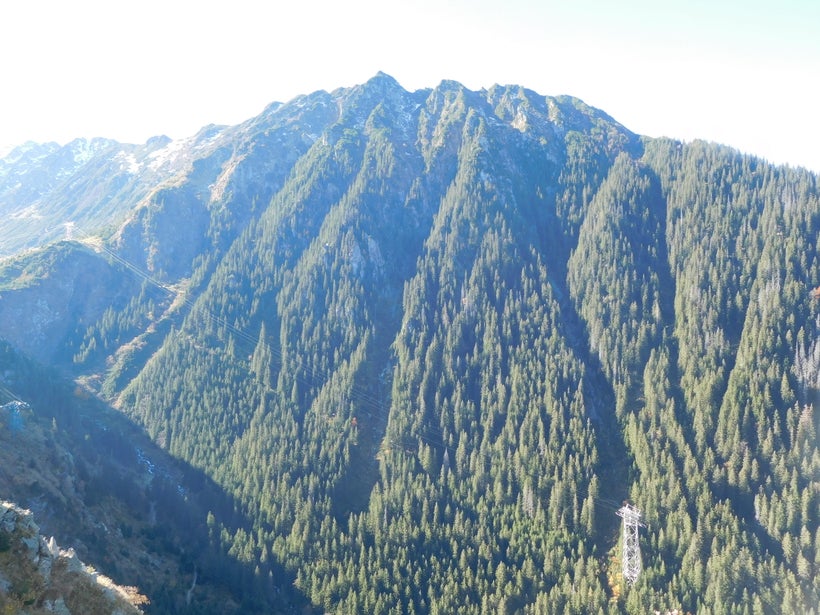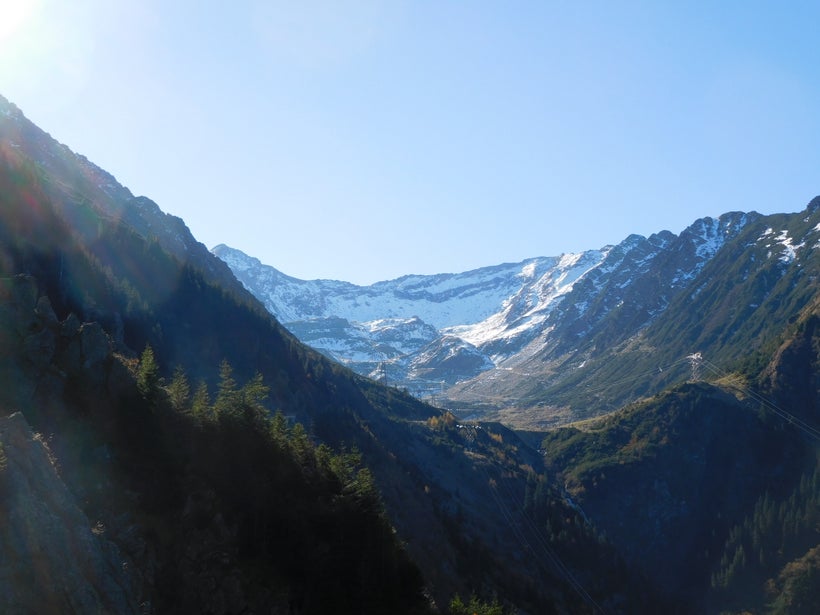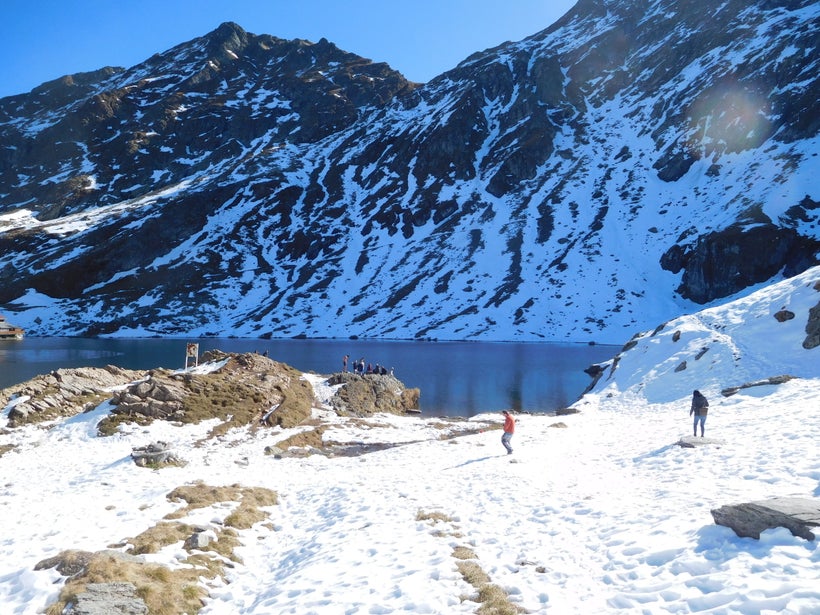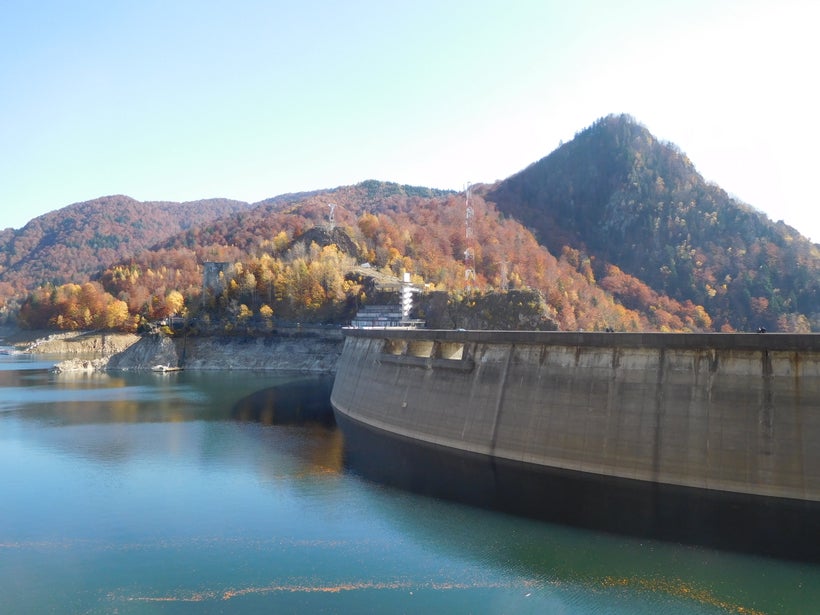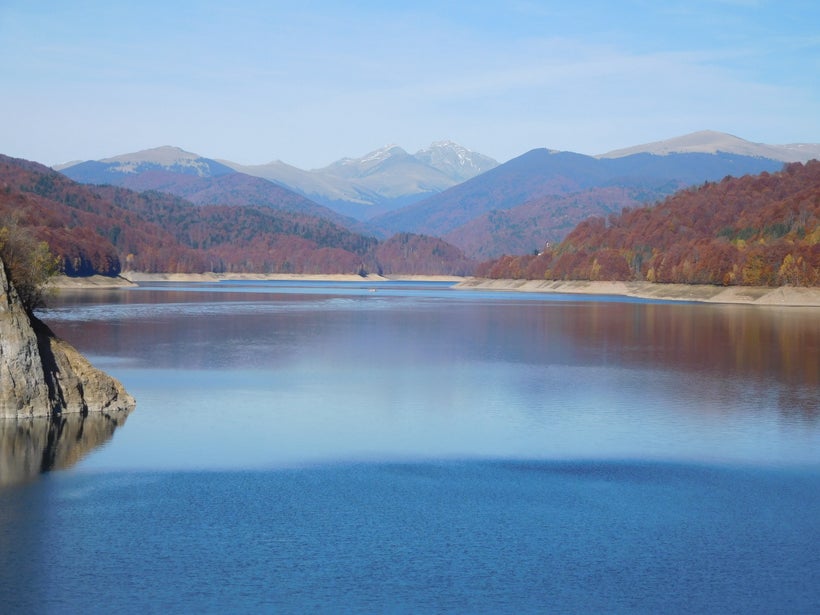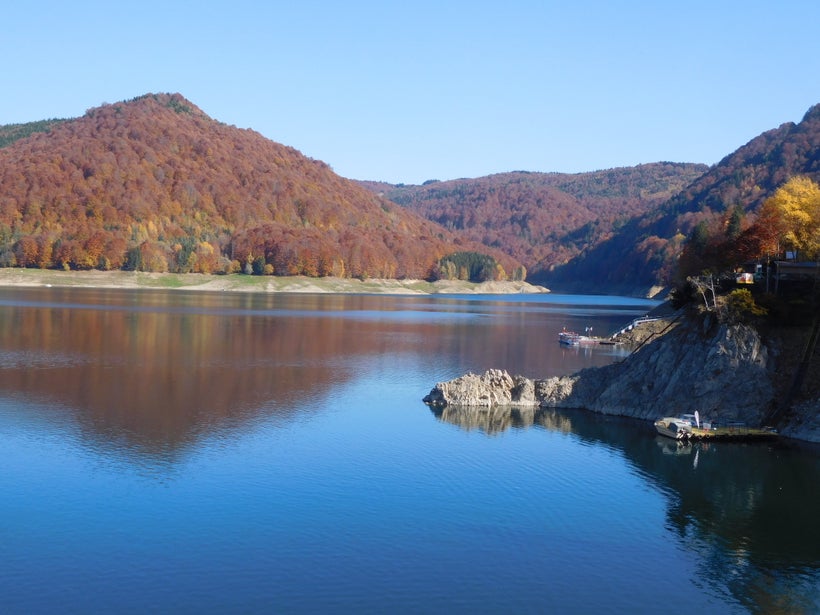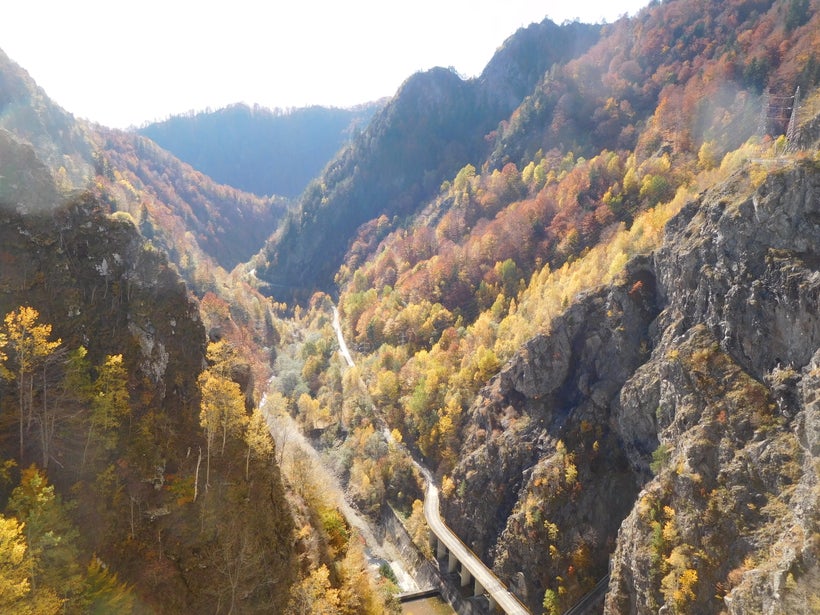 High above the road on a forested cliff the ruined towers and massive walls of Poenari Fortress stretch along a ridge overlooking the Argeș river, like an eagle's nest in the words of the Romanian tourism brochure.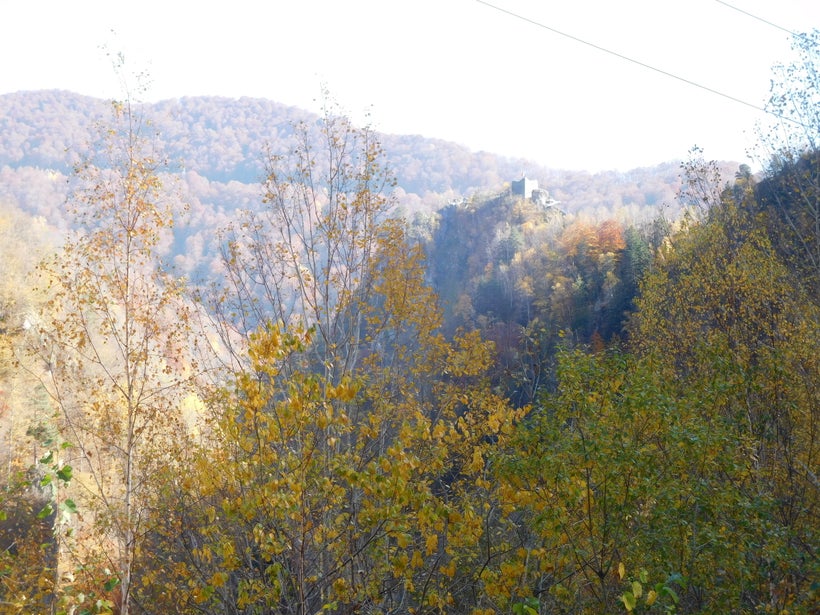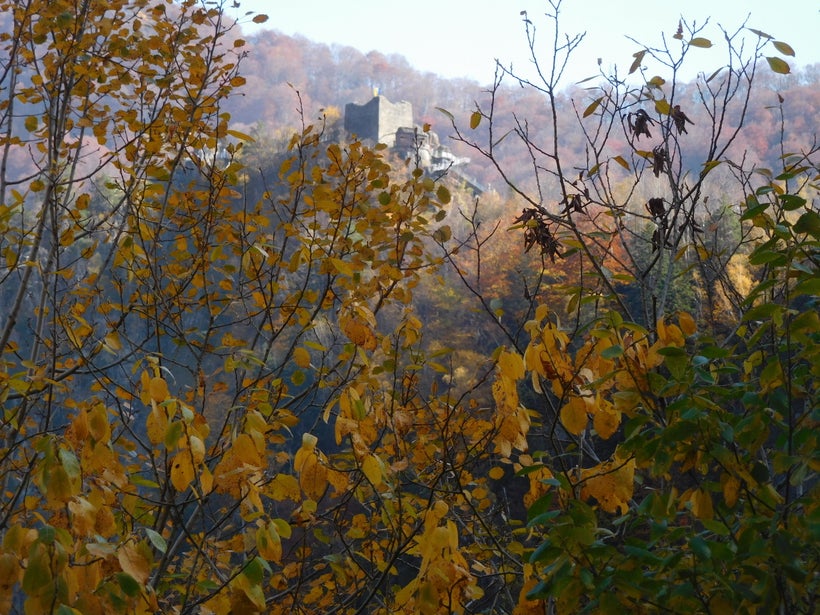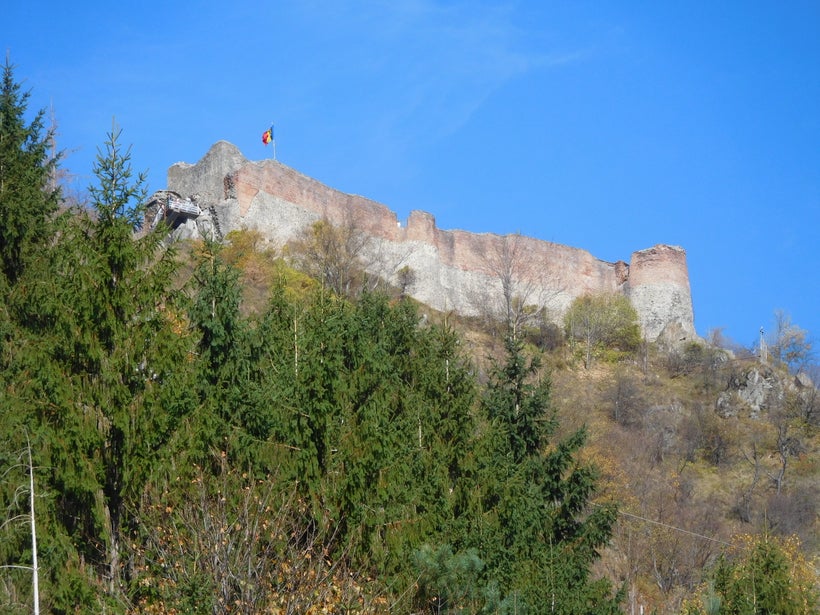 OK, so it's not actually in historic Transylvania, so sue me! But it's only a few miles into the one-time principality of Wallachia, Vlad's own domain, and as we've already found out, Bram Stoker's bump of direction was not always on target.
Now, some say suggestions that Poenari could be the 'real' Castle Dracula have no basis in Stoker's book, and that he'd never even heard of it. But what else in his book has a real factual basis and how do they know he'd never heard of it?
Dutch author Hans Corneel de Roos in 'The Ultimate Dracula' says Stoker's handwritten notes show he had a specific location in mind, an empty mountain top in north-eastern Transylvania near the border with the one-time principality of Moldavia.
But he'd still have to crown it with a castle, wouldn't he? And the towering mountains around Poenari are beautifully forested yet stark enough to satisfy Stoker.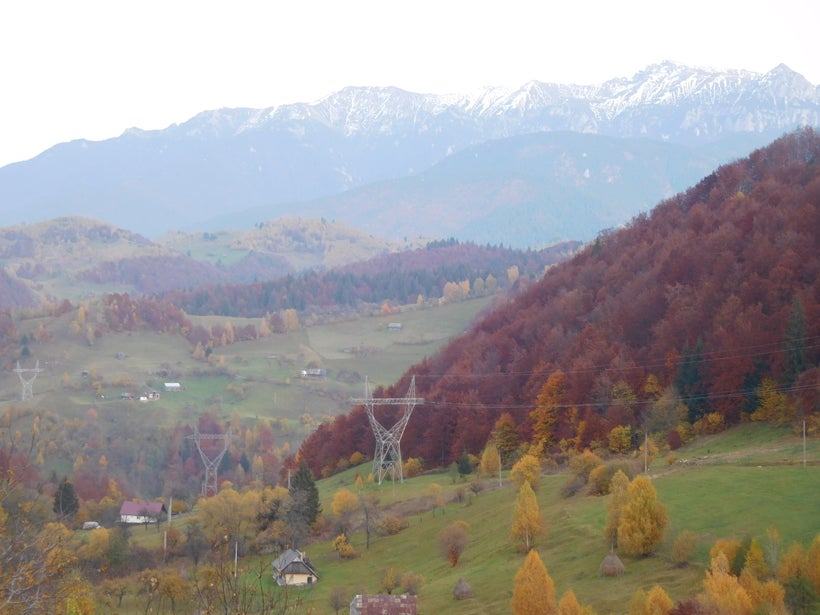 But O for the wings of a dove! Or more appropriately a bat! They're not sprouting, though, alas. You can indeed still ascend to the ruins without them – if you're willing to go mano a mano, or should that be pe a pe, with 1,462 steps.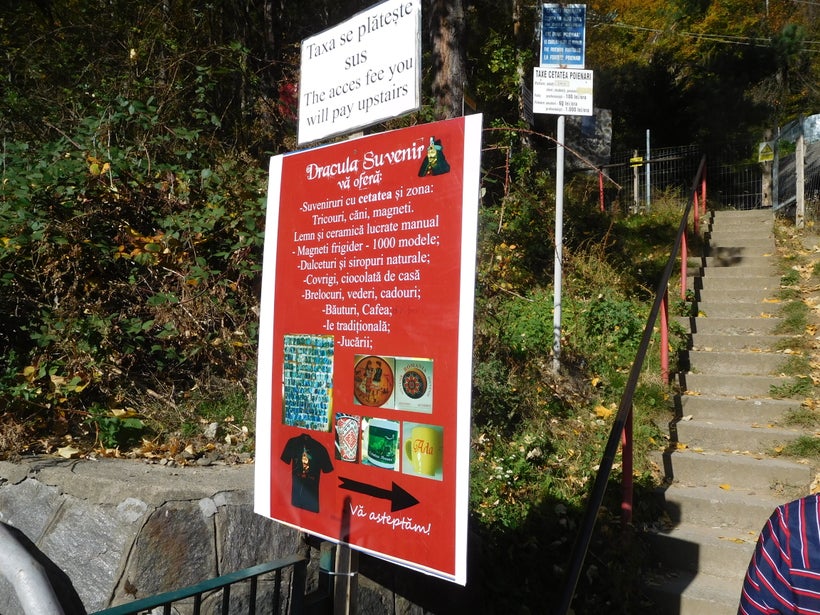 Now, I'm full of tricks, but that's not one of them. I killed myself six times over when I was three years younger and climbed some 660 steps in St. Helena. It evidently takes a fit young person half an hour to 45 minutes to ascend here. How did that 80-year-old Japanese man ever climb Everest, I want to know.
So I'll enjoy the evocative experience down below, thank you very much, even if the rather nice little chalets at the foot of the cliff have been turned into kitsch by a large sign announcing 'Camping Dracula.'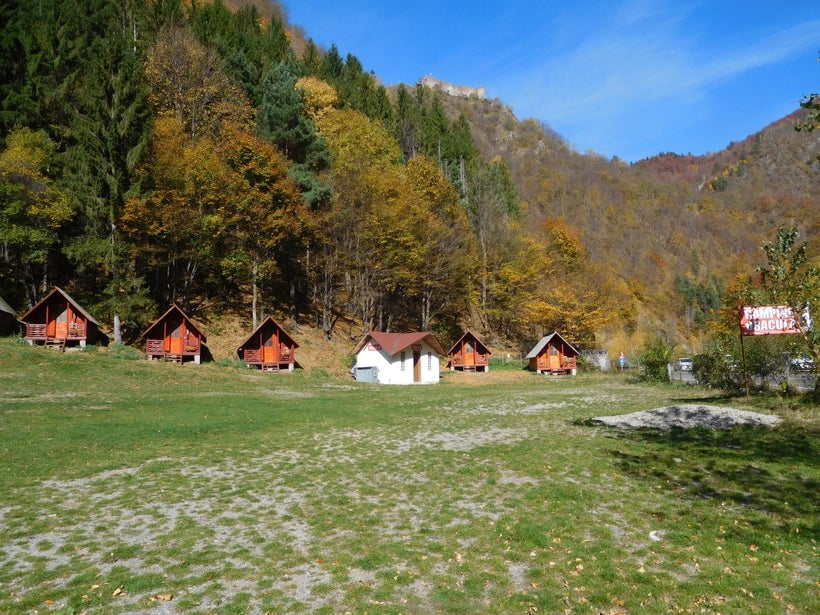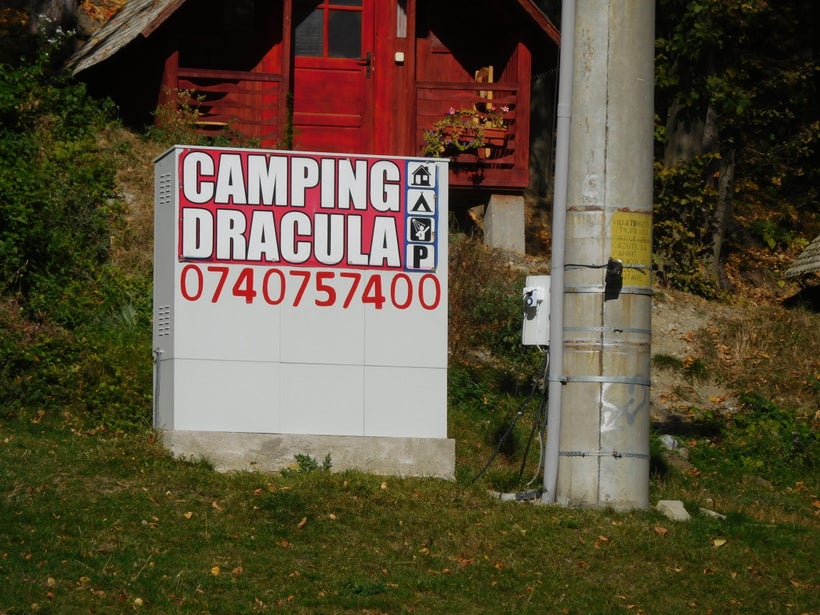 Vlad recognised the strategic importance of an earlier fort here, strengthening and enlarging it into one of the major strong points of his Wallachian principality. When the Turks captured it in 1462 (Aha, same number as the steps!), he escaped via a secret passageway north and on through the mountains.
Although it was still in use for years after his death in 1476, it was abandoned in the first half of the 16th century. In 1888, a major landslide sent part its ruins crashing into the river far below.
Now I'm just itching to do a little bit of impaling myself. Whoever invented the selfie stick should be impaled with it right to the hilt, then have it opened up deep inside for what would doubtless be an unbeatable selfie shot. Or should an 'i' be substituted for the 'o'? I've never seen so many idiotically grinning selfie morons as on this trip.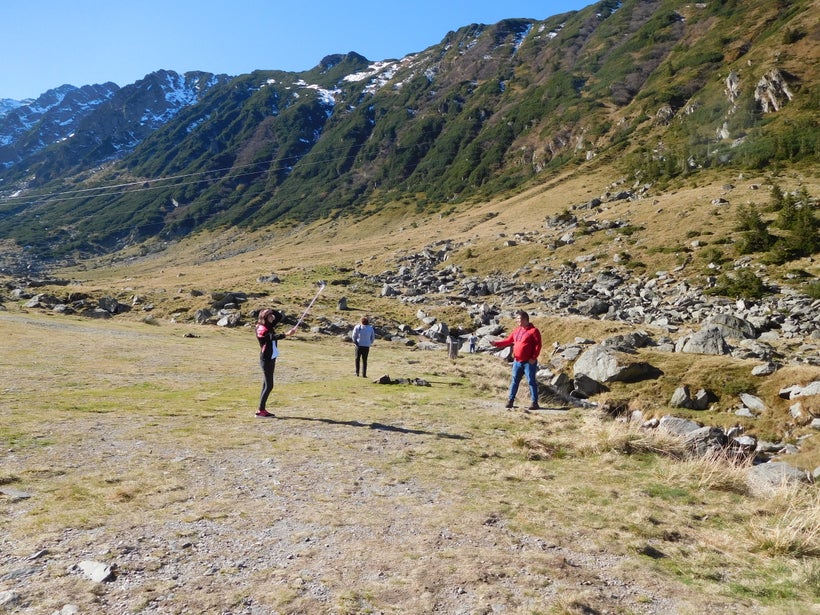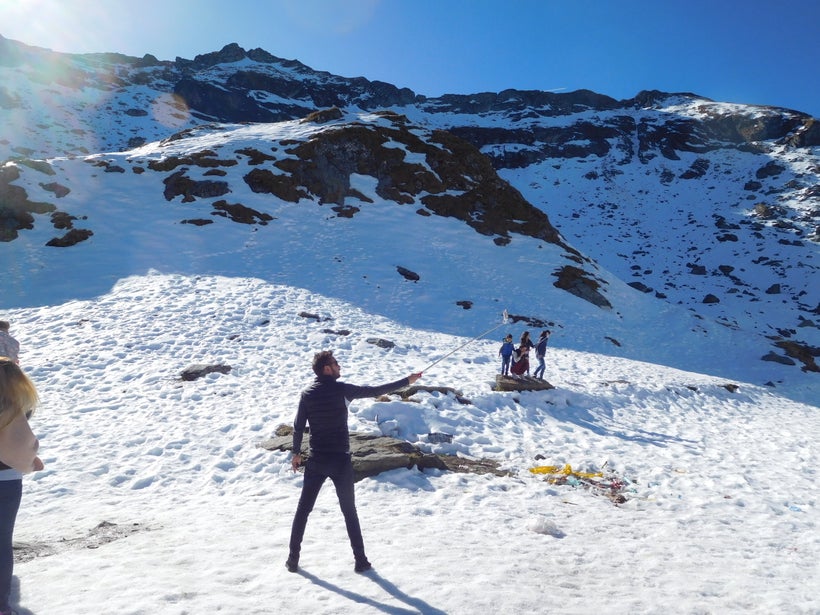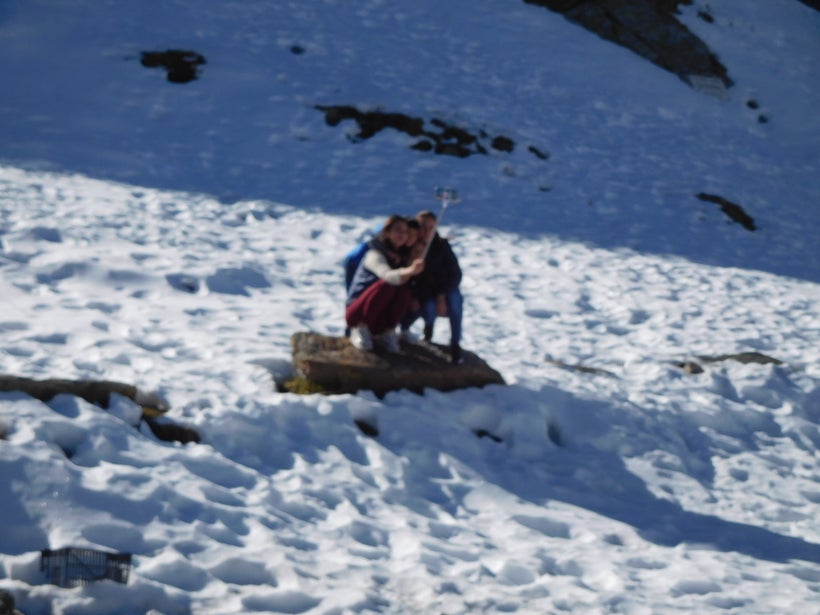 Why am I in a minority of one for those who hate selfie sticks and selfie posing in general, whether by one's own hand or that of another?
On another point of modern 'culture,' a rendering of Poenari was featured on the BBC/STARZ TV fantasy series, Da Vinci's Demons, where Leonardo travels hither to gossip with Vlad. That, however, was filmed in Wales.
Popular culture also travelled here in the 1970s with 'The Hardy Boys & Nancy Drew Meet Dracula.' Shots of Poenari are used in an episode, which then shows people driving up to it for a rock festival, an impossibility unless they drive up the stairs.
Meanwhile, back on Braşov's Old Town pedestrian streets with their dozens of outdoor cafes, just after the sun has appropriately set, a column of ghoulishly painted and dressed vampires and zombies have exited their coffins to parade past, limping and crashing into windows, dragging along iron balls and spades on the cobblestones, projecting what I hope are fake fangs, and generally having a merry old time.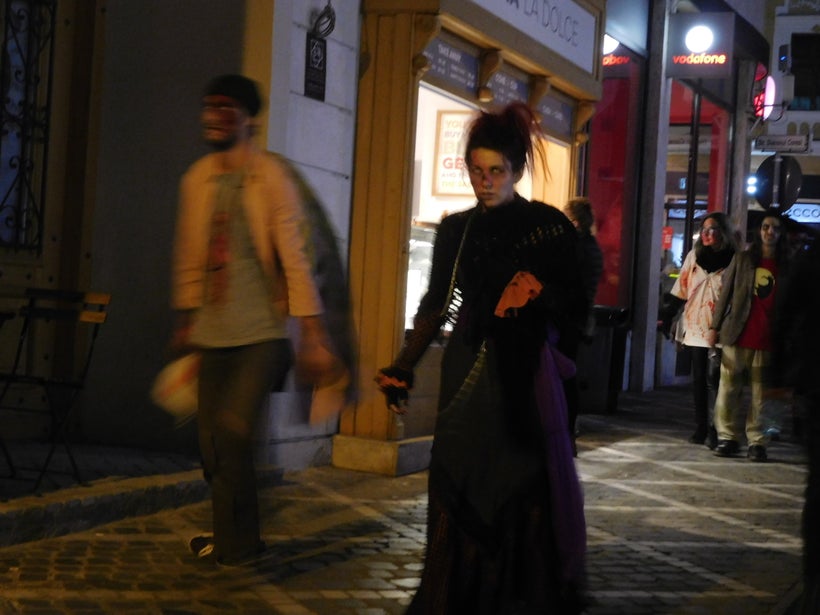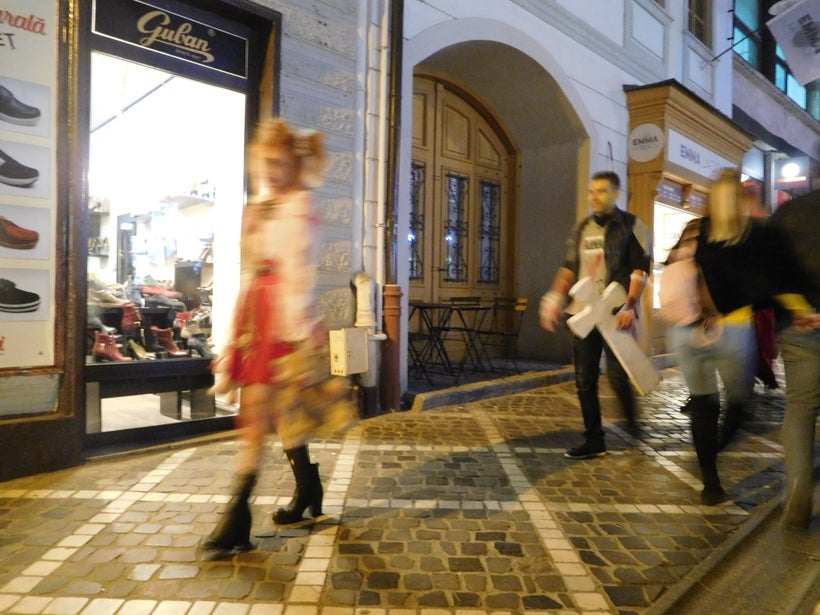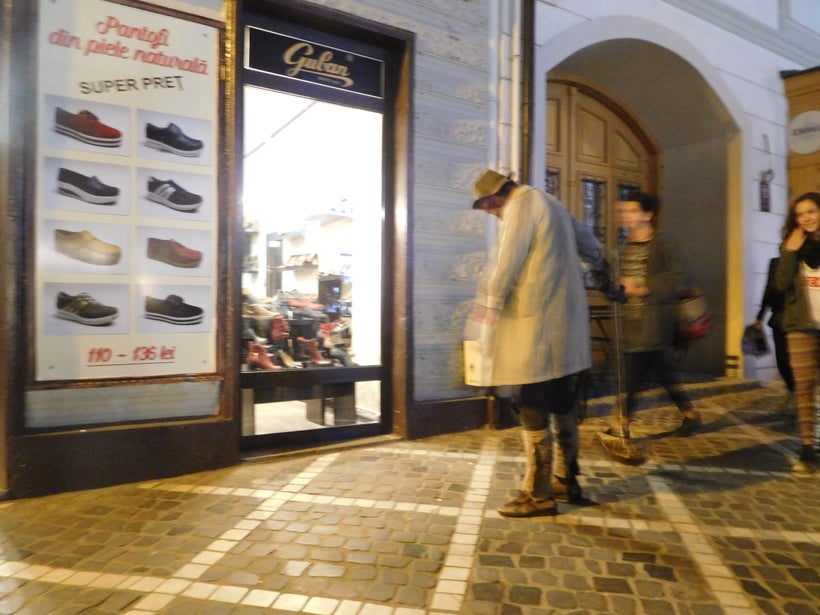 One of them hands out the Dracula Times, of which its title is the only element in English. The whole caboodle is connected with the 2017 Dracula Film Festival currently taking place here.
So get on the Dracula gravy train. As everybody's cashing in on our favourite blood-quaffer, it's no surprise that a '3-Day Vampire in Transylvania' tour is on offer, with such prime lures as 'the live re-enactment of the Ritual of Killing of a Living Dead,' though it's beyond my comprehension how you could have a dead re-enactment.
There's also 'Vampire Treats: enjoy a mouth-watering Vampire dinner to find out why it's worth killing for a meal!' The tour goes to locations associated with Vlad, including Bran Castle and Sighișoara, the Impaler's reputed birthplace.
I've yet to find out what a real vampire's dinner consists of, other than blood, blood, blood, though here there's doubtless plenty of ketchup and red wine; or what killing a living dead involves, though doubtless some trompe-l'oeuil form of driving a stake through the heart and a bit of decapitation.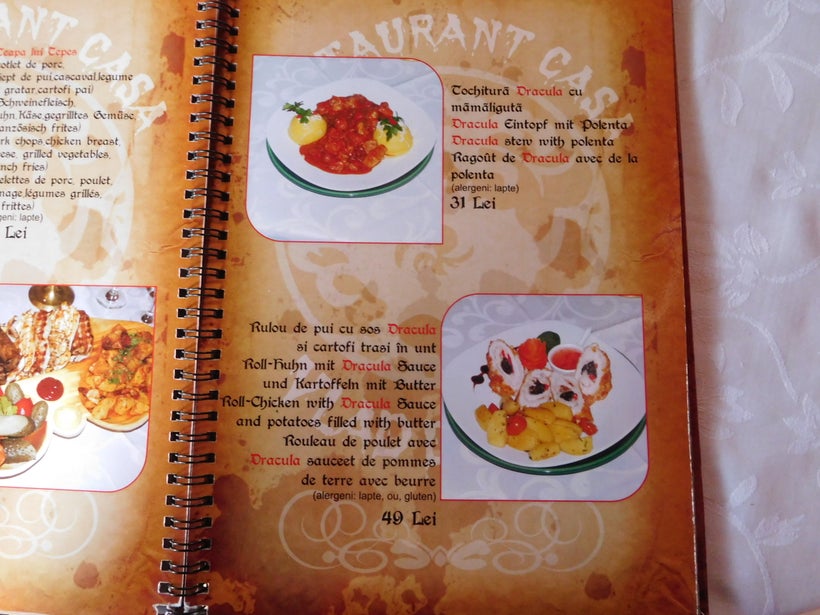 The tour blurb says that, performed according to the old burying rituals of Transylvania, the event is meant to reveal the fact that Romania had no knowledge of vampires until Stoker came along, though that doesn't seem correct.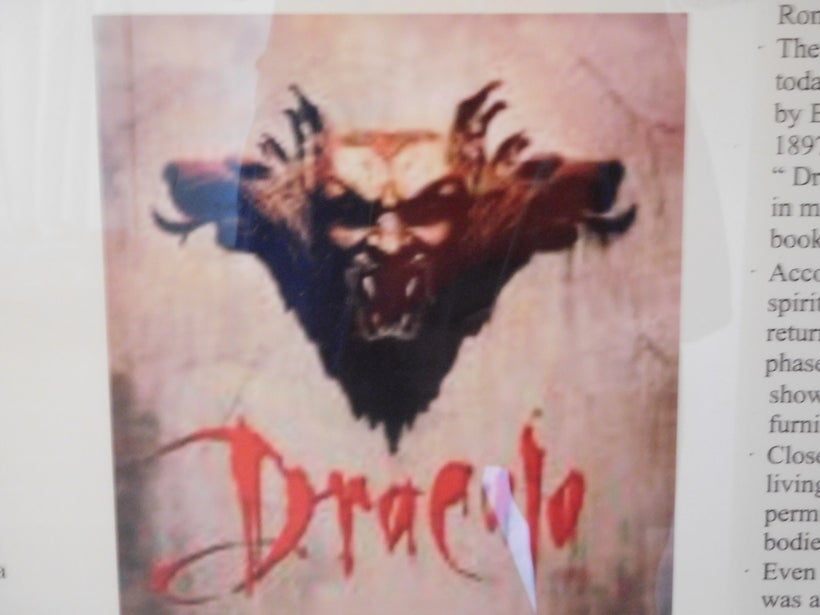 [Upcoming blog: The largest Castle Dracula yet - Vampires on the Looney Front]
By the same author: Swimming With Fidel: The Toils Of An Accidental Journalist. Available on Kindle, with free excerpts at https://www.amazon.com/Swimming-Fidel-Toils-Accidental-Journalist-ebook/dp/B00IMNWV2W and in print version on Amazon in the U.S at https://www.amazon.com/Swimming-Fidel-Toils-Accidental-Journalist/dp/1496080319/ref=tmm_pap_swatch_0?_encoding=UTF8&qid=&sr=
And: Bussing The Amazon: On The Road With The Accidental Journalist; available with free excerpts on Kindle and in print version at https://www.amazon.com/Bussing-Amazon-Road-Accidental-Journalist-ebook/dp/B00KNCGD9M
REAL LIFE. REAL NEWS. REAL VOICES.
Help us tell more of the stories that matter from voices that too often remain unheard.
This post was published on the now-closed HuffPost Contributor platform. Contributors control their own work and posted freely to our site. If you need to flag this entry as abusive,
send us an email
.