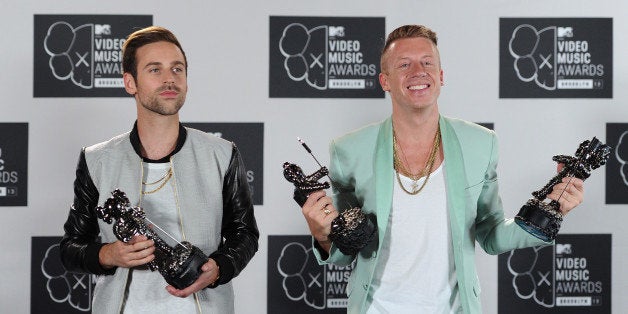 Whether or not you actually watched this year's MTV Video Music Awards, I'm going to assume that if you've found yourself reading this blog post, you have come across other people talking about the notorious award show and its many controversial moments. Miley Cyrus probably takes the cake for greatest conversation starter; from the slut shaming she attracted to the cultural appropriation inherent in her performance, she provided ample material for Tumblr users and newsreaders for weeks. But the tense relationship between identity and music is deeper and more complex than the debate over Cyrus suggests. The VMAs were steeped in all kinds of appropriation, and they suffered from an utter absence of diversity. Cyrus was not by any means the sole offender. Most glaringly, as The Huffington Post's Danielle Cadet pointed out last month, not a single award winner was black. Not one. I was also hard-pressed to find LGBTQ artists on my screen. The combination of this apparent homogeneity with a straight, white artist like Macklemore winning a Moon Man for a song about same-sex marriage left me feeling uncomfortable at best. His dominating presence at the award show and in the mainstream music industry calls for another conversation about diverse identities within the music world.
The issue is not that he performs a song about the queer equality movement. His video for "Same Love" was the obvious winner for "Video With a Message" given its popularity, viral outreach, and content. Support is support, and I don't really feel the need to cut him down for using his fame to advocate for an important cause. Celebrities do that all the time. Sure, Macklemore and his producer Ryan Lewis made a pretty penny from the song's success, but I'm willing to take the popularity as an indication of America's shifting viewpoint on sexuality and not as a slimy moneymaking move on the part of the artist. Plus, Mary Lambert, who is featured on the track, is an out lesbian who writes about the social issues that affect her as a queer woman all the time. She's not the one getting the credit, though, which brings me to my next point.
Here's the deal. Macklemore is not the first person to write a great song that could be celebrated as the gay marriage anthem. There are documented recordings by queer artists singing about queer issues (read: their lives) that date back as far as the 1920s, and there is an alliance of out queer artists who continue to sing out loud. They have read the YouTube comments lately, and they do have plenty of reasons to think that hip-hop hates them. We're used to seeing images of attractive white people as the faces of the movement for LGBTQ equality. We're used to getting excited when another straight, white person says they support our equality movement, because it's certainly better than the alternative. But forgive me if I'm tired of doling out cookies to everyone who isn't a bigot. Most of these celebrities charge events a "nominal fee" to the tune of $10,000 or more as compensation for standing for equality, and much of their support goes to causes like marriage equality, which benefit well-off, white gay people most significantly. Queer recording artists who have been singing out loud before any major media outlet would have celebrated it, and who write about the wide range of issues that plague the LGBTQ community, truly represent the rawness of our diverse community. It would be nice if Macklemore and his crew could give them a shout-out and acknowledge that Macklemore's ability to get his message out so beautifully had something to do with him being a white, straight, cisgender man.
If you really want to do something about the equality movement in music beyond just watching the VMAs offer up a token moment of social awareness, you can start off by supporting out and proud LGBTQ recording artists whose songs and lyrics are the soundtrack to the equality movement. I just learned about OUTMUSIC - The LGBT Academy of Recording Arts (LARA). They have a Kickstarter campaign going on right now to help fund their music documentary film For Which WE Stand (One Queer Music Nation in the Visible), which is specifically about the history of queer recording arts. OUTMUSIC/LARA was forged by life partners Dan Martin and Michael Biello in 1990 and is now headed up by Diedra Meredith, who is rarely mentioned in the tokenized and selectively publicized "lists" of leaders in the movement for LGBTQ equality. This organization features a diverse group of queer artists who paint a much more vibrant picture of what LGBTQ life looks like, sounds like, and feels like. They support, honor, and celebrate recording artists like Nhojj, an R&B artist who became the first gay indie artist to reach the number-one spot on MTV's Music Top 100 chart in 2010. Other artists they support include Christine Martucci, who also topped the music charts; Jamaican reggae fusion artist Diana King, who rocked her home country when she came out last summer; transgender rap artist Foxx Jazell; and multiple-Billboard-Top-5-chart-topping indie recording artist Jason Walker, whom record executives have referred to as very talented but "too gay."
My aim is not to cut down Macklemore but to raise up the artists who have been trying to get the message out all along. I want to see a more accurate and diverse picture of both the mainstream music and queer communities. The best thing we can do is to support the LGBTQ recording artists whose identities are conveniently utilized by artists like Macklemore and Miley Cyrus and avoid getting our struggle and plight caught up in mainstream award shows, which are really about profit and have no real interest in supporting queer people. I am no longer satiated by the incredibly limited media representation that both LGBTQ people and people of color receive and are expected to celebrate. There are queer recording artists of color out there who deserve recognition for their contribution to equality through their music, message, and visual art. It's time to give them our support.
Calling all HuffPost superfans!
Sign up for membership to become a founding member and help shape HuffPost's next chapter