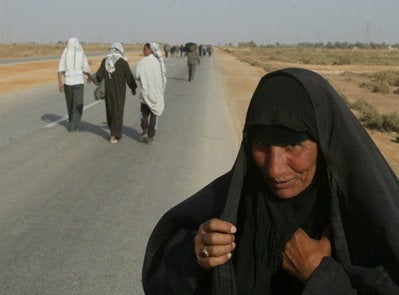 The United States continues to woefully fail to deliver in its responsibility to refugees forced from their homes by the repercussions of its 2003 invasion of Iraq.
Ambassador James Foley, the State Department's coordinator for Iraqi refugees, is in Syria today as part of a four-nation Mideast tour to boost the numbers of Iraqi refugees coming to the U.S. to meet the Bush administration's goal of accepting 12,000 by the end of September. The US government only managed to let in 1,608 in the 2007 fiscal year, despite a target of 7,000.
According to the UN Refugee Agency and the International Organization for Migration, there are over 5 million Iraqis had been displaced by violence in their country, the vast majority of which had fled since 2003. Over 2.4 million vacated their homes for safer areas within Iraq, up to 1.5 million were living in Syria, and over 1 million refugees were inhabiting Jordan, Iran, Egypt, Lebanon, Turkey and Gulf States.
An often unnoticed tragedy hidden beneath so much of the bloodshed emanating from Iraq is the targeted killing and subsequent flight of minority groups from the country. Those without militias or sufficient numbers to protect themselves are amongst the most vulnerable. Palestinians living in Iraq, often there as a result of multiple previous displacements, have found themselves trapped in their thousands in and around the desert of the Syrian-Iraqi border.
As the violence against Palestinians in Iraq continues, the number of refugees in al-Waleed camp has increased to more than 1,700 today. They live in conditions totally unsuited to extended human habitation. Hazards include an extremely harsh physical environment, extreme temperatures (+50 C to sub-zero) outbreaks of fire amongst the tents, accidents caused by passing trucks and infestation of snakes and rats. Residents of this camp are assisted by UNHCR's Iraqi Operation Unit in Amman and aid agencies such as Medical Aid for Palestinians (MAP). Unlike the Palestinians in the al-Tanf no-man's land camp they suffer of a severe lack of protection as they are still located in Iraqi territory.
Between the 22nd and the 24th of May, 15 Palestinian men from al-Waleed refugee camp were tortured by the local Iraqi police in their police station after having been arrested by the police with help of the Multinational forces (MNF). Photos taken by MAP's doctors show injuries from beatings, knife cuts and spots of cigarette burns all over their bodies, including around their genitals. Such an incident underscored the extremely vulnerable situation these particular refugees face. Urgent resettlement is needed. Whilst the Syrian government is saturated with refugees and the Iraqi government too weak to ensure safe return, the onus lies with the international community, and in particular the United States and United Kingdom, to provide safe haven.
Third country support has so far come from countries against completely unrelated to the conflict; in April 2007 a group of 116 Palestinians were resettled to Chile, Sweden has let in 154. The relatively small numbers of Palestinians trapped in the desert does not highlight their insignificance rather than reminding the World of the impotence of those who refuse to pick up the tab for their own actions.

Calling all HuffPost superfans!
Sign up for membership to become a founding member and help shape HuffPost's next chapter