"I would buy another GM car. I love my car," said Melanie Conover, a married mother of three in northern New Jersey.
In May, Conover's 2013 Chevrolet Traverse was recalled by GM over concerns that the airbags could fail in a crash. A few days before the company contacted her about the recall, Conover said, her car had almost been hit when a teenager ran a stop sign. Her three children, including an infant daughter, were in the car with her when it happened.
But although the near-accident was scary, and although she complains that GM was too slow when it came to repairing her car's defective airbag wiring, Conover remains loyal to the company.
"There are always safety concerns when I'm driving with my kids. But GM makes good cars," she told The Huffington Post. "I've owned three Hondas, a Cadillac and this car in my lifetime. And mine and my hubby's faves were the Caddy and this car." (Cadillac is also made by GM.)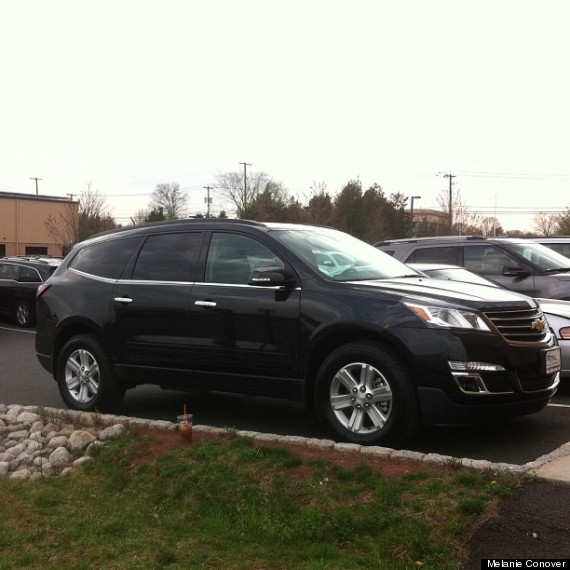 Melanie Conover's 2013 Chevy Traverse, which was recalled in May by GM over concerns that the airbags could malfunction. Conover says she loves her car and would buy another GM in the future despite the company's ongoing crisis.
The company's total sales this year from January to May are also up 3 percent from the same period last year. About half of GM's customers are repeat buyers, GM spokesman James Cain told HuffPost in an email.
Such customer loyalty and brand resilience may be a sign that people just don't care about scary recalls as much as they used to, crisis-management strategist Gene Grabowski told HuffPost.
"Five or 10 years ago, companies in crisis were remarkable," Grabowski said. "Now, it's become so common it's no longer remarkable. Accidents are expected. Recalls are expected."
This unconcerned attitude is reflected in the number of drivers who actually get their cars fixed during recalls. Experts say about one-third of people with a vehicle affected by automaker recalls never bring their car in for repair.
This may be because the news just doesn't penetrate.
"Many times, people don't read mail, they don't watch commercials on TV, they don't look at things like this," said Rep. Tim Murphy (R-Penn.) on Wednesday during a congressional hearing on GM's handling of the ongoing recall crisis. "It isn't until it gets on a comedy network or something that people pay attention."

People may also remain loyal to the GM brand because many of the GM models affected by the recalls are no longer made, which might in turn be giving customers the impression that GM's safety problems went away with the discontinued cars.
Finally, patriotism might also be a factor in consumer loyalty to GM, Grabowski said.
"I think people feel a bond and a kinship with the GM brand," he said. "And I think it's because GM did come out of the 2008 bankruptcy. They paid back the government money. The president himself has praised GM. I think that resonates, not with everyone, but with a lot of people." A 2005 Chevy Cobalt is parked outside a dealership in Alexandria, Va., in April. GM recalled all Chevy Cobalts from 2005 to 2010 over fears the cars would suddenly shut off while in motion, disabling power steering and airbags. (AP Photo/Molly Riley)
Michigan resident Kristin Barger brought in her 2006 Chevy Cobalt for repairs in April after GM recalled the vehicle for issues with its ignition switch. GM said the ignition switch problem was causing cars, including the '06 Cobalt, to turn off while in motion, causing the loss of power steering and disabling the airbags.
Though Barger said she still has frequent problems with her ignition jamming while her car is parked, she also said she would buy another GM product the next time she needs a new car.
"GM runs deep in my family," she told HuffPost, noting that her father worked at the company for more than 30 years. Barger said she doesn't totally "trust the safety" of her car, but said she "loves it" nevertheless, and she has faith the company "will turn this around and build a better product" in the future.
Many consumers, like Barger, will stick with certain brands even when other products on the market are safer because they have a sentimental attachment to a company, said Tulin Erdem, a professor of marketing at NYU who studies consumer behavior.
"There are emotional reasons for why [customers] are loyal, in spite of new information that there might be safety issues," Erdem said. "For example, these people may have memories of GM cars. They may remember things growing up with their families in a GM car."
"It's not rational," Erdem said.
Alexander C. Kaufman contributed reporting.
Calling all HuffPost superfans!
Sign up for membership to become a founding member and help shape HuffPost's next chapter