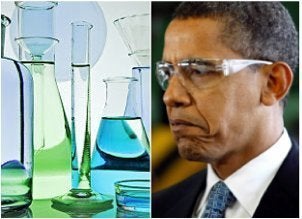 Last March, President Obama promised he'd have a strategy for restoring scientific integrity to the federal government on hand by July 29. A full year later, federal agencies still have not received any new directives and some government scientists say that conditions have not improved noticeably since Obama took power.
Obama made scientific integrity an issue in his presidential campaign, and his March 9, 2009 memo outlined a series of high-minded principles -- advocating, for instance, for "transparency in the preparation, identification, and use of scientific and technological information in policymaking."
The memo also ordered John Holdren, the director of the White House's Office of Science and Technology Policy (OSTP) to develop guidelines "designed to guarantee scientific integrity throughout the executive branch." Obama gave Holdren 120 days. That deadline came and went. And Friday is its one-year anniversary.
The White House won't explain what's holding things up. In a June 18 posting on the White House website, Holdren simply said that "the process has been more laborious and time-consuming than expected at the outset." He set a new deadline, saying he would deliver "a high-quality product" to Obama "in the next few weeks." (That was three weeks ago.)
Holdren, however, also tried to argue that the directives weren't really a big deal. "There should not be any doubt that these principles have been in effect -- that is, binding on all Executive departments and agencies -- from the date of issue of the Memorandum on March 9, 2009," he wrote. The hold-up, he insisted, only affected "recommendations to the President on what further instructions he might issue in augmentation of these principles in order to advance the goal of achieving the highest level of scientific integrity across the Executive Branch." (Holdren's italics.)
But that, people who follow the issue closely tell the Huffington Post, is baloney.
"You can't enforce a principle, without a rule," said Jeff Ruch, executive director of Public Employees for Environmental Responsibility, a whistleblower group that he describes as "sort of a shelter for battered staff." Ruch's group is calling attention to the one-year anniversary of the blown deadline in hopes of spurring action.
"The reason that the Bush people were able to manipulate science is because there are no rules against it. And there still aren't," Ruch said.
"For changes to be meaningful and lasting, the White House must provide specific guidelines, they must provide a timeline and they must present benchmarks for agency performance, so we can measure the agencies and assure accountability," said Francesca Grifo, director of the scientific integrity project at the Union of Concerned Scientists.
"That's actually how the work gets done," said Susan F. Wood, a professor involved in George Washington University's Scientists in Government program. Obama's memo was a "first step," she said. "Following through on that is really important."
A March report by Wood found that most government scientists interviewed did not view conditions at their agencies as having improved noticeably since the change in administration. That's an amazing conclusion, considering how President Bush and Vice President Cheney took political interference with science to entirely unprecedented levels.
In many cases, explained Ruch, scientists are still working for the same managers they were in the Bush administration. And, he said, "if you're going to have the same people operating with the same rules, you're going to have the same results."
The extraordinary delay in formulating new rules for the agencies is perplexing to some observers outside government. "I really don't get what's taking them so long," said Danielle Brian, executive director of the Project on Government Oversight.
Grifo has a suspicion: "I think different agencies and different parts of our government have differing amounts of power, and what I suspect is that one of those parts that has a lot of power is probably not happy with parts of it," she said.
Ruch has a theory: "One of the central tensions in the Obama administration is a rhetorical commitment to transparency and a fanatical devotion to message control. And the two don't go together."
"Who has the most to lose from an order like this being released? That's where I'd put my money on the hold ups," said Grifo.
If Ruch's theory is correct, the answer to Grifo's question would seem to be those elements in the administration that most fervently advocate for centralized command and control, namely Obama's top political advisers and his Office of Management and Budget. But nobody's talking, so we just don't know.
Rick Weiss, a spokesman for the OSTP, declined to explain the delay, though he did write in an e-mail to the Huffington Post: "Meanwhile it is important to appreciate that this administration has made scientific integrity a priority from day one -- in the people we've appointed, the policies we've adopted, the budgets we've proposed, and the processes we follow. It is reflected in the dozens of extraordinarily high-caliber and internationally renowned scientists that the President has brought into his administration (including [Energy Secretary] Steve Chu, [National Oceanographic and Atmospheric Administration director] Jane Lubchenco, John Holdren, and [Holdren's associate director for science] Carl Wieman).
"Science is now at the heart of key Presidential decisions such as the President's Executive Order removing barriers to responsible research involving stem cells, and is back at the heart of our policymaking processes to help us solve some of our most challenging problems. It is also a priority in our budget process, as reflected by the largest investment in science and innovation in our Nation's history. We have returned to evidence-based decision-making in energy, agriculture, climate, resource management, national security, and other areas, proving that in this White House science and technology once again have the respect they deserve."
Advocates of scientific integrity wonder what will eventually emerge from Holdren's office. Will it be watered-down rules, or will time have worn down the opposition?
Grifo said she is hoping that the long delay reflects that the OSTP is "holding fast to a line and not giving in."
Last May, Grifo's organization weighed in with some suggested guidelines. Comparing them to what Holdren delivers should be telling. Among the suggestions:
* That "the director of OSTP should appoint an assistant administrator to oversee the integrity of science in the executive branch. The president should instruct the heads of scientific and regulatory agencies that scientific integrity is crucial to achieving their missions and should require agency heads to monitor their agencies' efforts to improve scientific integrity, reporting annually to the OSTP regarding their progress. OSTP should also regularly seek and release information to the public regarding potential instances of political interference in science."

* That "[r]eforms are needed to strengthen the broken federal whistleblower protection system and ensure that scientists who report political interference in their work may do so without fear of retaliation.

* And that "[o]pening up federal science and decision making to scrutiny from Congress and the public is an important, and inexpensive, means of revealing and ending political interference in science."
"Our expectations were really raised by the March 2009 memo, and then there was no follow through," Ruch said. Recalling how the last administration publicly espoused the virtues of "sound science," Ruch said that simply expressing lofty goals isn't enough.
"You had those under Bush," he said.
So what is the state of scientific integrity in the Obama administration? We'll have more about this next week. Readers: Do you have any personal experience related to the relationship between science and politics in federal agencies -- and how that has or hasn't changed since the Bush era? E-mail Dan Froomkin at froomkin@huffingtonpost.com.
Popular in the Community